Billionaire Whistle-Blower Loses $730 Million Alleging Fraud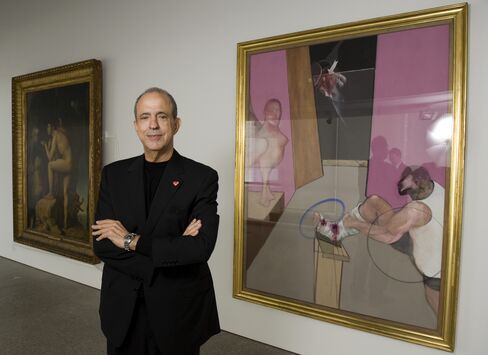 Feb. 4 (Bloomberg) -- On a December afternoon in 2007, billionaire Jose Berardo walked into the attorney general's 18th-century headquarters in Lisbon to rat out executives at the Portuguese bank on which he had staked his fortune.
Berardo, whose 7 percent share in Banco Comercial Portugues SA was worth about $1 billion at the time, says he met with Attorney General Fernando Pinto Monteiro for two hours. The investor handed Portugal's top prosecutor several folders of evidence showing that executives at Portugal's largest publicly traded bank had allegedly used offshore companies to try to boost the share price and their own bonuses. Berardo says he hoped his disclosure would spur the prosecution of the Oporto-based bank's chairman, with whom the investor had clashed over governance issues, Bloomberg Markets magazine reports in its March issue.
"Nobody can guarantee you're going to have success, but it's another thing to be crooked," says Berardo, 65, who owns one of the world's most-valuable private modern-art collections. "I want the money back that they took."
In June 2009, prosecutors accused five former bank executives, including Chairman Jorge Jardim Goncalves and CEO Filipe Pinhal, of market manipulation, falsification of documents and fraud. A Lisbon judge is considering whether to bring the case to trial. The five executives, who denied the accusations in court filings and through their attorneys, declined to comment.
An Outsider
In his book "The Right to Defend My Good Name," Pinhal says shareholders presented evidence to prosecutors that was one-sided and meant to push the executives out of the bank.
"The denunciations were nothing more than a means to force the door, to make taking over the bank possible," Pinhal, 63, wrote.
Berardo, who owns homes in Johannesburg, Lisbon, London and Toronto, is an outsider in Portugal's financial community, says Carlos Peixoto, chief bank analyst at Banco BPI SA in the northern city of Oporto. Born on the Portuguese island of Madeira 965 kilometers (600 miles) from Lisbon, Berardo left school at age 13 to take a job at a winery where his father worked as a laborer. He later began amassing his fortune by extracting gold dust from mining waste in South Africa before returning to Portugal in the mid-1980s to manage his investments.
"He's a force of nature, very hardworking and sure of himself," says Horacio Roque, chairman of Banif SGPS SA, the biggest bank in Madeira, who has invested alongside Berardo. "He's a man who knows the value of money, especially because of the way he was raised."
'Hello, Baby'
Berardo's all-black wardrobe and informal manners set him apart from Banco Comercial's more-conservative executives and shareholders. He often bellows "Hello, baby" in English when greeting employees and friends. The bank's other biggest shareholders have included Portugal's richest and oldest commercial clans, such as the Jose de Mello family, whose real estate, chemical and bank holdings date to the 1890s.
"The bank is more formal than Berardo," Peixoto says. "He's more provocative, more aggressive than other shareholders."
Berardo's public attack on the bank's executives, including an impromptu press conference he held immediately after his visit with the attorney general, was extraordinary in Portugal's financial industry. Regulators and executives tend to address violations between themselves without public disclosure, says Antonio Ramirez, a banking analyst at Keefe, Bruyette & Woods in London.
"You don't normally get scandals," he says.
Cayman Islands
From 1999 to 2003, BCP loaned 590 million euros ($843 million) to 17 Cayman Islands-based companies it controlled without accounting for the debt on its books, according to prosecutors' accusations filed in a Lisbon court. The offshore companies used the cash to buy almost 5 percent of BCP's stock to boost its value, according to the accusations.
Prosecutors say the operation backfired when Portuguese stocks, including BCP's, dropped in 2001 and 2002, preventing the offshore companies from paying back the loans. Executives disguised the bad loans as real estate losses, which inflated the bank's earnings and propped up the flagging shares, prosecutors say.
As a result, according to the accusations, five executives were wrongly rewarded with 24 million euros in bonuses. A bank spokesperson and the prosecutor leading the case declined to comment.
Bad for the Bank
Andre Rodrigues, a banking analyst at Caixa-Banco de Investimento SA in Lisbon, says Berardo's revelations ignited a scandal that's damaged the bank. Portugal's national newspapers, such as Diario de Noticias, have regularly covered the story on their front pages.
"The controversy was really bad for the bank," Rodrigues says. "It's good to probe bad behavior, but to discuss it a lot and create turmoil wasn't good. The stock went down, and the management wasn't focused."
Berardo, who owns stakes in Portuguese companies ranging from cable provider Zon Multimedia SGPS SA to winemaker Sogrape Investimentos SGPS SA, lost about $730 million in his bank shares in part because of the probe he provoked. The bank's shares plunged 71 percent to 0.774 euro cents on Feb. 3 from Dec. 21, 2007, when authorities announced an investigation of the bank.
Berardo says the drop in the value of stocks he owns forced him to use some of his art collection of about 40,000 pieces as collateral for bank loans, the size of which he declined to disclose.
'Say I Have No Money'
"I've got loans like everyone else, and I've got deposits," Berardo says. "I'm not worried. Go ahead and say I have no money. All the better for me. That way, people won't ask me to lend them some."
The nationally broadcast television satire Contra Informacao, which uses puppets to skewer public figures, has featured Berardo, calling him the enfant terrible of Portuguese business. A skit in November poked fun at the investor for giving an interview to the Portuguese edition of Playboy magazine last year. Berardo's puppet, its shirt unbuttoned to reveal a hairy chest, invites women in bikinis who work for the former chairman of BCP to accompany him to the Cayman Islands.
One of Berardo's holdings has also been scrutinized. As part of a tax probe that examined records at about 150 Portuguese businesses, in 2008 police searched the offices of tobacco company Empresa Madeirense de Tabacos SA, where Berardo is chairman and a major shareholder. The investor says he doesn't expect authorities to file charges.
Berardo Collection Museum
With BCP's stock price near historic lows this year, Berardo's most-valuable investment may be an art collection that he says was valued in 2009 at more than $750 million. The collection is among the highest priced in the world, says Iain Robertson, head of art business studies at Sotheby's Institute of Art in London. His most-prized works, such as paintings by Pablo Picasso and Andy Warhol, are on display at the Berardo Collection Museum.
On a Monday afternoon in October, Berardo enters the white stone fortress-like museum in Lisbon's touristy Belem neighborhood, with its trolley cars and cinnamon-scented pastry shops. Inside the museum, visitors recognize the 6-foot-3-inch (1.9-meter) Berardo, wearing his typical black suit and black crew-neck sweater, and thank him for displaying his art. Unlike many cultural institutions in Lisbon, Berardo's museum doesn't charge an admission fee.
Sylvester Stallone
In a sun-filled gallery, Berardo examines the 1808 painting Oedipus and the Sphinx by French master Jean-Auguste-Dominique Ingres that's on loan from the Louvre in Paris. The painting is being installed next to the work that it inspired, Francis Bacon's 1983 Oedipus and the Sphinx, after Ingres. Berardo owns the Bacon painting.
"You know who used to own this one? Stallone!" Berardo shouts, referring to actor Sylvester Stallone. Berardo recounts how he ran into Stallone and told him, "I've got your Bacon!"
The museum is located in a state-owned cultural complex -- the result of a deal Berardo cut with the Ministry of Culture in 2006. The government agreed to house part of his collection and took a 10-year option to buy 862 paintings and sculptures for 316 million euros, based on a Christie's valuation in 2006.
"Giving his collection public visibility adds value to it," says Joao Paulo Queiroz, vice director of the Lisbon University School of Fine Arts. "It's better and probably cheaper than having it stored up somewhere."
Buddha Garden
The investor has also poured millions of dollars into exotic personal projects, such as his Buddha Eden Garden that's open to the public. In October, a chauffeur drives Berardo in his Jaguar Daimler Super Eight sedan more than 160 kilometers per hour on a highway north of Lisbon to the Buddha garden in Bombarral.
At the site, set among olive trees, the investor joins about a dozen tourists who are perusing hundreds of stone Buddhas, dragons and lions and 700 Chinese warriors. Berardo even had streams and ponds installed in the garden. The tallest Buddha, at 21 meters, looms above the garden on a hill.
The investor says the project was an act of cultural restoration he undertook after Taliban militants in Afghanistan blew up Bamian Buddhas in March 2001. To create the garden, he imported 6,000 tons of custom-made statues from China, attempting to match the weight of the wrecked Buddhas.
"If somebody destroys, somebody has to rebuild," says Berardo, a Roman Catholic.
Gold Dust
Berardo's unconventionality reaches back to the way he began making his fortune from gold-mining waste in South Africa. At age 18, Berardo says, he boarded a ship from Madeira to Africa. While selling fruits and vegetables to miners in South Africa in the mid-1970s, he spotted opportunity in the piles of leftover dirt that contained gold dust at abandoned mines.
Berardo says he gained ownership of the dirt often at no cost by simply filling out government paperwork. As gold prices soared sixfold to $850 an ounce in 1980 from 1976, he cut a deal with mining giant Anglo American Plc to extract the metal. Berardo says the company took 40 percent of the profit and he kept the rest, making his first millions.
In the mid-1980s, with his investments increasingly tied up in Portuguese companies, Berardo began spending the bulk of his time in Lisbon. He focused on stock trading and by 2005 had bought a BCP stake of more than 2 percent.
Since Jardim Goncalves helped found the bank in 1985, it had grown through a series of acquisitions into a provider of retail and investment banking, credit cards and brokerage services. The strategy hit a wall in May 2007 when the bank failed in its hostile takeover of smaller rival Banco BPI.
Chairman Goncalves
After the misstep, the bank's supervisory board, led by Jardim Goncalves, proposed to shareholders that they give it the power to name new CEOs -- an authority that had been held by shareholders. The proposal also called for the chairman to be given the right to attend meetings of the executive board, which ran the bank's day-to-day operations.
Jardim Goncalves, 74, who had worked in Spanish and Portuguese banks for more than three decades, was raised in a Catholic and conservative family, according to the bank. He is a member of the Roman Catholic group Opus Dei, which recruits and trains businesspeople and hews closely to church doctrine. He wrote about his experience with the group in a chapter of the book "Opus Dei in Portugal."
Berardo, who boosted his bank stake to as much as 7 percent by 2007, says he objected to what he called a power grab by the chairman.
Dishonest Evidence
"With him it was 'my way or the highway,'" Berardo says.
Berardo led a group of shareholders who protested the board's proposal and called for Jardim Goncalves to step down in the media. The board withdrew its proposal by the end of May 2007. Three months later, Pinhal, who was then vice chairman of the executive board, became CEO when his predecessor resigned.
"Berardo has strong opinions, and he does what he wants to do," says Eva de Oliveira, a professor of human resource management at Catholic University of Portugal in Oporto.
Berardo says bank insiders who supported his challenge to the chairman began leaking documents to him about the offshore companies. Some documents were handed to the doorman of Berardo's Lisbon office in envelopes lacking return addresses. Berardo says he then compiled the evidence of wrongdoing into a sheaf of at least 50 documents for the attorney general.
Salvador da Cunha, Jardim Goncalves's spokesman, says that facts about the bank were presented to authorities out of context and dishonestly with the goal of removing former executive board members.
Board Shakeup
"Only time and the functioning of truly independent entities, the courts, will allow the truth to be established," da Cunha says.
In January 2008, weeks after prosecutors announced their probe, Berardo won a boardroom victory at BCP. Shareholders elected a new CEO, Carlos Santos Ferreira, and executive board. Four months later, shareholders elected Berardo as chair of the compensation committee and voted to cut the bonus pool for top executives to a maximum of 2 percent of profit from 10 percent. Under Berardo, the committee suspended perks for retired executives, such as the use of the corporate jet.
In 2008, to account for the offshore losses that Berardo helped disclose, the bank restated its prior-year earnings to reduce its equity by 300 million euros. The global recession has also hurt the bank, with its net income dropping 64 percent to about 201 million euros in 2008. Bank profit rebounded in the first nine months of 2009 on the sale of money-losing assets.
Stock Outlook
"We'll probably need to look beyond 2011 to see the bank get back to more-significant growth levels," says Tiago Bossa Dionisio, a bank analyst at Banco Espirito Santo SA in Lisbon. He sees the stock reaching 1.20 euros -- a third of its 2007 peak -- by the end of 2010.
Berardo the outsider is now an insider at the bank as he tries to recoup the loss in the value of his stake. While the provocative investor triumphed in the battle over control of BCP, he may not win back his bank fortune for years to come.
To contact the reporters on this story: Vernon Silver in Rome at vtsilver@bloomberg.net; Anabela Reis in Lisbon at areis1@bloomberg.net
To contact the editors responsible for this story: Laura Colby at lcolby@bloomberg.net; Hellmuth Tromm at htromm@bloomberg.net