Secretive 'Lord of Wine' Made Italy's Best White: John Mariani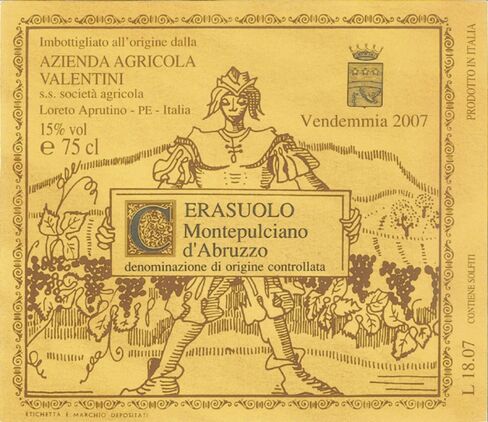 I've been drinking wine with pleasure for a very long time and the jaw-dropping moments have been few and far between. Sometimes the wines I expected little of proved to be a revelation, which was the case when I had my first sip of Edoardo Valentini's Trebbiano d'Abruzzo 30 years ago at a seafood restaurant in Italy.
My wife and I had ordered spaghetti with clams and a grilled branzino graced only with olive oil and lemon at Guerino in the seaside town of Pescara in the Abruzzo region. Looking over the winelist I spotted Valentini's wine at a price way above the other trebbianos. In those days $10 was a fortune to spend on an Italian white, especially trebbiano, which is made in Abruzzo in bulk and is rarely more than dry and pleasant.
The other odd thing about the Valentini listing was its age, 10 years, which is about 8 years more than I would ever consider drinking a trebbiano. I was curious.
The waiter poured the wine and the color was not promising, like burnished gold, usually a sign of considerable oxidation in a white wine. I swirled the glass and the aroma was very full.
Then, on taking my first sip, my jaw did indeed drop. I looked at my wife and said slowly, "This is one of the greatest white wines I've ever tasted." And it got better as it aerated in the glass.
The richness, the body, the velvety smoothness of the fruit-acid balance, and the distinctiveness of the varietal flavor was unique. I called over the owner of Guerino and asked him about the wine. His eyes lit up.
Lord of Wines
"Ah, that is a trebbiano made by the Lord of the Wines in Abruzzo." Beyond that revelation, he had no more information, almost like a Transylvanian speaking in hushed tones about the Lord of Darkness.
In the years since, I have drunk Valentini's Trebbiano d'Abruzzo whenever I could find it (as well as his superb red Montepulciano d'Abruzzo), which isn't often enough.
Information on the winery is hard to come by. Edoardo Valentini, who died in 2006 at the age of 72, was not a man to give away his secrets. He had no public relations agency and no Web site. He was notorious for refusing media visits or interviews.
When Charles Scicolone, now food and wine editor of I-Italy.org, got to visit the estate a few years ago, Valentini and his family "sat there like Mussolini and were very unpleasant," he told me. "He would not show us his winery or tell us anything about how he made the wines. He did, though, talk endlessly about how he grew the grapes, which he said was the only true clone of trebbiano, and how he covered his vines with canopies. Then he refused to sell us his wine."
Three Centuries
The little information that can be pieced together about him and his winery shows that his ancestral home in Loreto Aprutino goes back three centuries, and that he studied law before devoting himself to the 170 acres of vineyards in the 1950s.
That trebbiano clone may well be one reason for his wine's superiority. Another may be Valentini's mania for picking only the best grapes. He used only about 5 percent of the crop to make his wines (the rest was sold off to a cantina sociale).
Although allowed by law to make as many as 800,000 bottles each year, Valentini never made more than 35,000 of his Trebbiano and 15,000 of Montepulciano, usually much less. And it was always hard prying any out of him.
The wines are made by old-fashioned methods of vinification and aging, a tradition carried on now by his son Francesco Paolo. The wines are never released until the winemaker determines they have sufficient age, which may be five years or more. Only the greatest of white Burgundies and sweet rieslings of Germany can hold up to a decade or more in the bottle, yet Valentini's vintages of 1985, 1988, and several in the 1990s are prized by collectors.
10 Cases Left
I had occasion recently to taste the currently available vintage of the Trebbiano, 2005, and found it every bit as good as every bottle I've ever had. Its U.S. importer, Domenico Valentino, brought in just 30 cases of the 2005 and has only 10 left, most of it sold to restaurants. I've found that year selling for $75-$111. Vintages from the 1990s go for about $115.
Will Edoardo's son be more open to the world? Will he make more Trebbiano in the future? I, for one, hope not. A little mystery goes a long way, and a little wine keeps connoisseurs of Valentini panting for more.
(John Mariani writes on wine for Bloomberg News. The opinions expressed are his own.)
Before it's here, it's on the Bloomberg Terminal.
LEARN MORE