Cadillac Turns Dad's Dweeb-Mobile Into Roomy $51,000 Dude Wagon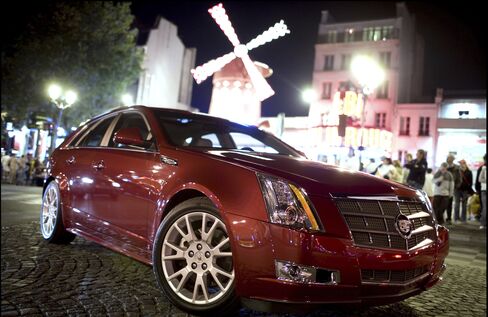 While owning a station wagon was once the equivalent of birth control -- you could forget about scoring a date, ever -- modern-day equivalents are becoming cool.
These days, in an effort to lure buyers of sport utility vehicles, they're called sport wagons. And so the persuasion begins.
Take the new CTS Sport Wagon from Cadillac. It's got five doors and buckets of room just like the dweeb mobiles of yore, but pricing starts at a luxury-minded $39,000 and there's no mistaking its air of masculinity. This is a dude mobile.
Also, it's from an American carmaker. In Europe, where gasoline is expensive and roads slender, wagons have long been a staple. And while European models, like the Mercedes E-Class wagon and five-door Audis and BMWs, are exported to the U.S., the attempt feels half-hearted.
Now and then, the makers will even bestow on us really fast, powerful wagons, like the Audi S4 Avant. Tens of tens of U.S. buyers will scoop them up, and then like favorite, critically acclaimed TV programs, those imports will be summarily canceled.
The last really cool American offering was the Dodge Magnum, an offshoot of the Chrysler 300 with a bullet shape not unlike a hearse from Hell. I loved it. (Date of death: 2008.)
Old Ford
Let's compare the CTS to the station-wagon staple that I best remember while growing up in the 1970s, the Ford Country Squire. That ubiquitous, long-bodied beast was manufactured from the early 1950s until the early 1990s, and was equipped with the most desirable of options, faux-wood side paneling. (Who wouldn't want fake trees on the outside of their ride?)
The Ford came in nifty color-combinations like green-and-brown, yellow-and-brown and the winning brown-on-brown.
Everybody knew someone who owned one. Even at age 7, I felt a whiff of embarrassment when riding to school with my best friend's father in his well-worn 1974 model. Its interior smelled of menthol cigarettes and middle-class defeat.
My modern CTS tester is painted "black raven" (as Caddy calls it), with an ebony interior. Not geeky at all. Riding atop optional 19-inch tires and gleaming eight-spoke rims, the body reflects Cadillac's modern design ethos of sharp creases and rounded folds, a form full of tension and release.
Automatic Tailgate
The front looks like the excellent CTS sedan from which it's derived, but in the rear its haunches flare over the wheel wells and carry through to a voluminous back. When the automatic tailgate lifts out of the way, the sharp, vertical taillights remain, craftily integrated into the frame.
Old-school wagons could carry as many as nine passengers (sometime with seats that faced backward); but they were also some 18.5 feet (5.6 meters) long and weighed more than 4,500 pounds.
The CTS's 16 feet of length will only allow five, but hey, everybody's divorced these days anyhow. Back seats in place, rear storage is 25 cubic feet; down, that more than doubles to 58 cubic feet.
Obviously this baby would run your daddy's paneled station wagon right off a canyon road. Yet the Cadillac wagon is actually better than it has to be. My test version is a "premium" rear-wheel-drive model with a 304-horsepower, direct- injected, 3.6-liter V-6. Pricing in this configuration starts at $51,000. With that hefty sticker it had better be cool.
Average Mileage
The smaller 3.0-liter V-6 is standard with 270 hp and a super-powerful 556-hp CTS-V model should be available down the road. All-wheel-drive is a $1,900 option.
The mileage is only average, with city of 18 miles per gallon and 26 on the highway. Of course, that's still a lot better than a 1975 Ford Country Squire, which had some 160 horsepower, got less than 10 mpg and was even offered with an auxiliary gas tank.
The CTS is supple on the highway, though on back roads I preferred the traction settings in sport mode. At a stop sign leading to a deserted intersection, I wrenched the wheel right and stomped on the gas. Holy fishtail, Batman! The back wheels broke loose and I swung mightily onto the road. No dork wagon could pull that maneuver.
The CTS has buttons behind the overly large steering wheel allowing you to effect up- and downshifts on command, and the CTS wagon is hard-charging when you want it to be. It's heavier than the regular sedan, and you can feel that added weight in the corners with more pronounced body roll.
The interior is also from the CTS, with a pop-up touch screen and controls that sit readily at hand. The massive sunroof floods the interior with light. I felt as comfortable in it as I do many top-notch $100,000-plus luxury cars.
So, come back, America. Like spinach, sport wagons are good for you. The CTS wagon has all the load capacity and none of the embarrassment. Faux wood isn't even an option.
The 2010 CTS Sport Wagon At a Glance
Engine: 3.6-liter V-6 with 304 horsepower and 273 pound- feet of torque.
Transmission: 6-speed automatic.
Speed: 0 to 60 mph in 7 seconds.
Gas mileage per gallon: 18 city; 26 highway.
Price as tested: $54,635.
Best feature: Super-bad looks with a station wagon's practicality.
Worst feature: The price will put it out of many deserving families' hands.
Target buyer: The family woman or guy who doesn't want to drive a dweeb mobile.
(Jason H. Harper writes about autos for Bloomberg News. The opinions expressed are his own.)