Credit: The Spigot Opens, a Little
Thanks to looser SBA terms and an improving economy, entrepreneurs with solid balance sheets are reporting an easing of credit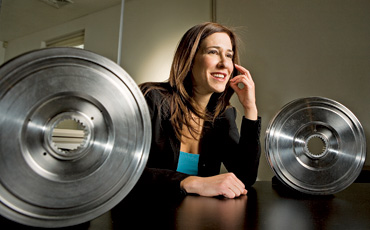 A year ago, after Rachel Carson's 12-person company, Helicopter Tech, won a big U.S. Air Force contract, Carson needed a line of credit so she could hire staff and invest in equipment. Her company, based in King of Prussia, Pa., supplies spare parts to airplane and helicopter operators. Carson got turned down by two banks before landing a $250,000 Small Business Administration-backed line of credit from Susquehanna Bank. Now things look quite different. In late September, when Carson met with PNC Bank about opening some deposit accounts, she was asked if she also wanted to apply for a line of credit. "I was surprised they wanted to explore that with me," Carson says. "A year ago the banks weren't lending to anyone."
It's not exactly an open spigot yet. But credit is beginning to flow again, thanks to increased guarantees for SBA lending, stronger balance sheets at certain banks, and signs that the economy is improving. The question is whether the new lending will remain restricted and uneven or whether it will pick up steam as the economy stabilizes.
Partly due to increased guarantees and lower fees for SBA-backed loans, average weekly SBA loan volume is running about 60% higher than it was at the beginning of the year. "Access to capital is improving," says Eric Zarnikow, associate administrator for the SBA's office of capital access. "But it is still tight, and things are a bit fragile." A September survey by the National Federation of Independent Business found the lending environment had improved slightly since May. And 8 out of the top 10 U.S. banks were more willing to lend in the second quarter of 2009 than the first, according to a small business survey from consultants Greenwich Associates. Michael Selfridge, region manager for Northern California at Santa Clara (Calif.)'s Silicon Valley Bank, says he detects a "thawing" in the lending market, and says that within the past three months he has noticed more banks competing for deals.
Still, the loan situation is improving only for the most creditworthy. Companies in precarious financial positions are likely to be frozen out. That amounts to a large swath of small business: 46% of those surveyed by Greenwich Associates said their financial situation had deteriorated during the past 12 months. And Tony Wilkinson, president of the National Association of Government Guaranteed Lenders, warns that SBA loan volume could suffer when the enhanced loan guarantees and lower fees expire at the end of 2009. One more reason business owners with solid balance sheets should not wait to go hunting for a loan.
Return to the BWSmallBiz October/November 2009 Table of Contents
Before it's here, it's on the Bloomberg Terminal.
LEARN MORE