Carmakers' Cash-for-Clunkers Hangover
As government-funded scrappage schemes wind down, carmakers at the Frankfurt Auto Show are looking for fuel economy and green credentials to lift sales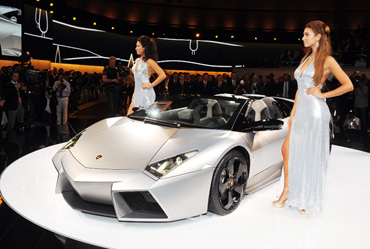 It's pure coincidence that the biannual Frankfurt Auto Show opens a little more than a week after Germany wound down its cash-for-clunkers scheme, and as other European countries and the U.S. do the same. The question hanging over the show, which runs Sept. 17-27, is what will happen to auto sales now that governments are cutting off life support.
Some early indications are ominous. Toyota (TM) dealerships in Germany saw a marked drop-off in sales during the last week, Tadashi Arashima, CEO of Toyota Europe, told reporters. "We don't see much sign of a recovery," he said. Though Toyota executives hope for a solid rebound next year, "the market is so distorted by these scrappage schemes, it's difficult to say."
Most automakers say the pace of decline has slowed, and a few are even reporting slight sales increases. Volkswagen (VOWG.DE) said Sept. 14 that deliveries worldwide rose 9.5%, to 491,000 vehicles, in August compared with a year earlier, including other company brands such as Audi and Skoda. Ford (F) of Europe said its deliveries in the region grew 1%, to 72,800 cars, from a year earlier.
But executives of the mass-market carmakers are clearly apprehensive about what will happen in the post-wreck-rebate age. Though Ford noticed a drop-off in Germany after the country's scrappage scheme expired, "the underlying market seems to be good," said Ford of Europe CEO John Fleming. He also said, "It's going to be very difficult to make assumptions about 2010."
A Speedier Rebound for Premium Cars?
High-end carmakers such as BMW (BMWG.DE) and Mercedes-Benz (DAI) benefited less from clunkers programs and are suffering less of a hangover now that they're ending. "There's a clear upward trend," BMW CEO Norbert Reithofer told BusinessWeek, though he added, "The markets are not functioning normally." BMW, which went into the crisis with an older product lineup than Mercedes or Audi, should regain ground as it rolls out a raft of new models in the next two years.
Sales of premium cars plummeted more drastically than mass-market models, but could bounce back more quickly as consumer confidence returns. "I see some logic in the speculation that premium markets will see an earlier and steeper recovery on a global basis," Daimler CEO Dieter Zetsche told reporters. "My assumption is that we have seen the worst."
But, echoing other auto execs, Zetsche warned it could be two or three years before sales return to pre-crisis levels. And the market then may well look much different than it did earlier. Carmakers expect buyer preferences to shift decisively toward more fuel-efficient cars—which doesn't necessarily mean smaller cars. Daimler unveiled plans for a plug-in hybrid version of its top-of-the-line S-Class that will boast fuel consumption as good as the thriftiest subcompacts now on the highway. Zetsche declined to give a firm date for launch of the car, except to say it will come with the next S-Class makeover.
Inside the enormous Frankfurt exposition center, it's clear that carbon-dioxide emissions and fuel consumption have become the new horsepower. Carmakers have plastered their vehicles with big decals boasting their emission and consumption numbers. Virtually all have prototype electric cars, such as Volkswagen's subcompact E-Up!, unveiled at an evening gala with top management Sept. 13.
While there is certainly a large dose of hype in the green claims, carmakers seem to now believe that offering consumers better fuel consumption and environmental credentials, without making drivers give up much headroom or acceleration, is the key to future success. "The post-crisis market will be all about innovative technology," BMW's Reithofer said.
Before it's here, it's on the Bloomberg Terminal.
LEARN MORE