Telecom Companies Scramble for Funding
Companies seeking some of the $7.2 billion in federal money to bring broadband to underserved areas are rushing to meet an Aug. 14 deadline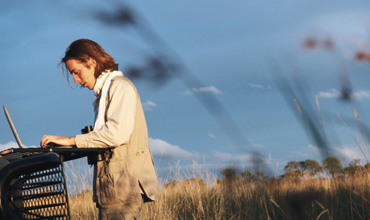 It's crunch time at International Broadband Electric Communications (IBEC). The Huntsville (Ala.) telecom provider has until Aug. 14 to complete an application for part of the $4 billion that Uncle Sam is spreading around to make high-speed Internet connections more widely available. To meet the deadline, IBEC Chief Executive Scott Lee has six of his 54-person staff working overtime and weekends filling out the paperwork. "It's not an easy application. It's a lot of work in a short period of time," Lee says. Yet, it's "worth the effort."
No kidding. If successful, IBEC stands to walk away with $80 million to $100 million to help it build broadband networks in rural areas. In all, the economic stimulus legislation known as the American Recovery & Reinvestment Act of 2009 set aside $7.2 billion in grants and loans to encourage the installation of broadband networks in areas with little or no access to it, from hard-to-reach hinterlands to low-income inner-city neighborhoods. The Obama Administration considers access to high-speed Internet connections a critical way of bridging socioeconomic gaps, creating jobs, and spurring economic growth.
The program isn't without its critics. Some say it doesn't go far enough in bringing Web access to the most remote areas, while others fret the government hasn't left itself a big enough window for disbursing so large a sum. Applicants, meantime, are racing to meet the Aug. 14 deadline, though some say the government wants more detail than they can readily provide.
Just over half the total is up for grabs now. The official notice of funding was posted on July 1, and all awards must be made by Sept. 30, 2010, a mere 15 months later. To assist applicants, the two federal agencies responsible for distributing the funds held a flurry of 10 informational workshops from Birmingham, Ala., to Billings, Mont., last month. Over a 17-day stretch, representatives of the Agriculture Dept.'s Rural Utilities Service (RUS) and the Commerce Dept.'s National Telecommunications Information Administration coached companies, state agencies, universities, municipalities, and others on how to properly complete paperwork. Even an event in Lonoke, Ark., a town with an estimated population of 4,552, was packed to the rafters, says David Villano, assistant administrator for USDA Rural Development regarding the stimulus funds.
Mapping Capability
Some applicants need all the help they can get. The government asks for detailed proof a particular area lacks the cables and other equipment needed to provide fast Web access—and that service hasn't been available for years. "The companies that are going to benefit from this initiative are going to be those that have the best mapping in place," says Tim Dowd, president and CEO of INPUT, a consulting firm that helps companies find and win business.
Here's the rub. The companies with the most data on broadband availability include the incumbent large providers, such as Comcast (CMCSA), AT&T (T), and Verizon Communications (VZ). Those companies have historically been reluctant to give up mapping data they consider proprietary and competitive, and it's difficult for many smaller providers to get information elsewhere. Representatives of Comcast, AT&T, and Verizon, the three largest broadband providers, didn't immediately respond to requests for comment.
John Banks, senior vice-president at USTelecom, an industry trade group, notes that the government has already allocated money for broadband availability maps, and that many states, including California, have drawn up their own maps.
The Recovery Act has set aside $350 million for state broadband mapping grants, so it will be possible in the future to tell which areas are already served. But the national map won't be completed until February 2011, long after the funding has been handed out. "The stimulus funds were supposed to have a more immediate impact, but without a map, it's like building a road without plans," says INPUT's Dowd. Villano, of USDA Rural Development, acknowledges the timing gap but says some states do have maps. He adds that the larger aim is to stimulate the economy quickly and that there isn't time to wait for maps to be created.
The speed at which broadband stimulus funds must be doled out is exactly what worries some people. "My main concern is when you give any government agency a ton of money to hand out in a short time, there's huge potential for waste and fraud," says Vince Vittore, principal analyst for broadband at research and consulting firm Yankee Group. The concern, echoed by other analysts, is that broadband access won't get to the communities that need it the most or that communities that do get broadband access might be saddled with services that are either too expensive or aren't fast enough.
"A Very Good Down Payment"
As large as the $7.2 billion sum may seem, it simply may not be enough to bring broadband service to every corner of America, some experts say. Between 2004 and 2010, Verizon alone is spending about $23 billion to install equipment capable of delivering a wide range of Internet services to the areas where it operates. It's much more expensive to install broadband gear in rural areas, where fewer people live, than in highly populated city centers.
"It's not enough [money] to get everybody broadband in the country, but it's a very good down payment," says Villano. He says that because RUS is giving out loans in addition to grants, the funds will have a multiplier effect. "If I make a $1 million loan, it will be repaid, and it only costs us $72,000 to do that," Villano says. The $2.4 billion his agency will distribute will have the impact of $7 billion to $9 billion, he estimates.
Still, even with a combination of loans and grants, it might be difficult for some providers to make a business case for serving rural customers. Consider TDS Telecommunications, a subsidiary of Telephone & Data Systems (TDS). The Medford (Wis.) provider wants to use the funding to reach about 1,000 customers who live just outside town. But because the outskirts of Medford aren't considered by the government to be sufficiently remote, TDS may only qualify for 50% grants, with the rest in loans. As a result, it may still be too expensive for TDS to reach the extra customers, says Drew Petersen, a spokesman for TDS Telecom, which owns 120 small phone companies in 30 states.
In drafting the rules for broadband stimulus funding, the government tried to be flexible. That involved creating parameters that would let providers apply for funding no matter the technology they use, be it access over cables, airwaves, or even power lines.
IBM's Backing
That's potentially good news for IBEC, which specializes in broadband over power lines, or delivery of Internet access over the systems that provide electricity to homes. Known by its acronym BPL, the technology has been around for years but gained little traction because it's pricey. "It is a viable technology, but it's too expensive," says Yankee Group's Vittore. In fact, a mere 1% of past lending by RUS has gone to providers that deliver broadband using BPL, says Gary Bolton, vice-president for global marketing at ADTRAN (ADTN), which makes equipment for broadband networks.
Mostly, RUS has granted loans for service delivered via fiber-optic cables, followed by broadband wireless services and so-called digital subscriber line (DSL) connections.
IBEC's Lee says he'll be able to use stimulus funds efficiently. His confidence stems in part from the company's backing by IBM (IBM). In November, about a week after President Obama was elected, IBEC and IBM announced a $9.6 million agreement for IBM to install broadband over power lines at electric cooperatives throughout the U.S. IBM has lobbied for stimulus funds, and the company's CEO, Samuel Palmisano, was one of 13 executives who met with President Obama in January in an appearance aimed at pressuring the House of Representatives to pass the economic stimulus bill.
Before the stimulus was announced, IBEC had already won $62 million in RUS funding. If IBEC gets more, IBM stands to gain as well. The company will do consulting and installation of BPL technology—everything from training people to walking the entire network to ensure proper placement of devices—says Ray Blair, director of advanced networks at IBM. Blair and IBEC's Lee say BPL technology has gotten a bad rap and that it's now ready for prime time.
"There hasn't been a tremendous amount of success with broadband over power line, and this is the first foray into it [for RUS]," says Villano, referring to the loan RUS gave IBEC. "It was a unique technology that we felt had strong merit and particularly with the partnership with IBM…so far the loan we've made to [IBEC] is working out there." Whether that goodwill will translate into stimulus funds remains to be seen, but one thing's certain: Both IBEC and IBM are working hard to persuade the government to include BPL among the technologies they deem fit for wiring rural America with high-speed Internet access.
Before it's here, it's on the Bloomberg Terminal.
LEARN MORE