Fresh Hope for Broadband
Speedy Internet infrastructure has been slow coming. But states are eager to use stimulus money to change that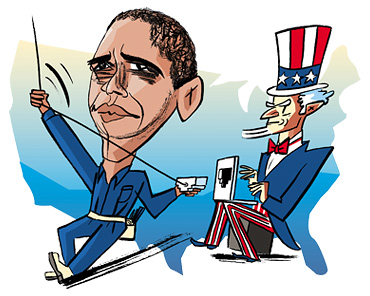 On the campaign trail and in the White House, President Barack Obama has embraced the idea of providing high-speed Internet access to every community in America. But the plans for universal broadband have gotten off to a rocky start. Some technology executives complain that the $7.2 billion allocated in the federal stimulus plan isn't half the amount needed to do the job. Telecom companies, including AT&T (T) and Verizon Communications (VZ), are so wary of the program's potentially onerous rules—the strings that usually come attached with federal money—that they may sit out the first round of grants.
Now, the Obama Administration's broadband plan looks to be getting a new group of unexpected partners: state and local governments eager to play a leading role in bringing fast Internet connections to the nooks and crannies of the American landscape. Colorado, Ohio, Tennessee, and Virginia are planning to seek broadband stimulus money, BusinessWeek has learned. Tennessee says it expects to receive as much as $150 million in broadband grants.
The involvement of local governments could add momentum to the Obama Internet push. But state and local authorities will have to find approaches that work better than in the past. Earlier this decade, such cities as Philadelphia and Houston tried to build so-called municipal wireless networks to offer free Internet service to local citizens. The efforts floundered, however, because of higher-than-­expected costs and administrative headaches.
Offsetting State Budget Deficits
Still, the money comes at an opportune time for states and municipalities. Many are facing huge budget deficits but would like to finance the broadband plans to help stimulate economic development. "It's a huge deal for us," says Donald M. Elliman Jr., Colorado's director of the Office of Economic Development & International Trade. "We will be pretty aggressive in how we seek that funding."
Virginia Technology Secretary Aneesh P. Chopra says his state will be applying for more than $100 million to help fulfill Governor Tim Kane's goal of providing broadband service to every business in the commonwealth. "We would like to see public-private partnerships to expand the deployment of broadband," says Chopra.
The states say they have seen firsthand how big pipes can attract business. Over the past few years, broadband lines that have been built in rural Virginia have helped the state to persuade high-tech companies such as Northrop Grumman (NOC) to set up new offices in those areas. In 2007, Northrop Grumman announced it would open up a new data center, and CGI Group said it was opening a software development center—both in western Virginia.
Cities to Line Up for Grants
The states won't be alone in lining up to get a share of the government grants. A senior aide in the Obama Administration says cities will also very likely step up and apply for money. "A lot of cities want to talk with us," said the official.
How the states use the money has not yet been determined. Some, including Virginia, are leaning toward hiring private companies to own and operate networks on behalf of the states. Others may do the job themselves.
If state governments hire AT&T and others to help them build broadband networks, private companies could potentially tap into stimulus funds while sidestepping whatever rules the federal government ends up attaching to its money. One source says AT&T is interested in working with state and local governments on their projects.
Regardless of what regulations may come to be written, states see the broadband program as a great opportunity to create jobs for their constituents. "We strongly believe that this infrastructure vastly expands the jobs we can make available to all Virginians," says Chopra.
Before it's here, it's on the Bloomberg Terminal.
LEARN MORE