NCIIA: Promoting Student Inventors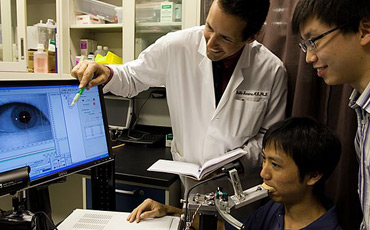 It's March Madness time, all right. But the competition in the Smithsonian's National Museum of American History in Washington had absolutely nothing to do with basketball. This annual event, March Madness for the Mind, is organized by the National Collegiate Inventors & Innovators Alliance (NCIIA), a network of more than 200 universities that promote innovation by underwriting and mentoring teams of college student inventors.
More important, the 14-student e-teams (and one high school team sponsored by a sister organization to the NCIIA, the Lemelson-MIT Program) got to rub elbows with more than a dozen venture capitalists, who might help take their ideas from the lab to the marketplace.
The inventions at this year's March Madness, held on Mar. 20, ranged from a mobile authentication technology to combat the sale of counterfeit drugs in developing countries to a real-time 3D imaging system that would cost less than existing 3D diagnostic scans. Another: a container to hold a patient's intestines during abdominal surgery that is safer and less expensive than cotton towels, which is today's standard.
"Entrepreneurship at the Collegiate Level"
Every year, more than 100 groups compete to become funded e-teams. The NCIIA, underwritten by the Lemelson Foundation of Portland, Ore., and the National Academy of Sciences, sorts through them to select 25 and 30 for grants of $12,000 to $20,000 to support the development of a prototype. The e-teams and the so-called advanced e-teams (that have received multiple grants from the organization) are later invited to apply for a spot at March Madness. The finalists are chosen by, among other criteria, the technical feasibility, commercial potential, and social impact of their projects.
"Our vision is to create a national program to stimulate innovation and entrepreneurship at the collegiate level," says Phil Weilerstein, executive director of the NCIIA, which is based in Hadley, Mass. "When we first started funding these e-teams, it was a radical idea that students could even start a business."
In 2007, Eben Bayer and Gavin McIntyre, two graduating students at Rensselaer Polytechnic Institute, got a $16,000 NCIIA grant that funded a few critical months of development. Ecovative Design—their company makes building insulation from mushrooms, a material they call Greensulate—went on to win awards from the state of New York, from Europe's PICNIC Green Challenge, and others. "We wouldn't be where we are without that first step," Bayer says.
Perhaps even more valuable than the money is the mentoring by established entrepreneurs that the NCIIA provides, and the introductions that it makes between its emerging inventors and potential funders. Bayer, for instance, attended one of the NCIIA's Invention to Venture workshops, a crash course in how to start a business. "In five days I learned everything from what's a P&L to how to pitch myself to a strategic partner," says Bayer.
One previous NCIIA-sponsored team from the University of Portland turned a $12,500 grant into a company with more than $2.5 million in annual sales. The company, Keen Mobility, was founded to commercialize a shock-absorbing crutch and now sells 25 different products that help injured, disabled, and elderly people move around more easily.
Since the competition began 12 years ago, NCIIA-funded teams have filed for 42 patents (many are still pending) and have helped start 60 businesses across an array of industries, from wireless technology and medical devices to alternative energy and transportation.
See a slide show of some of the innovations on display at this year's March Madness for the Mind.
Before it's here, it's on the Bloomberg Terminal.
LEARN MORE