Can Consumers Spend Asia Out of Recession?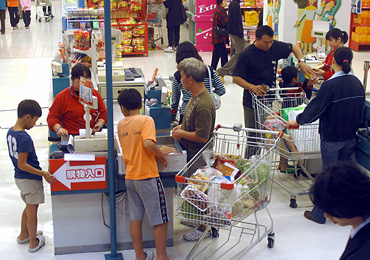 Clare Cheng's family is crazy about seafood. So in January, after a Taiwanese government program to stimulate the economy sent Cheng a voucher worth $108, she treated her parents and two sisters to oysters, salmon, and scallops at a restaurant in Hsinchu, a city near Taipei. "My mother loves the all-you-can eat buffet," says Cheng, a twentysomething Taiwan native who works as a brand consultant in Shanghai and spent the government voucher on a recent visit home. "It cost $24 per head, so we used up the entire voucher."
Cheng's family outing came courtesy of an Asia-wide push to persuade people to shop. Asians have long parked their cash in the bank, which helped finance a spending spree in the rest of the world. While Asian thrift was a key factor behind the region's export boom, its parsimonious ways have now become a major drag on its economies. The has battered China, Japan, South Korea, Taiwan, and Southeast Asia, with exports down by more than 50% in some countries. To provide their economies with a much-needed lift, governments from Beijing to Bangkok are scrambling to boost domestic consumer spending.
That won't be easy. Asia grew its way out of the 1997-1998 financial crisis by producing for the rest of the world instead of its own consumers, and now its long-standing dependence on external demand has left the region bereft of customers. Ironically, the solution to the last crisis—running big trade surpluses and accumulating large amounts of foreign reserves—"is now the cause of the current one," said Richard Londesborough, chief executive of management consultancy Business Monitor International, in a presentation in Hong Kong on Mar. 10.
Regionwide Handouts
To make up for the shortfall in external demand, most countries are hoping extra cash will get people to open their wallets. In Taiwan's $2.5 billion program, each of the island's 23 million residents got a $108 voucher that can be used just like cash—except that it must be spent by yearend. In the eastern Chinese cities of Hangzhou, Nanjing, and Ningbo, governments are handing out coupons worth up to $30 for locals to spend in restaurants and hotels. Thailand is sending checks worth $58 to more than 10 million low-income workers and government employees, and Japan is distributing $130 to adults and $200 to children and the elderly—some $20 billion in all. In South Korea, where gross domestic product shrank 5.6% in the fourth quarter of last year and January exports plunged 33%, the government is considering a coupon giveaway, too.
Economists say Taiwan's voucher program is the right approach. While cash payments à la Japan may end up getting stuffed under the futon, vouchers force recipients to spend their handouts. Taiwan's scheme has gotten an extra boost from additional discounts some retailers are offering to those paying with vouchers. "It's quite a good thing at the right time," says Norman Yin, a professor of finance at Chengchi National University in Taipei, who used his voucher to buy computer accessories. "But it's only a short-term means."
Therein lies the rub. One-off payments aren't about to alter lifelong saving habits. To encourage higher spending, governments really need to improve public health, education, and retirement benefits—initiatives that would take years to kick in. Only after people "feel that they have basic security…will they be willing to spend," Chen Deming, China's Commerce Minister, told the CCTV network recently.
Worse, it's unclear whether any amount of domestic spending can make up for falling exports soon. With exports plunging 27.5% in China in February year-on-year, after a 17.5% fall in January, it's going to take a lot more handouts to pick up the slack. The Chinese government in November announced a $585 billion spending plan, and many other Asian countries are spending big on infrastructure and other projects to stimulate demand. While programs aimed at getting Asians to hit the mall may have some effect, these big stimulus packages will need to kick in before Asia can start recovering from the global recession. And traditional export markets have to revive, too. Says Supavud Saicheua, a Merrill Lynch (MER) economist in Bangkok: "We can only hope for some sort of miracle in the U.S. and Europe."
Before it's here, it's on the Bloomberg Terminal.
LEARN MORE