New AOL Chief Is a Google Veteran
Hiring Tim Armstrong as CEO sends the strongest signal yet that Time Warner has big plans for its Internet business, starting with a potential spin-off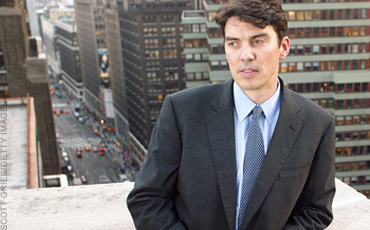 Tim Armstrong, one of Google's top advertising executives, was tapped to run AOL in the latest high-level shakeup at Time Warner's famously troubled Internet unit. The division's current CEO Randy Falco and President Ron Grant, who ran AOL in tandem for the last two and a half years, will leave the company, Time Warner said Mar. 12.
The hiring of Armstrong, the search giant's main conduit to Madison Avenue, comes as Time Warner (TWX) CEO Jeffrey L. Bewkes weighs spinning off AOL, which would end one of the worst corporate marriages ever.
Those who know him say Armstrong, 37, is one of the more personable executives at Google, possessing a self-effacing style and the skills to be able to sell a potentially independent AOL to Wall Street. In a prepared statement, Bewkes said, "Tim is the right executive to move AOL into the next phases of its evolution."
Armstrong brings an expertise in Web search, an area of online advertising dominated by Google (GOOG), that's likely to complement AOL's strengths in display advertising, where Google hasn't exactly blazed trails. "He's one of the real innovators of the industry, and I'm certain AOL has some great stuff in store for it under his leadership well beyond just his impact on advertising," says Robert Pittman, a former top executive at AOL and AOL Time Warner who now runs his own investment firm, Pilot Group. "This is a real coup for Jeff (Bewkes) to get him—it's going to be fascinating to watch what Tim does using the AOL assets."
Armstrong: More Can Be Done with AOL Brand
In its heyday, America Online served as a principal gateway to the Web, providing Internet access via dial-up connections, a portal to a vast array of Web sites, and e-mail and instant messaging services for millions of Net surfers. AOL's fortunes have diminished in recent years as rival service providers offered faster connections and better customer service, and as competitors such as Google mastered online advertising and search and Yahoo's portal and e-mail drew larger audiences. Still, AOL's instant messaging service is widely used and millions cling to its portal and e-mail. AOL could do more to harness its "strong global brand," particularly when it comes to advertising, Armstrong says in an interview. "AOL is one of the top five companies on the Internet, but more can be done with the brand."
Armstrong will need to move swiftly to reinvigorate AOL's reputation, analysts say. This "management change is a significant positive for Time Warner shares, as it will mitigate fears, at least near-term, about the company's most worrisome asset," Pali Capital analyst Rich Greenfield wrote in his blog. "While it is impossible to know whether AOL can be fixed, hopefully Armstrong's first decision will be to change the name. AOL is simply toxic."
Equally as challenging will be any attempt to spin off AOL in the current economic climate. "I can't imagine Bewkes could get this done anytime soon," says one longtime Time Warner shareholder. Then again, Time Warner is sticking to plans to spin off its cable business at the end of March. It's likely that Time Warner would not include AOL's moribund dial-up access business in any spin-off, either continuing to milk it for cash or attempting to find a buyer. Asked about the potential for a spin-off, Armstrong appeared not to be put off by the economy. "There is a lot of optionality around this company," he says. "You have to focus on shareholder value. To do that, you have to show that you have a strong core business."
Struggling Operation
Armstrong will have his hands full at the helm of AOL, whatever the outlook for a spin-off. Just this week, AOL began notifying 700 people that they will lose their jobs. Armstrong says his first priority will be to spend several weeks at AOL offices in Dulles, Va., and in New York, meeting employees and talking to them about the issues that confront AOL.
Since the ill-fated AOL-Time Warner merger in 2001, AOL has suffered through almost constant turmoil and management upheaval as it has tried several times to reinvent itself. In 2002, Time Warner was forced to take a $54 billion writedown related to the deal. A year later, it dropped AOL from the corporate parent's name. The latest management team—Falco, a former NBC Universal executive, and Grant, a former AOL executive and onetime chief of staff to Bewkes—failed to turn around AOL and inspire its demoralized workforce.
AOL's biggest issue has been an inability to craft strong advertising offerings that stand out from the competition, even though it has bought promising companies, including Tacoda and Advertising.com. Last year, the company tried to combine its ad offerings, including ad networks and display advertising, into one overarching service for advertisers called Platform A to provide one-stop shopping for advertisers. The effort met with little success. In early February, Time Warner reported that AOL sales dropped 20% to $4.2 billion last year. In addition to losing subscription revenue, AOL was hurt by declines in display advertising revenue and those from ad sales on third-party Internet sites. Its 2008 operating loss was $1.1 billion.
Loss for Google
Armstrong has been one of the main liaisons to Time Warner when it comes to Google's 5% stake in AOL, so he knew many of the executives there. But it was only in the past two weeks that Bewkes and Time Warner General Counsel Paul Cappuccio, the last senior executive from the pre-merger AOL at Time Warner, approached Armstrong about taking the job. Mentioned as a possible successor to Jerry Yang as CEO of Yahoo before Carol Bartz took the job, Armstrong accepted the AOL offer Mar. 11 in a phone call from Bewkes.
Google recently expressed an interest in selling back the stake, but the talks haven't progressed, says one Time Warner source.
Clearly, this is a loss for Google, which holds the preeminent position in Internet advertising, in no small part because of Armstrong's relationships through the years with advertisers. In Silicon Valley, it was largely anticipated that Armstrong, who joined Google in 1999, would be poached one day for a CEO post. "We believe the only reason that Armstrong would agree to run AOL is the ability to manage a public company of his own in the near future," Pali's Greenfield wrote in his blog. "He was unlikely to run all of Google anytime soon."
Before it's here, it's on the Bloomberg Terminal.
LEARN MORE