Recession Slams Chinese Exports Again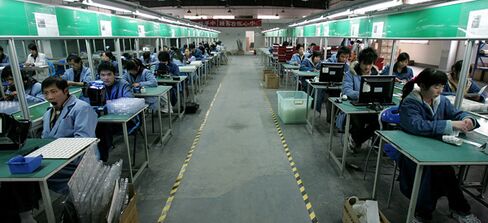 New data about China's economy is providing further evidence that the global recession is making the once mighty Chinese export machine sputter badly. After falling 17.5% in January, exports plunged a further 25.7% year-on-year in February, the government announced on Mar. 11. The drop was worse than what most analysts expected; a Merrill Lynch research note described it as "an ugly number." And the way things are shaping up in the rest of the world, the figure for this month isn't going to look very pretty either. While stock markets across most of Asia rallied on the strength of the previous day's rebound in the U.S., the Shanghai Stock Exchange fell 0.91%.
The poor export performance casts serious doubt on China's ability to meet the government's growth forecast for 2009. While Premier Wen Jiabao last week, in a speech opening the National People's Conference in Beijing, predicted the Chinese economy would be able to achieve 8% growth, many outside economists are less upbeat. The International Monetary Fund has projected Chinese economic growth of just 6.7% this year, but other estimates are far more pessimistic.
The export numbers overshadowed a bit of good news about China's economy that came out at the same time. Beijing also released data on fixed asset investment, which climbed 26.5% during the first two months of the year. The rise reflects a government spending spree on infrastructure as part of the $585 billion fiscal stimulus package unveiled last November.
Inflation Is Tamed
But so far there is little evidence of a pickup in private sector investment, as most companies have adopted a wait-and-see attitude rather than invest in new plants and equipment. Indeed, some analysts believe the easy credit extended so far this year has been used by companies to speculate in the stock market, which is up more than 17% year-to-date.
China's economy, meanwhile, faces the problem of falling prices. This time last year, inflation was raging at double digits due to high food and energy prices. Today, inflation has been entirely tamed: The consumer price index actually fell 1.75% in February year-on-year. However, as Jing Ulrich, managing director and chairman of China equities at JP Morgan (JPM) points out in a note, deflation is undesirable when it builds in expectations of further price declines, thus leading consumers to defer purchases.
Like other Asian countries, China is looking for ways to get people to spend in hopes of offsetting plunging foreign demand. The eastern Chinese cities of Nanjing, Hangzhou, and Ningbo, for instance, have spent millions distributing coupons to consumers for use in hotels, restaurants, and tourist destinations. But, given health, education, and retirement benefits that even government officials admit are inadequate, convincing Chinese consumers to open their wallets during these uncertain times is a huge challenge. "First, we need to have a healthy and complete social security system," Commerce Minister Chen Deming said in a Mar. 7 China Central Television interview. "Only when people feel that they have basic security…will they be willing to spend money."
One Prescription: More Government Spending
Beijing still has plenty of ammunition to stimulate the economy. JP Morgan's China chief economist and head of equity research, Frank Gong, agrees that China needs to spend more on the social safety net before the Chinese will abandon their thrifty ways. "Consumer coupons are better than cash because you get people to spend first before they get the cash back," he says. "But they should do more, spend more money to build national pensions, health care insurance, and unemployment benefits." Although Chinese Premier Wen did not unveil additional spending in his speech last week, the Chinese government has nearly $2 trillion in reserves and a debt-to-GDP ratio of just 18%, compared to 80% in the U.S. and Britain and 160% in Japan.
China's trade travails are problem enough for Beijing to be sure, but the export plunge in the mainland spells even more trouble for neighboring countries like Japan, South Korea, and Taiwan that provide much of the inputs assembled in China and re-exported to Europe and North America. "We can only hope and pray for some sort of a miracle in the U.S. and Europe coming to grips with financial systems, recapitalizing the banks and starting lending," says Supavud Saicheua, Thai economist at Merrill Lynch.
Before it's here, it's on the Bloomberg Terminal.
LEARN MORE