Korea Blames Weak Currency on Speculators
Finance Minister Yoon Jeung Hyun offers reassurances on Korea's economy, but the foreign exchange market has yet to boost the won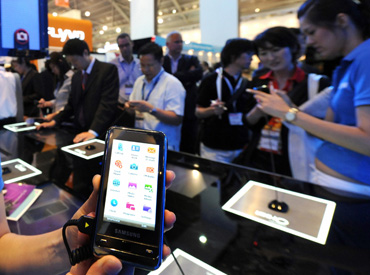 Those listening to South Korean policymakers explaining the country's current economic predicament might be hard-pressed to comprehend why the South Korean won has been the worst-performing major currency for more than a year. Finance Minister Yoon Jeung Hyun on Mar. 5 spoke reassuringly about Korea's economy. The country has plenty of foreign exchange reserves, he said; its total of more than $200 billion is the sixth largest in the world. National debt amounts to 33% of GDP, much lower than the Organization for Economic Cooperation & Development average of 75%. Korean companies' corporate debt-to-equity ratio has fallen to one-fourth the level recorded during the 1997-98 Asian financial crisis. Moreover, the country has managed to somewhat avoid the housing price bubble prevalent elsewhere, he argued.
So why the recent dive in the Korean currency and the market jitters related to the idea that Korea may face a liquidity crisis? According to Yoon and his fellow policymakers, Korea has become a victim of speculators because it is a "small and open economy." He declared: "I will put a top priority on gaining market confidence based on honesty."
Thus far, Yoon and his ministry have failed to do so. The best evidence is the country's currency, which has lost nearly 20% of its value against the dollar this year after losing 26% in 2008. If players at Seoul's foreign exchange market were convinced that the Korean economy would be among the first to recover from the —as Yoon says—and if they had confidence in Korean mandarins' ability to forestall a liquidity squeeze, they would not have sold down the won to the current level. "The nasty habit by Korean officials is that they try to set up smoke screens with numbers they don't like," says Chu Jinhyung, an independent analyst and a former executive at Woori Bank.
ONE-TWO PUNCH
Such a weak currency won't help Korea's economic recovery, particularly when demand has collapsed in export markets. It makes such Samsung Electronics cell phones, Hyundai Motor cars, and LG Electronics TVs cheaper overseas, but consumers in the U.S., Western Europe, and Japan are in no mood to buy. Also, a weak won could block imports of capital goods needed for upgrading and expanding production facilities. Although a double-digit fall in exports in the last three months of 2008 seriously undermined industrial production, a 16% plunge in facility investment was an equally important factor in the 5.6% contraction in Korea's GDP from the previous quarter.
The government stresses that foreign debt maturing within a year amounts to 77% of its foreign exchange holdings, meaning Korea can cover its obligations. However, no other Asian nation that investors care about has such a high ratio of short-term external debt (on a remaining maturity basis) to foreign exchange reserves. Few expect Korea to default on debt payments, but many worry that it might run into a liquidity crunch if exports keep falling sharply. "Korea's financial markets will likely remain vulnerable unless the U.S. financial system stabilizes and Korea consistently reports current account surpluses," says Lee Jae Joon, economist at Korea Development Institute, a government-funded think tank.
What's clear is that the weakness of the won was caused by a shortage of the greenback. The best way to start winning market confidence is to explain exactly why there has been such an acute dollar shortage and to show what specific steps Seoul is taking to end market players' worries. Until the won begins gaining strength, few investors will be as confident in Korea's economic fundamentals as Finance Minister Yoon.
Before it's here, it's on the Bloomberg Terminal.
LEARN MORE