Microsoft Has Hope in Asian Piracy Fight
Asian governments are helping companies and U.S. law enforcement agencies crack down on piracy, but counterfeiters are a nimble bunch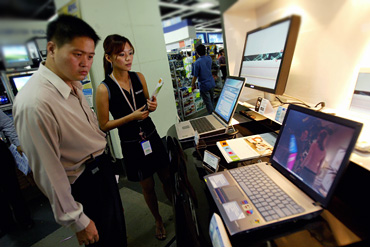 In its fight against software piracy in Asia, Microsoft (MSFT) got a boost earlier this month from Thai police officers. On Feb. 19 cops from the Economic & Technological Crime Suppression Division responded to complaints filed by the and arrested alleged counterfeiters in Pathumthani, a city in central Thailand, north of Bangkok. According to Microsoft, the suspects were carrying 50 pirated software packs at the time of their arrest. The raid is the latest in a series in Thailand: In December, for instance, police staged raids on three shops in Bangkok and Pathumthani, arresting three people and confiscating more than 12,000 pirated discs.
The Thai campaign is part of a broader effort across the region, long notorious as a hotbed of counterfeiting, to fight piracy by working with local governments. David Finn, Microsoft's point person for anti-counterfeiting in Asia as well as other parts of the world, says the company is cooperating more closely with authorities in places such as Indonesia, Malaysia, and China. "The center of the manufacturing of counterfeits remains in Asia," says Finn. But Microsoft is encouraged by the willingness of governments in the region to work together with the company and law enforcement agencies from the U.S. "There is more cross-border collaboration than there has ever been," he says.
Others involved in the anti-piracy struggle say Asian countries are making steady progress in shedding their reputation as intellectual-property scofflaws. "There definitely has been gradual progress," says Jeff Hardee, vice-president for Asia-Pacific at the Business Software Alliance (BSA), an industry group with 27 members. For instance, in China 82% of software was pirated in 2007, compared with 92% in 2003. In India, the rate fell from 73% in 2003 to 69% in 2007. In Indonesia, it dropped from 88% to 84%, and in Malaysia it fell from 63% to 59%. "The piracy rates are coming down in most countries," he says.
The Cost of Piracy
Still, as more Asians have purchased PCs, the size of the software industry's losses to counterfeiting has soared. In 2003, according to the BSA, piracy cost software vendors $7.6 billion in lost sales. By 2007 that number had leaped to $14 billion. In India, the losses grew from just $367 million in 2003 to $2 billion in 2007. In China, they jumped from $3.8 billion to $6.7 billion. With the huge populations of China and India, "even if the piracy rates drop, the losses from piracy grow," says Hardee.
Many in the industry are hopeful that local government officials realize it's in their own interest to work with the U.S. and other countries to bring those rates down. China's leaders, for instance, have been trying to nurture the development of a local software industry. That's not easy to do, especially when companies have to worry about pirates stealing all their business. On Dec. 31 a Chinese court gave long prison sentences to several convicted counterfeiters in a case that saw Chinese authorities work with Microsoft and the FBI. China's leaders "recognize a good intellectual-property-rights scheme is good for their country," says John Chiang, head of the U.S. Information Technology Office, a Beijing-based industry group. "Their own people need protection in order to innovate. That's an irreversible trend."
Not everyone is so optimistic, though. Last month, for instance, the World Trade Organization ruled against China in a case brought by the Bush Administration's trade representative. The U.S. first brought the case to the trade body in 2007, accusing China of allowing the piracy of CDs and DVDs. Washington also complained the Chinese government tacitly gave the green light to pirates by allowing those producing in small amounts to avoid prosecution.
Shoppers interested in buying the latest Hollywood movies on DVD typically have little difficulty finding low-priced knockoffs in Chinese markets. Vendors in Beijing and Shanghai, for instance, are selling DVDs of Oscar winners Slumdog Millionaire, The Curious Case of Benjamin Button, and The Reader, even though the movies have yet to be released in China.
Even if the U.S. is wrong and China is indeed doing its best, there's also a chance the global economic crisis will slow or even reverse the momentum, as hard-hit consumers decide to save some money by buying pirated software. However, Finn, a former prosecutor in the U.S. who leads an anti-piracy team of 75 people at Microsoft, argues that even in bad times, international intellectual-property protection is good for business. "The importance of intellectual property and its connection with economic growth is real, and at times like this that connection is important to keep in mind," he says. "That message resonates pretty clearly throughout the world."
Not over the Counter
Francis Anthony, who runs a large shopping mall in Kuala Lumpur, says it's in the interest of his business to steer people away from counterfeits. Anthony is manager of Plaza Lowyat in the Malaysian capital, a mall that, he admits, "was quite infamous" as the place to go for consumers wanting to buy illegal software. That damaged the mall's reputation. "We are trying to bring it a step or two higher in terms of image," says Anthony. "We want to improve the entire brand of the mall." Thanks to several steps, including management threats to evict offenders, police raids against stores selling pirated material, and cooperation with Microsoft, he says pirated software is not so easy to buy. "It's definitely not openly available over the counters anymore," he says.
Counterfeiters are nothing if not nimble, though, and even as governments in Asia crack down on them, pirates are finding other ways to stay in business. In Kuala Lumpur, some merchants may still have fake goods available, although not on display. "You have to be very smart" if you want to find counterfeit software now, says Anthony, and "ask the right people the right questions."
Increasingly, pirates are also turning to the Internet to deliver their goods. Taiwanese prosecutor Shao-Pin Chang, for instance, is in charge of a team tasked with targeting counterfeit software delivered over the Net. The odds are against him: While there are about 70 teams of prosecutors and investigators working on anti-piracy issues in Taiwan, Chang says his is the only one that can work on Internet-related counterfeiting. Combating old-fashioned piracy, with merchants selling discs from their shops, is much simpler than fighting counterfeiters who use the Internet, he says. "The police can go to the night markets or the IT malls, and if they find someone selling pirated discs, it is easier for them to pursue the case," says Chang. "Internet piracy is harder. We need to learn more about how to trace people over the Internet."
Before it's here, it's on the Bloomberg Terminal.
LEARN MORE