Obama Names Locke for Commerce
President Obama announced his third nominee for Commerce Secretary, former Washington Governor Gary Locke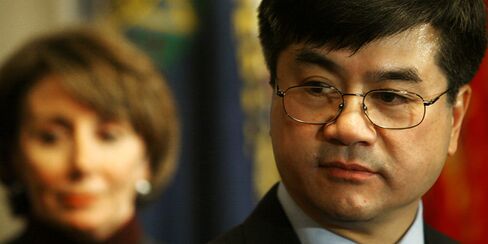 After two withdrawn nominations to head the Commerce Dept., President Obama on Feb. 25 tried again, selecting former Washington Governor Gary Locke for Commerce Secretary.
Locke, 59, is regarded as a wonkish pragmatist whose international efforts to expand business opportunities—along with what the Administration hopes is a scandal-free background—drew White House interest.
In brief remarks at a news conference, the President predicted Locke would be "a tireless advocate for our economic competitiveness, and an influential ambassador for American industry who will help us do everything we can, especially now, to promote our industry around the world."
Describing his life story as the son of immigrants, Locke turned to the President, promising to "harness the resources and the talent of the Department of Commerce to help you fulfill your commitment to the American people to build a stronger and more prosperous nation."
Since leaving public life in 2005, Locke, the nation's first Chinese American governor, has traveled to his ancestors' homeland multiple times as a corporate lawyer, helping companies enter the Chinese market and developing connections in China's hierarchy. He also has been a champion of transportation spending and tax breaks, including a successful effort that convinced Boeing (BA) to build the 787 jetliner in Everett, Wash.
Third Time's a Charm?
Obama is hoping to have better success with Locke than with his first two picks for Commerce. His No. 1 choice, New Mexico Governor Bill Richardson, a Democrat, announced his withdrawal in early January amid a grand jury investigation into how a corporate political donor won a lucrative state contract. Then, earlier this month, Obama tapped Senator Judd Gregg (R-N.H.), who initially accepted, but changed his mind after a week of reflection.
Locke, a Yale-educated lawyer and son of immigrants, who was once an Eagle Scout, was known more as a wonk than a flashy politician, according to the Seattle Post-Intelligencer. More recently, his work for law firm Davis Wright Tremaine and some large corporations has focused on energy and China.
Locke is also known as a budget-cutter—including taking the ax to social programs in Washington State—and a strong advocate of global trade.
In 2003, while delivering the Democratic response to President Bush's State of the Union address, Locke criticized the economic policies of Republicans as "upside-down." Instead, he urged hundreds of billions of dollars in investments and relief for the middle class.
According to disclosure forms tallied by the nonprofit Center for Public Integrity, Locke's financial holdings suggest a preference for shares in regional companies. He reported stock worth at least $468,000, in Amgen (AMGN), Associated Bank (ASBC), Conseco (CNO), Costco (COST), Esterline Technologies (ESL), Getty Images, Microsoft (MSFT), Starbucks (SBUX), and Washington Mutual.
Locke has been a board trustee of the Life Sciences Discovery Fund, which promotes bioscience, and serves on the corporate board of Safeco Insurance.
Before it's here, it's on the Bloomberg Terminal.
LEARN MORE