John Malone: King of Satellite?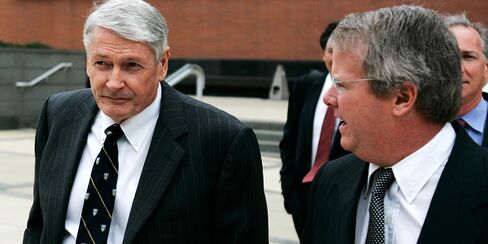 In his 1990s heyday at the helm of cable TV behemoth Tele Communications, John Malone was routinely labeled "The King of Cable." He was lauded for his leadership of a then-struggling industry. Today, the 67-year-old Malone may have just become the Satellite King.
By injecting as much as $530 million into ailing satellite radio company Sirius XM (SIRI), Malone's Liberty Media (LMDIB) is poised to hold sway over a stable of companies that use satellite technology to deliver TV, radio, and broadband to more than 37 million subscribers. "We have been impressed with the company, its operations and management team," Liberty CEO Greg Maffei said in a statement. "Sirius XM's ability to grow subscribers and revenue in a difficult financial and auto market is indicative of how listeners view this as a 'must have' service." Sirius XM has 18.9 million subscribers after the merger last year of two wobbly competitors, Sirius Satellite Radio and XM Satellite Radio.
Malone's Master Plan
People with knowledge of Liberty Media say Malone and Maffei believe they're investing in a vastly undervalued asset. Malone, a billionaire media maven, for years has been enamored with satellite, which he considers a cheaper alternative to cable TV and phone service. Under his agreement with Sirius, Malone's company will invest up to $530 million and could take a 40% stake in the company, though it is blocked for three years from taking a stake larger than 49.9%. That could give Malone, who joins the Sirius board along with Maffei, the time he needs to make Sirius a working part of larger satellite ambitions.
Malone, a Yale-educated engineering PhD, hasn't said what those ambitions are, but he has a reputation for thinking several steps ahead of his peers. "If there is something to make out of all of this, John Malone probably has it figured out already," says Jimmy Schaeffler, chief executive officer of the digital consulting firm Carmel Group. For starters, Malone's Liberty Entertainment unit owns a 48% stake in DirecTV (DTV), the nation's largest satellite TV operator, with 17.6 million subscribers. DirectTV already offers music from the Sirius XM service, but it could market the products to customers for use in their cars at a fraction of the current $12.95 monthly subscription fee for Sirius XM. Liberty could also harness unused satellite spectrum controlled by Sirius XM to offer more channels of video.
An equally intriguing prospect is how Sirius might fit with Liberty's 37% stake in WildBlue Communications, which offers wireless broadband for $49.95 a month to mostly rural customers who can't get high-speed Internet access from a local phone company. The service currently has 380,000 subscribers, a 10% increase in the last six months, but could likely do much better if it was marketed alongside Sirius radio.
Down the road, Liberty and Sirius XM are likely to weigh combining operations, says Larry Rosin, president of Edison Media Research . "I assume that they are going to eventually talk about a merger," Rosin says.
Escape Clause for Sirius
Malone by no means has Sirius in his hip pocket. CEO Mel Karmazin is a tough infighter, who has put into the agreement measures that could allow him to end the deal with Malone later this year, though refinancing in the current environment could be tough.
And while the investment helps Sirius XM avoid filing for Chapter 11 bankruptcy protection, the company still faces some tough challenges. It's had $653.8ýmillion in losses in the past nine months, and needs to repay $3ýbillion in debt in the coming five years. And one of the main sources of new customers for Sirius XM, sales of autos that come with the radio service installed, has hit a wall. "Sirius's troubles are in no way over," says Frost & Sullivan consultant Ron Gherman. The company "seriously needs to find a new business model away from the Detroit Big Three."
As grand as Malone's ambitions may be, he won't suffer a loss-making business forever, says Tuna Amobi, an analyst at Standard & Poor's. "At some point, strategic motives kick in," Amobi says. "Knowing John Malone, there's only that much tolerance [for losses]. Does he continue to operate a money-losing proposition? Quick arrangements like this can quickly turn sour."
A Win-Win for Malone
At very least, Malone can rest in the satisfaction of having kept Sirius XM out of the hands of DirectTV rival Dish Network (DISH) and its CEO, Charles W. Ergen, who has recently purchased Sirius debt on the cheap and was pressuring Karmazin to sell. And even if he doesn't end up owning Sirius XM, Malone walks away with a wad of cash. The Liberty-Sirius deal gives Sirius until Apr. 15 to find a better deal, at which point Malone walks away with a $30 million fee for the bridge loan plus a $7ýmillion termination fee. Karmazin can also end the deal by Dec. 31 if he finds other financing, but would then owe Malone a 5% premium on the money he has offered up, which could be as much as $12.5ýmillion on the $250ýmillion credit. In the meantime, Malone is collecting a whopping 15% annual rate for the money he lent Karmazin.
That's vintage John Malone: swooping in and helping to prop up a weakened competitor. He did it years back with a then flat-broke Ted Turner, giving him money to help him create an empire. Malone did it with Barry Diller years back when Diller, bounced by the owners of shopping channel QVC, needed help creating another shopping empire that has since become IAC Interactive (IACI). None of those deals came without strings, and Malone always took a stake. That sounds a lot like the current Sirius deal, and with Malone wielding a wad of cash, just about anything is possible.
With Olga Kharif in Portland, Ore.
Before it's here, it's on the Bloomberg Terminal.
LEARN MORE