Stocks: Where the Bulls Are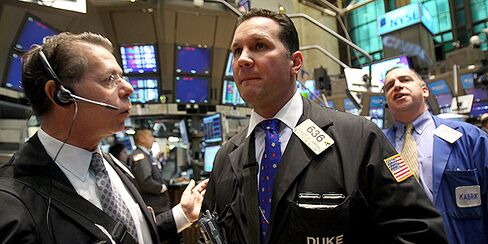 There are certain stocks that everybody seems to love. But not that many.
In an effort to see just where the strongest concentration of analyst bullishness lies in the battered equity market, BusinessWeek examined the analyst ratings on stocks in the Standard & Poor's 500-stock index. Out of all the names in the big-cap benchmark, analysts are universally positive on just three: Philip Morris International (PM), Covidien (COV), and Thermo Fisher Scientific (TMO). That means that each of the 11 or more sell-side (i.e., brokerage) analysts who follow these firms rates the stock a "buy." Think of it as the analytical equivalent of batting 1,000.
Even as the economy slows and investors remain fearful and stunned from last year's market sell-off, it's hard to find a discouraging word about these equities.
The lack of dissenting voices is a rarity. Even an analyst favorite like Google (GOOG)—which gets a buy rating from no fewer than 35 analysts—receives a "hold" or "sell" rating from a handful (12% for a total of five) of its analysts.
Money Where Their Mouths Are?
A "buy" rating is high praise, but it's not the ultimate expression of Wall Street approval. Investors truly love a stock when they put their money where their mouths are, by buying it and bidding up the price.
So far, that hasn't happened with these three stocks, which are all well off their 52-week highs. If it had, it's likely that some of their analysts would lower their buy ratings on worries the stocks have become overvalued.
So does the unanimity of the Wall Street seers signal good things ahead for Philip Morris International, Covidien, and Thermo Fisher?
Tobacco giant Philip Morris International separated last year from Altria (MO) and took over Altria's international sales operations, with rights to Marlboro and other brand names.
Tobacco stocks often attract in investors fleeing economic distress. Because tobacco is addictive, "tobacco products are among those most likely to be resistant to the recession," says Morningstar (MORN) analyst Philip Gorham.
Fifteen analysts cover Philip Morris International. They cite the company's strong cash flow—which funds a 5.8% dividend yield—and the new firm's efforts to cut costs and widen profit margins further.
But the true appeal of the firm is the prospect that, despite the economic slowdown, it can grow. Executives are focused on markets like China, Bangladesh, India, and Vietnam, where about 40% of the world's cigarettes are smoked. "It really has a wide global footprint and access to some growth markets that its international competitors really don't," Gorham says.
Philip Morris International's shares are down 14% from the start of the year, and down 24% since its March spin-off.
Litigation and taxes can take their toll on tobacco companies, and foreign revenue leaves the company vulnerable to a strengthening dollar. (A rising dollar makes overseas profits look smaller.) Along with broader market turbulence, Gorham thinks the stronger dollar has hurt the stock price.
But, he adds, "the fact that the stock has been soft in the last few months is a buying opportunity."
Todd Lowenstein, a portfolio manager of the HighMark Value Momentum Fund (HMVMX), owns shares. He warns that, in a recession, even addicted customers may choose to trade down to cheaper brands.
The firm is "not without risk, but we think the business has strong staying power," he says. "They should be able to weather the storm."
The Rush to Health
Although Covidien is a health-care company, it has some similarities to Philip Morris International. It is also the product of a spin-off; until 2007, it was part of Tyco International.
As a health-care company—Covidien makes medical devices, supplies, and pharmaceuticals—the firm is somewhat protected from a recession. Free cash flow is "quite strong," JPMorgan (JPM) analyst Taylor Harris wrote on Jan. 27, and the stock deserves a "premium valuation…given the highly defensive nature of its business."
Covidien isn't just protected from economic pressures. It also is finding ways to grow. Standard & Poor's equity analysts say the firm's product lines can support annual revenue growth of 5% to 8%. Raymond James analyst Jayson Bedford writes: "The underlying growth rates are some of the strongest in the medical device universe."
Lowenstein, who also owns Covidien, believes the spin-off positions the company for long-term growth. "Tyco really starved this business," he says. Now that it's an independent company, Covidien can invest in attractive growth opportunities and especially new research and development.
Covidien shares are up 5% in 2009, and down about 13% in the past 12 months. Here, as with Philip Morris International, currency issues may be hurting investor appetite for the stock, despite the positive recommendations of all 11 analysts who cover the company. S&P predicts revenues could fall 4% to 6% becausse of the strengthening dollar.
Lab Supplier
Thermo Fisher Scientific was formed in late 2006 after the merger of Thermo Electron and Fisher Scientific. As a maker of supplies and instruments for laboratories, Thermo Fisher also claims some resistance to the recession.
That attracts analysts to the stock, along with its strong cash flow and low debt. In total, 11 analysts rate the company a "buy." Also, the company had strong results in the first three quarters of 2008, says Jamia Jasper, portfolio manager of the American Israeli Shared Values Fund, which owns shares. She says optimism on Thermo Fisher was bolstered by upbeat comments from the company's chief executive in January that were interpreted to mean Thermo Fisher will meet or beat analyst earnings estimates in the fourth quarter, too.
Given the state of the world economy, that would be an impressive accomplishment. But Jasper and other investors also like the firm's long-term prospects.
Thermo Fisher's "balance sheet strength provides them with a lot of opportunities in this environment," she says. The cormpany is expanding quickly in China and India, for example.
Thermo Fisher shares are up 5.2% since the start of 2009, and have fallen 32% in the past year. Some investors may be waiting until Feb. 4, when fourth-quarter earnings are expected, for proof that Thermo Fisher can grow even during the recession.
Although analysts can be valuable guides and sources of information, they are not famed for their stock-picking ability. Wall Street analysts represent conventional wisdom, and most investors would prefer to be ahead of the market consensus, not following it.
"It does give us pause when the Street agrees with us," says Lowenstein. "In these cases, we think they're right."
With analysts so universal in their praise, these firms may find it is difficult to impress Wall Street further. But, in the wild market of late 2008, investors' fear may have caused them to overlook great stocks. Maybe this time the Wall Street analysts will be proved right.
Before it's here, it's on the Bloomberg Terminal.
LEARN MORE