Community Banks Increase Small Business Loans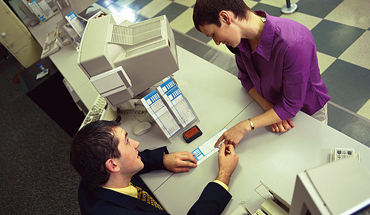 About six months ago, David Klein, owner of Scientific Fire Prevention & Environmental Services in Long Island City, N.Y., decided to apply for a bank credit line because he was concerned about the tottering economy. Klein says he approached a handful of large banks including HSBC (HBC) and Washington Mutual (JPM) about his healthy, $9 million, 100-employee cleaning services company. He initially garnered interest, but soon found himself lost in bureaucratic shuffles. As talks continued, Klein became frustrated with the length of time it took to receive term sheets. When they did arrive, he found most of the terms "vague and unfavorable," and he had difficulty reaching bank staff. As the economy continued to crater, Klein decided he didn't want to do business with a bank that not only had poor customer service but one that might also be saddled with toxic assets.
Then Klein met the chairman and CFO of Cross River Bank, a small, recently opened community bank in Teaneck, N.J. Within three weeks of meeting about a credit line, Klein received a term sheet and not long after secured a $750,000 revolving line of credit. Compared with his previous experiences with larger banks, Klein was pleased. "They were easy to get a hold of and responded quickly to anything that we needed," he says. "We were able to negotiate things on the term sheet to the point that we were comfortable."
As the credit freeze continues and the recession deepens, many community banks, generally defined as having less than $10 billion in assets, are reporting an uptick in loans and credit lines to small businesses. At a congressional hearing on small business and the economic recovery earlier this month, economist Paul Merski, of the Independent Community Bankers of America, a Washington (D.C.) trade group, told lawmakers that community banks make 20% of all small-business loans, even though they represent only about 12% of all bank assets. Furthermore, he said that about 50% of all small-business loans under $100,000 are made by community banks.
Seizing the Opportunity
Indeed, for the past two years, small-business lending among community banks has grown at a faster rate than from larger institutions, according to Aite Group, a Boston banking consultancy. "Community banks are quickly taking on more market share not only from the top five banks but from some of the regional banks," says Christine Barry, Aite's research director. "They are focusing more attention on small businesses than before. They are seeing revenue opportunities and deploying the right solutions in place to serve these customers."
Early on, Cross River Bank, which opened last November, saw the slowing economy as an opportunity to get into the community-banking business and to build lending relationships with small businesses. "It was very opportunistic for us to be in this environment," says Gilles Gade, Cross River's chairman and CFO. "Many small businesses are being declined by other banks that are having issues, and we stepped in." Gade says that Cross River, with $20 million in assets, closed 11 small business loans worth $9 million in its first two months and has a further 15 worth $10 million in the pipeline. "We are seeing 10 to 20 applicants a week," he says.
Some of the factors that make community banks attractive during a strong economy have added appeal for business owners dealing with the effects of the downturn. Unlike their larger counterparts that normally make and approve loans by adhering to a set formula of criteria—often without an in-person meeting—community banks do meet in person and apply a variety of standards to approving a loan. They are willing to consider businesses that do not fall into neatly defined parameters. Moreover, loan officers often have an intimate knowledge of the local area and its businesses.
Hands-On Approach
Richard Sanborn, CEO of Seacoast Commerce Bank (SCCB.OB) in Chula Vista, Calif., credits his hands-on approach with local small business owners as a reason Seacoast has been San Diego County's No.1 Small Business Administration lender for the past two years. "I meet every new business," says Sanborn. "I want to look them in the eye and talk about what they are doing and understand what they do."
Sanborn says Seacoast, which has just over $80 million assets, continues to benefit from developing relationships with its clients. "We get our arms around their business, and a lot of big banks don't do that," he says. "[In the case of the big banks], if an applicant doesn't fit in the box, their loan is declined. We try to be creative and come up with a solution that will work. We look at other types of collateral and income to support cash flow, or we think about structuring a deal that is flexible." That means looking at a host of criteria in addition to credit scores, cash flow, and debt charts.
Recently, Sanborn says he completed a deal with a small business looking for a loan that most other banks didn't want to touch. The company, which planned to buy foreclosed properties and fix them up, had lined up investors willing to put up 50% of the money in cash and needed a loan for the remainder. "This was a startup venture for them, but they had experience in real estate and property," recalls Sanborn. "They are taking foreclosed houses off of the market. It was a win, win, win for everybody."
Local Knowledge
Tamalpais Bank in San Rafael, Calif., with $702 million in assets, prides itself on making lending decisions based on intimate knowledge of its applicants and their businesses. Located near Northern California's wine country, the bank, which makes an average small business loan of $800,000, concentrates on the hospitality sector. For one thing, many Tamalpais loan officers live in the area and have done so for years, gaining a certain amount of expertise and knowledge. Additionally, a number of its loan officers have MBAs in the hospitality business. "When we meet with a client we have a good understanding of them," Michael Rice, Tamalpais senior vice-president in charge of small business loans. He says its small-business loans grew by 50% in 2008 from the previous year.
While small community banks continue to make new loans, Randy Fuchs, principal at Boxwood Means, a Stamford (Conn.) research firm that follows small business loans, cautions the picture isn't entirely rosy. There is still a lot of economic uncertainty. Fuchs says that during the past few quarters, about 75% of small business loans were ones in which business owners were refinancing. "On the surface that makes sense," he says. But beneath the surface, Fuchs says it indicates that some owners are using their properties to pull cash out to support their businesses during shaky times.
At the same time, says Fuchs, "borrowers still need loans, and there is demand on Main Street for financing. It will not go away. The small commercial market is thriving despite economics…We feel that smaller banks that weren't buying risky securities will have adequate capital to continue to lend."
Before it's here, it's on the Bloomberg Terminal.
LEARN MORE