Is Britain's Stimulus Plan a Wise Move?
Britain is pulling out the stops to immediately shore up the badly shaken economy, but what it will mean for the longer term is unclear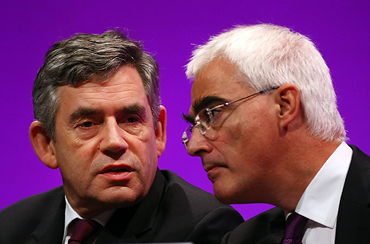 The economic picture in Britain—Europe's second-largest economy—is getting ugly. The country's GDP growth has started to slow, unemployment levels have risen at their fastest rate in almost two decades, the value of British real estate has fallen 15% in the last year, and the pound has lost a quarter of its value against the dollar since midsummer. To bolster confidence, Britain's Prime Minister, Gordon Brown, already has poured billions of dollars into the country's financial-services industry. Now, his attention has turned to the wider economy.
On Nov. 24, Alistair Darling, Brown's finance minister, announced a range of tax cuts and government spending projects totaling £20 billion ($30.2 billion) over the next 18 months. The stimulus package includes a two-and-a-half percentage point cut in value added tax (VAT)—a form of sales tax—to 15%, a postponement of corporate tax increases, and government guarantees for loans to small and midsize businesses (SMEs). The British government also plans to spend £3 billion ($4.5 billion) on public works, such as public housing and energy efficiency. "I don't see this as a gamble. I see this as necessary, responsible action," Brown told the BBC on Nov. 23.
The package may be necessary, but analysts question its long-term consequences for the British economy. The country's public finances—already facing a roughly 4% deficit—will come under additional strain as policymakers take on more debt to jump-start lagging consumer spending. As a result of the new stimulus package, public borrowing will top £118 billion ($178.6 billion) next year, equivalent to approximately 8% of Britain's total GDP. To pay for these extra costs, experts figure taxes eventually will have to be increased and government spending slashed. That raises questions about whether Britain's $30.2 billion recovery package will help the country shrug off its current economic woes—or make matters worse in the future.
"We've never had a package like this before in light of the huge structural deficit we currently find ourselves in," says Geoffrey Wood, professor of economics at City University's Cass Business School in London. "An increase in public spending could be ill-advised to help strengthen the economy."
Continental Trend
Extra debt certainly will put stress on the country's coffers, but the British government isn't the only one pinning its hopes on multibillion-dollar stimulus packages. The European Commission is reportedly considering a €130 billion ($166 billion) plan (BusinessWeek.com, 11/20/08) that would fund cross-border projects, including energy and telecom infrastructure upgrades. Individual European countries, such as Spain and Germany, already have started pumping money into their economies. And on the other side of the Atlantic, U.S. President-elect Barack Obama is expected to announce an economic recovery plan (BusinessWeek.com, 11/22/08) that could well exceed the $175 billion figure quoted during the Presidential election campaign.
So what does the stimulus package mean for the British economy? For starters, the reduction in VAT, as well as other consumer-focused tax cuts, is aimed at reigniting spending, particularly during the critical holiday season. The country's Office for National Statistics recently reported retail sales in September and October fell 0.5% and 0.1%, respectively, from the previous months, led by a 5.4% drop in household goods. Policymakers hope that trimming sales taxes will prompt consumers to reopen their pocketbooks—the effects of which will eventually trickle through to the rest of the economy.
"The stimulus package could turn around the current depressed economic activity," says Jeremy Batstone-Carr, head of private client research at stockbrokers Charles Stanley (CAY.L) in London. Investors seemed to agree: London's benchmark FTSE 100 stock index soared an eye-popping 9.8% on Nov. 24.
For the corporate sector, the postponement of various tax increases, particularly on SMEs, is expected to offset the increased cost of capital brought on by the freezing of the global credit markets. The British government announced £2 billion ($3 billion) in loan guarantees on Nov. 24, plus a £4 billion ($6 billion) lending package from the European Investment Bank to give companies greater access to credit. Cash-strapped firms also will be able to defer certain tax payments until the economy starts to recover. "Small and medium firms are the engine of our economy," Chancellor of the Exchequer Darling said.
Road to Recovery?
Despite these multibillion-dollar expenditures, economists reckon Britain's economy will only start to recover by 2010, at the earliest. Morgan Stanley (MS), for example, expects the country's GDP to contract 0.3% in 2009, followed by a 1.9% increase the year after. Yet by funding its Nov. 24 stimulus package through a combination of tax rise deferrals, short-term tax holidays, and increased government debt, analysts believe, the British government will have to raise taxes and cut public spending to pay for the plan just as the economy begins to improve.
According to Roger Bootle, economic adviser to consultants Deloitte, the stimulus package should return Britain's private sector to the black by 2010. This date, however, coincides with the end of many of the tax holidays policymakers hope will jump-start the British economy. VAT levels will return to 17.5%, and corporate taxes on small companies will increase by 1%. From April 2011, income tax rates for people earning £150,000 ($225,378) also will jump five percentage points to 45%. That means the extra tax revenue needed to pay for the $30.2 billion stimulus plan could throw cold water on the economy just as it starts to bounce back.
"With any tax rises, it's wrong to expect a quick economic recovery," Bootle says.
For British Prime Minister Gordon Brown, these consequences look to have taken a back seat as he looks to counter Britain's worst downturn since the early 1990s. The long-term effects of the stimulus package may be unclear, but the short-term need to shore up the domestic economy, for now, has taken precedent.
Before it's here, it's on the Bloomberg Terminal.
LEARN MORE