Is the U.S. Ready for Four-Cylinder BMWs?
BMW is making a risky bet that horsepower-mad American drivers will go for cleaner and greener luxury in its 1, 3, and even 5 Series cars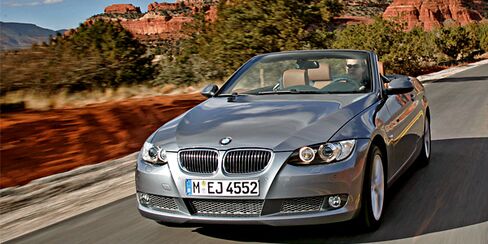 BMW's headquarters in Munich is practically a work of roadside art. Built from four 20-story cylinders that join in the center, it's an homage to the four-cylinder engines that powered the automaker's fuel-thrifty offerings in Europe in the late-1960s when the building was designed.
Though four-cylinder cars still account for most of BMW's sales in Europe today, the last such model the company sold in the U.S. was the 1998 318Ti, a car so spectacularly unsuccessful that BMW executives are often embarrassed to discuss it.
That was then. Now BMW is making a risky bet that a big chunk of its U.S. sales will be "four-bangers" by 2012, including the majority of its best-selling midsize 3 Series, the compact 1 Series, and even a few of its full-sized 5 Series. The company believes a new breed of four-cylinder engines will help satisfy tougher U.S. fuel economy and emission regulations without hurting its reputation for agile power. But BMW and other luxury automakers jumping into this game face some major marketing challenges. Not least, they must persuade American drivers that these smaller engines are powerful enough for $35,000-plus premium sedans, and not just the usual econo-boxes.
Direct Injection
The new four-cylinder engines promoted by several carmakers use direct injection technology, which forces gas straight into the combustion chamber at higher pressure than in conventional engines. This results in higher fuel efficiency and lower emissions. Adding turbo-chargers, which push extra air into the combustion chamber, results in greater horsepower, even though the engine is smaller. "Legislation is dictating that we be greener," says Jim O'Donnell, CEO of BMW North America. The challenge, says Jessica Caldwell, industry analyst at Edmunds.com, will be orchestrating suppliers, factories and marketing, and all the while keeping sales of the "bread and butter" 3 Series humming.
Will American drivers buy this pitch? Audi's experience suggests it won't be easy. Cars with four-cylinder engines currently make up about 80% of Audi's A4 luxury models. Because of the small engines, though, consumers often don't place the brand in the same class as Mercedes, BMW, and Lexus, executives at Audi admit. It's a sore point with Scott Keogh, chief marketing officer with Audi of America, but perceptions may be changing. "Now we think the market has turned toward what we do best: powerful but fuel-efficient vehicles," he says.
Audi's newest four-cylinder engine generates 211 horsepower, 20% less than its six-cylinder counterpart. But the smaller motor delivers 15% to 25% better mileage, depending on options, and zips the car to 60 mph in 6.5 seconds, only a hair slower than its bigger sibling. That's helping win fans. "Younger people, who prefer BMW, Audi, and Infiniti, are not hung up on the number of cylinders," says Earl Hesterberg, CEO of auto retailing giant Group 1, in Houston. "They appreciate technology like turbochargers, and tilt to the 'green' side when they can."
Detroit is listening. By late 2010, General Motors (GM) will bring out a four-cylinder Cadillac sedan about the size of a BMW 3 Series. The goal is a 260-horsepower car that beats rivals in mileage. But GM also is hedging its bets with a six-cylinder option. It's possible U.S. drivers will become "un-American" about their preferences for power on the open road, says Cadillac General Manager Jim Taylor. "But it's not coming as fast we might think."
Before it's here, it's on the Bloomberg Terminal.
LEARN MORE