China's Economy Sputters
The property market is tanking, stocks are off 60%, and factory orders have fallen for three months in a row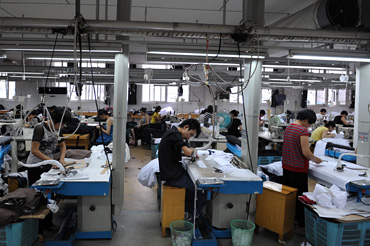 Hundreds of millions of Chinese look forward all year to the "Golden Week" holiday marking the country's Oct. 1 National Day. After the weeklong vacation ends next week, the mood will be decidedly downbeat. As the rest of the world struggles with the financial crisis, China has its fair share of depressing news (BusinessWeek.com, 9/17/08): The property market is tanking, the stock market is off nearly 60%, and there is mounting evidence that China's economic juggernaut is faltering.
The latest sign of a slowdown came with the Oct. 2 release of September figures on the health of China's manufacturing sector. The data, the CLSA China Manufacturers Purchasing Managers Index (PMI), showed the steepest fall in volumes of new orders since the monthly survey began in June 2004; registering 47.7, it was well below the 50 boom/bust cutoff. "This is a tsunami that starts in America, blowing across the globe and arriving at our doorstep," says Alex Fong, CEO of the Hong Kong General Chamber of Commerce. "Manufacturers [whose operations are all in China] have to be prepared for the worst."
What's worrying about the PMI is that it declined for the third month in a row, suggesting a trend of falling demand from both domestic and export orders. Based on monthly questionnaires sent to 400 Chinese manufacturers asked to give month-on-month comparisons, the survey is widely considered one of the most robust leading indicators in China, where economic data are often suspect. The PMI is also important because manufacturing accounts for about 42% of China's gross domestic product.
No Rebound after the Olympics
While the fall in new orders in August could be attributed to the Olympics (BusinessWeek.com, 8/7/08), when some industrial activity was curtailed, they did not rebound in September as many economists had expected. "We are seeing simultaneously the beginnings of an export slowdown and some weakness in business capital spending," says Eric Fishwick, head of economic research at Hong Kong investment bank CLSA Capital Markets. "It will get worse before it gets better."
CLSA predicts GDP growth will slow to 7.9% next year, down from a forecast 9.5% this year, and 11.4% in 2007. Achieving 8%, however, will require a concerted effort by Beijing to goose the economy. Indeed, the net export contribution to nominal growth has been negative since the beginning of the year. In August exports fell 2% year on year, and September is unlikely to look any better.
Coastal areas that rely more heavily on exports have been hardest hit. Nowhere is this more apparent than in Guangdong, which for years was the head of China's economic dragon. Thousands of factories have been shuttered as companies move to lower-cost areas inland and elsewhere in Southeast Asia, and the region could become China's next rust belt if things continue.
Auto Slowdown
But it's not just makers of toys and televisions that are at risk. Even China's booming auto industry is showing serious signs of decline. Passenger car sales fell 6.2% in August year-on-year, and overall growth for this year could be between 0% and 5%, says Michael Dunne, managing director of J.D. Power China. That suggests a serious slowdown in the final four months, as sales in the first eight months were up 12%.
Even mighty Toyota (TM), the world's most successful automaker, is seeing weakness in China. The Japanese company, which saw 37% growth in car sales in the year to August, to 367,830 vehicles, plans to cut back production at its Guangdong province factory in China, according to the Nikkei Daily. "The whole market in China and our sales are not expanding as fast as we thought, but our target for 2008 is still 40% higher than it was for 2007," says Paul Nolasco, a spokesman for Toyota in China.
The property market also looks poised for a downward spiral. Prices in Guangdong cities have fallen between 30% and 35% since the beginning of the year, even as cash-strapped property developers cut prices on new developments to move inventories. China Vanke, the country's largest property developer, slashed prices by 15% at two of its Shanghai projects at the beginning of September. Meanwhile, the property arm of Morgan Stanley (MS) is looking to unload the two luxury residential developments in Shanghai it bought in recent years, a sign the market has hit its peak. Morgan Stanley declined to comment.
Interest Rate Cut
But with property accounting for more than 10% of GDP, the government isn't going to sit idly by as values plummet. On Sept. 15, China cut interest rates by 0.27%, to 7.20%, for one-year loans, the first cut in six years and a clear sign Chinese leaders are now more worried about bolstering demand than the risk of stoking inflation.
Beijing, however, has plenty of ammunition up its sleeve to bolster demand. Government coffers are bulging—reserves are $1.8 trillion, public debt is tiny, and the country is running a budget surplus. JPMorgan (JPM) China economist Frank Gong predicts China could easily spend 1% to 2% of GDP on infrastructure alone to build more railroads and subways.
Before it's here, it's on the Bloomberg Terminal.
LEARN MORE