No Crisis for Samsung, Hyundai, and LG
With some rivals hindered by global financial turmoil, South Korea's chaebol are expanding fast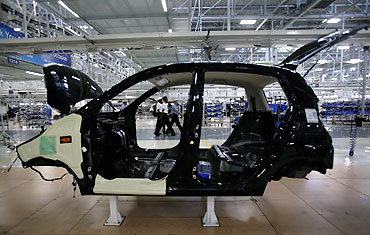 Don't tell South Korea's top chaebol—family-controlled conglomerates—they should take a cautious approach in the face of Wall Street's meltdown. Samsung Electronics, Hyundai Motor, and LG Electronics—flagships of the country's three best known chaebol—are all in the midst of expansion plans. While other companies are hindered by the crisis, chaebol executives figure they can grab market share and emerge as winners once the dust settles.
The latest evidence of the chaebol strategy came on Sept. 19 with Hyundai's announcement of a new $600 million car factory in Brazil. The annual capacity of Hyundai Motor Group, which includes its subsidiary Kia Motors, was 3.9 million at the end of last year, and Hyundai is looking for a big increase (BusinessWeek.com, 7/24/08) in the next two years. "The Brazil factory underlines Chairman Chung Mong Koo's determination to boost our group's production capacity to 6 million by 2010," says Hyundai spokesman Jake Jang.
The Hyundai move came just two days after Samsung announced it is making a $5.85 billion cash offer for U.S. flash memory-card maker SanDisk (BusinessWeek.com, 9/17/08) (SNDK). LG, for its part, has repeatedly stressed that it has been taking steps to emerge by 2010 as one of the top three makers (BusinessWeek.com, 5/8/08) of TVs, mobile phones, and home appliances such as refrigerators and air conditioners. Executives at the trio of Korean companies all maintain they see the current global slowdown and credit crunch as an opportunity to pull away from the pack in their industries.
Backed by Financial Muscle
At first blush, the expansion push looks like business as usual for Korea Inc. The chaebol expanded at all costs in the 1980s and 1990s—leveraging themselves to the hilt until the Asian financial crisis of 1997 and '98 forced them to the brink of bankruptcy. The government had to broker business swaps among top chaebol to cut overcapacity and force them to focus on their areas of core competency. Samsung had to give up a car business and LG its memory chip business, while Hyundai Group was broken up into three smaller entities.
This time around, their aggressive approach is backed by financial and competitive muscle. "I'm pretty upbeat about their strategy," says Kang Shin Woo, chief investment officer at Korea Investment Trust Management which holds shares in all three. "Samsung, Hyundai, and LG represent the transformation made in corporate Korea in the past decade." Kang notes the three have profitable businesses creating enough cash to finance their expansion.
A weak Korean currency (BusinessWeek.com, 3/28/08) is a shot in the arm for the chaebol, which all rely on overseas markets for their growth. Corporate analysts say the Korean exporters underwent wrenching restructuring of their production processes to improve productivity as the Korean won surged almost 46% between January, 2002, and October, 2007. Yet as the country's payment accounts for goods and services swung to a deficit from a surplus (due largely to high oil and other commodity prices), the currency began falling last November. The won has lost some 18% of its value so far this year, making the chaebol's products cheaper in export markets and boosting their profits.
Advantages of Family Business
Technological advancement of Korean parts suppliers also played a role in sharpening the competitive edge of the chaebol. Kim Joo Hoon, an adviser to Finance Minister Kang Man Soo, says wages at large exporters increased in recent years but remained largely depressed at small and medium-sized part suppliers. "The big exporters get good quality parts from local suppliers at relatively low costs when compared with their Japanese or Western rivals," Kim says. "This will help the exporters stay competitive in the foreseeable future."
Probably the most important factor enabling the chaebol to wage a bold expansion drive is their governance system. Corporate analysts say the big Korean exporters are either run by the scions of the families controlling the chaebol or their deputies; it's therefore easier for them to bet on longer-term returns as the families wield almost absolute power in key investment decisions. "We are pretty confident our investments now will pay off with bigger global presence once the global economy gets out of the tunnel," say Jang at Hyundai.
Before it's here, it's on the Bloomberg Terminal.
LEARN MORE