Can Obama Turn Friends into Voters?
Online fans don't always make it to the polls. Now the candidate and social networks like Facebook and MySpace are laboring to get out the vote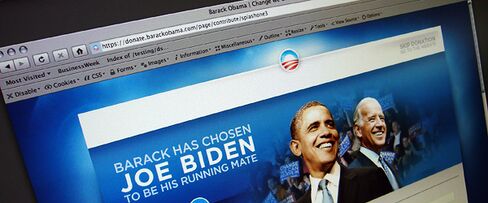 If online "friends" were a proxy for voters, Barack Obama could accept the Presidency, and not just the Democratic nomination, on Aug. 28. With more than 1.8 million supporters on Facebook and MySpace (NWS), Obama's base on the leading U.S. social networks is nearly seven times that of John McCain.
But history hasn't shown that online supporters turn out in November. If anything, it's proved the opposite. Remember the Deaniacs? Howard Dean's supporters were all over social networks such as Meetup.com in 2004, making the current Democratic National Committee chairman the presumptive nominee that year. But Dean's overwhelming Web support didn't translate into dominance in the primaries.
Already, some of Obama's highest-profile online supporters have proved fair-weather friends at the polls. The famed "Obama Girl," whose video about having a crush on the politician has been watched nearly 9.3 million times on YouTube (GOOG), reportedly didn't vote in February's primary in New Jersey, where she is registered.
Obama's campaign and the social networks themselves are determined to make sure this election will be different. They're employing a variety of techniques unique to social networks, such as leveraging users' friend connections, to try to ensure that supporters turn out in November. "There is a huge difference between 2004 and 2008 because of social media," maintains Andrew Rasiej, co-founder of the Personal Democracy Forum, a nonpartisan site that monitors how technology affects politics.
Peer Pressure
Take MyBarackObama.com, for example. When users log on to the Obama campaign's social network for supporters, they immediately see an "activity index" measuring their recent involvement in Obama's campaign. "Activity" in this case includes calls made to voter lists, events hosted, and funds raised. The index, which displays actions taken on behalf of Obama in the past week, month, and throughout the campaign, includes a public ranking between 1 and 10, with 1 being the lowest.
That ranking is visible to fellow social network members. The idea is to create peer pressure on individuals to raise their ratings. After all, it could be uncomfortable to be exposed to friends and fellow supporters as having done little for a shared cause. It would be especially embarrassing if a member's friends learned they hadn't even bothered to vote. (The profile asks users to submit information about whether they are registered to vote and, presumably in the future, whether they did go to the polls.)
Social pressure is a proven method used by organizers to get people to actively support a cause, says Joe Green, co-founder of Causes, a Facebook program that lets users show support for their favorite causes and drum up donations for charities. Nonprofits regularly publicize the names of top donors, in part to spur competition for recognition among community members. Social networking tools that allow members to see who participates in a cause do the same thing, says Green, and encourage users to become active in greater numbers. The key is having users' authentic friends involved so those members feel someone they care about is relying on their support, says Green.
Obama App
The problem for Obama is that his social network's members are more likely to vote anyway, says Green. So the Democrat also is reaching out to those networks where less active supporters and their friends spend time. His campaign has created a program for Facebook that shows users how many peers also support the candidate. That so-called Obama App, or widget, taps two forces in social networks: people's fascination for seeing what their friends are up to and peer pressure.
Joe Rospars, Obama's new-media director, acknowledges that a key value in social networking tools is the ability to help push voters to back up their online support with offline actions and, above all, a vote. In a conversation earlier this year (BusinessWeek.com, 3/5/08), Rospars said the campaign was using social networks to help "raise expectations of what it is to be a supporter." He added: "You need to organize, you need to tell your friends."
Obama isn't the only one with something to prove. MySpace is working to show it has more relevance in the political sphere than others' earlier efforts to get out the elusive youth vote. Last month the company launched a contest with Rock the Vote, a nonprofit foundation that has tried to get out the youth vote since 1990, asking bands on the site to encourage their fans to register to vote. The band with the most registrations got the chance to come to the Democratic National Convention and play a DemROCKracy concert later tonight. The winning band, OTEP, registered at least 523 voters.
Streaming Debates
Critics of Rock the Vote and other music-inspired efforts, such as the "Vote or Die" campaign by rapper Sean "P. Diddy" Combs, say it involves a lot of rocking and T-shirt selling but little voting. The music groups are quick to point to data from The Center for Information & Research on Civic Learning & Engagement (CIRCLE), showing that an additional 4.6 million young voters turned out in 2004, an 11-percentage-point increase, fueled in part by increased participation among African-American youth. But that year more people came out in general, giving the youth vote far less impact than the hype surrounding it.
MySpace is going beyond music in its get-out-the-vote effort. During the Democratic convention, it will run two Internet cafés enabling attendees to broadcast events and speeches on the Web. Then it's off to the Republican convention, where MySpace will have a smaller presence, due in part to its audience's apparent political leanings.
After the conventions, MySpace will stream the Presidential debates live on a new site, MyDebates.org. Its tools allow users to jump to sections of the debate addressing particular issues, discuss the candidates' positions, and automatically receive updates about candidates' statements on various issues. MySpace is betting that its efforts will brand the site as a leading place for discussing whatever users care about.
"What we really want to do is give our users more tools and opportunities to engage with the things that are important to them," says Nicole Bilodeau, a spokeswoman who is helping to organize MySpace's convention efforts. "For some people it is music, it's art, it's culture. And for other people, it is politics,"
Strong Primary Youth Turnout
There's some early evidence to support that online participation will make a difference this November. Obama already has had success at turning online backers into donors, collecting more than $200 million online through a network of 1.5 million people. Many of those gave after watching Obama's speeches on YouTube (BusinessWeek.com, 6/27/08) and participating in pro-Obama social network groups. (Obama's YouTube videos alone have been watched more than 8 million times, according to Raseij.)
More importantly, Obama got out the online youth vote in the primaries. According to a June CIRCLE report, the youth voter turnout rate (the percentage of voters compared with the population under age 30) rose from 9% in 2000 to 17% this year.
"This primary season the Millennials have gone to the polls in record numbers, showing they are an influential voting bloc in American politics," said CIRCLE Director Peter Levine in a statement. "All key indicators and trends point to a predicted record turnout of young people voting this coming November." Of course, similar predictions about youth voter turnout were made in 2004.
Obama is also utilizing the data and funds supplied by Web supporters to fuel proven traditional methods of getting voters to the polls. The Democrat's campaign organization is using data supplied by users on social networks to decide which supporters to send position e-mails to, which ones to ask to start calling other voters, and which ones to remind of the local polling station.
PDF's Rasiej says that Obama's recent promise to give supporters an early heads-up about his Vice-Presidential pick was a blatant, and perhaps brilliant, effort to expand his phone-number database. The campaign can then call all those users who participate, or text-message them, with the address of the nearest voting booth.
"You cannot get elected in the United States without the Internet," says Rasiej. "However, you can't get elected only using the Internet, either."
Before it's here, it's on the Bloomberg Terminal.
LEARN MORE