Nobody Loves a Three-Year-Old SUV
Thousands of leased gas-guzzlers are back on the lot, and their resale value will batter bottom lines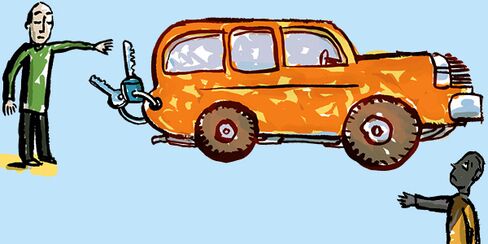 Auto executives just can't catch a break. Add to slumping sales and lofty gasoline prices a ticking time bomb in their auto leasing operations. During the past several years automakers from General Motors (GM) to Nissan Motor (NSANY) to BMW leased millions of cars and trucks. As those leases end, the companies have to take back the vehicles—many of them the gas-guzzling SUVs, pickups, and luxury models people don't want anymore. You know what that means: more pain as the automakers offload those vehicles at a loss.
Art Spinella, president of CNW Marketing Research, estimates that this year alone the industry will lose $4.7 billion on sales of previously leased SUVs. "This caught everyone by surprise," he says. And it's a problem that will keep on giving because many automakers only recently started to write fewer leases. So there are plenty of newly leased gas-guzzlers out there, some with terms as long as 39 months. Spinella sees $10 billion more in lost value as thousands more SUVs come off lease in 2009 and 2010.
When automakers calculated lease terms three years ago, they assumed the cars and SUVs would be worth much more once the lease ended than they are. But resale values on large SUVs have fallen 13% from March through May, with some pickups dropping more than 20%, according to Manheim, the nation's largest used-vehicle wholesaler. Knowing the value has plunged, consumers aren't extending leases on many SUVS and aren't keen to buy the vehicles outright.
That harsh reality is already showing up in carmakers' financial results. In the first quarter, BMW took nearly a $400 million charge for losses on off-lease cars, mostly SUVs in the U.S. GM and Ford (F) have warned that losses from their leasing portfolios will cost them. Ford has said that its usually profitable lending division will lose money this year; GM has hinted that it faces the same issue. Over the next 18 months, GM will incur $600 million in lease-related costs and Ford $1 billion, predicts JPMorgan Chase (JPM)analyst Himanshu Patel. Lehman Brothers (LEH) analyst Brian Johnson thinks their lending arms will write down $1.1 billion and $1.5 billion, respectively. (GM's corporate profits are less exposed than Ford's because its GMAC lending arm, which is 51% owned by Cerberus Capital Management, shares some of the car lease risk.)
DAMAGE CONTROL
Carmakers aren't the only ones getting spooked. Wells Fargo Bank (WFC) said that, starting at the end of July, it will no longer buy auto leases from carmakers. And investors are sharing the pain, too. Last month, Standard & Poor's (MHP) put nine asset-backed securities packed with auto leases on credit watch for a possible downgrade. Investors holding that paper have already taken a hit.
Carmakers are doing damage control. Chrysler Holding LLC's Chrysler Financial lending arm told dealers on July 25 that it would withdraw from the leasing business. BMW has started offering loans at 3.9% to help sell 2005 models coming off lease. A number of other automakers are offering leaseholders deals to buy their SUVs at a discount, says Jesse Toprak, executive director of industry analysts for Edmunds.com, which tracks car pricing on the Web. It won't be easy getting drivers to bite in an age of $4 gasoline. But the alternative, sending the vehicles to an auction lot, is even dicier. Carmakers pay $500 or more to get a car ready for auction and have it sold, while auctioned vehicles typically fetch much less than they do at the used-car lot.
Automakers are still writing leases, but they're offering discounts and rebates to consumers who want to buy SUVs while getting more aggressive with leases for smaller passenger cars. Why? Because prices for compacts and family sedans finally are going up.
Before it's here, it's on the Bloomberg Terminal.
LEARN MORE