Brussels Throws Another Punch at Intel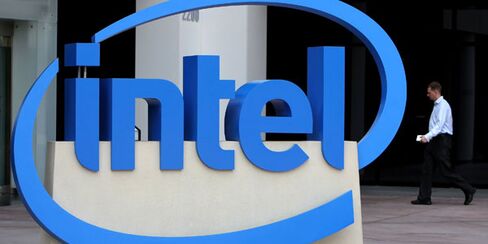 For the past 10 years, U.S. chipmaker Advanced Micro Devices (AMD) has been filing complaints with regulators in the U.S., Europe, and Asia alleging that Intel (INTC) engaged in anticompetitive practices that limit consumer choice. Every time, Intel has responded by painting the charges as nothing more than the gripes of a jealous foe.
But in Europe, it's not just AMD that is complaining. The Brussels-based European Consumers' Organization (BEUC) also has expressed concern that Intel's practices may be limiting the variety of products offered to consumers—and consequently raising the prices buyers pay for personal computers.
The BEUC has the ear of the European Commission, and on July 17 the EC's antitrust unit announced it is expanding an investigation of Intel that probes whether the chipmaker has infringed EC Treaty rules on abuse of a dominant position with the aim of excluding AMD from the market. To prevail, the EC must prove not only that Intel's business practices were illegal but also that they hurt consumers.
Abuse of Power?
The EC has been investigating Intel since 2005 and has twice conducted dawn raids on the company's European offices (BusinessWeek.com, 7/27/07). In its new "statement of objections"—a formal step in EC antitrust proceedings akin to an indictment—the EC said it is investigating whether Intel provided rebates to Germany's MediaMarkt, an electronics retailing unit of the Metro (MEOG) chain, on the condition that it sell only Intel-based PCs.
The EC is also examining whether Intel made payments to induce an unnamed computer manufacturer to delay the planned launch of a product line using an AMD microprocessor. And investigators are probing whether Intel provided substantial rebates to that same computer maker on the condition that it buy all of its laptop microprocessors from Intel.
The EC said in a statement that each of these alleged actions is "considered to constitute an abuse of a dominant position in its own right." It went on to say that it "considers at this stage of its analysis that all the types of conduct reinforce each other and are part of a single overall anticompetitive strategy aimed at excluding AMD or limiting its access to the market." If the charges are found to be true, the EC could order the world's largest chipmaker to alter its behavior or face fines that could total up to 10% of its global revenue.
Intel said in a statement that it is "disappointed" the EC has expanded its investigation, adding that the latest charges "suggest that the Commission supports AMD's position that Intel should be prevented from competing fairly and offering price discounts which have resulted in lower prices for consumers."
To Whose Benefit?
BEUC, the European consumer group, sees it differently. "We are shocked by the reaction of Intel, which is trying to make us believe that its aggressive practices to reduce prices are in consumers' interests," said Monique Goyens, BEUC's director general, in a statement released on July 18. "On the contrary, the main effect of these practices is to drive rivals out of the market in the long term, to the detriment of consumers."
That, of course, is what AMD has been arguing all along. "Intel has paid a leading retailer to turn away AMD-based computers from leading global computer manufacturers, which can only be regarded as robbing consumers of their fundamental right to choose," said Tom McCoy, AMD's executive vice-president, legal affairs, and chief administrative officer, in a statement. "No antitrust laws anywhere in the world permit Intel to pay retailers and computer manufacturers to boycott non-Intel products."
AMD's Chief Executive, Hector Ruiz, has argued repeatedly that Intel's allegedly anticompetitive business practices hurt AMD's bottom line—and he has spent much of his time at the helm of the company seeking redress from the world's regulators. But on July 17, the same day the EC revealed its expanded investigation against Intel, AMD said Ruiz will step down, after the chipmaker reported its seventh straight quarterly loss (BusinessWeek.com, 7/17/08)>. AMD's reins are being passed to Dirk Meyer, the company's chief operating officer. Ruiz will continue in his role of chairman, but it's unclear whether he'll stay long enough to realize his goal of extracting huge damages from Intel.
Litigation Abounds
The path to redress has been tortuous. One early victory came in March, 2005, when Japan's Federal Trade Commission ruled that Intel had violated antitrust laws, based on a complaint from AMD. Intel accepted a consent decree but did not admit any wrongdoing and denied the factual and legal assertions made in the case. In June of the same year, AMD filed a broad antitrust suit in U.S. District Court in Delaware. That case, which has entailed one of the largest discovery processes ever in the history of civil litigation, is not expected to go to trial until 2010.
Even as the private litigation works its way slowly through court, public agencies have been turning up the heat on Intel. In January of this year, AMD enlisted New York State's attorney general to open another front in its long-standing antitrust battle with Intel (BusinessWeek.com, 1/11/08).
Then, in June, Korea's Federal Trade Commission ruled Intel in violation of Korea's antitrust laws, fining the company $25.4 million. The Korean FTC found that Intel had used rebates to persuade Samsung and other South Korean computer makers not to use AMD microprocessors. Intel says it expects to appeal but has not yet received the final written ruling.
The same month the U.S. Federal Trade Commission—which probed Intel in the late 1990s but eventually settled the case without a finding—launched a new formal investigation of Intel and how its conduct affects AMD (BusinessWeek.com, 6/6/08).
Eight Weeks To Respond
As for the European case, Intel says it's confident it will be able to prove the allegations unfounded. Intel maintained in a statement that its conduct "has always been lawful, pro-competitive, and beneficial to consumers." And in a July 18 interview with BusinessWeek, Steven Rodgers, the company's director of litigation, argued that "computer manufacturers have a choice; they can decide what they want to purchase." But, he says, "if Intel is prevented from offering a lower price, that's not competition. That's one competitor being protected from competition."
Intel has eight weeks to respond to the latest allegations and then has the right to request a hearing. Intel CEO Paul Otellini appeared at a Brussels hearing in March to refute charges made in the original complaint, which was filed by AMD in 2005. Intel's arguments apparently did not win over the EC. One "particularly striking" thing about the expanded antitrust case, says Intel's Rodgers, "is that the Commission has not responded to our positions at the March hearing."
Observers say the EC won't likely make a final decision on the case for many months. And with potential appeals in the offing, this battle could rage for ages to come.
Before it's here, it's on the Bloomberg Terminal.
LEARN MORE