Fat Egos, Twisted Tales, Smart Advice
From the juicy story of the Mondavi wine family to a euthanasia satire, our guide to summer paperbacks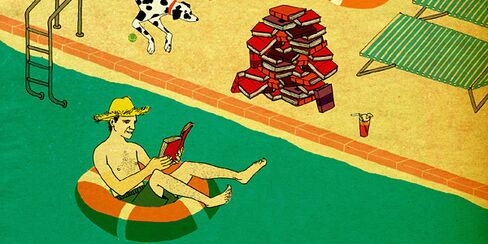 In the mood for a fat, juicy story crowded with Machiavellian personalities? The Last Tycoons: The Secret History of Lazard Frères & Co. (Broadway Books, $16.95), by former journalist and investment banker William D. Cohan, could be just the ticket. It offers well-drawn profiles of many of Lazard's leading figures, particularly Michel David-Weill, the French billionaire whose family controlled the firm for four generations and who presided over it himself from 1977 to 2005, and Felix Rohatyn, the founding father of M&A. It features a strong, closely reported narrative of the tumultuous events of the past decade, which saw Lazard's near-collapse and its revival under Bruce Wasserstein, who had made a fortune co-founding and selling Wasserstein Perella. Reviewer Anthony Bianco said The Last Tycoons "should appeal to anyone interested in the inner workings of Wall Street."
Too businessy for the beach? Well, there's lots more to choose from in BusinessWeek's annual summertime roundup of new paperbacks.
Another long, twisted tale stuffed with big egos and charismatic-yet-flawed characters is The House of Mondavi: The Rise and Fall of an American Wine Dynasty (Gotham Books, $15) by Julie Flynn Siler, who writes for the Wall Street Journal and formerly reported for BusinessWeek. In 1943, Robert Mondavi persuaded his parents, successful California fruit wholesalers, to buy Napa Valley's first winery, Charles Krug. Over the next 20 years, Robert and his brother, Peter, worked together to make Krug successful. In the end, though, a fierce rivalry led to Robert's exile. He launched Robert Mondavi Winery, which raised the U.S. industry to a new level. However, the poisonous family dynamic seeped into the next generation as bitterness between Robert's two sons ultimately doomed that enterprise. The book is "a fascinating chronicle of an immigrant family's life and times," said reviewer Spencer E. Ante.
Can euthanasia be fun? Sure, in the hands of novelist Christopher Buckley. In the satirical Boomsday (Twelve, $13.99), he tackles the problems resulting from our graying demographic bulge. What if Uncle Sam were to offer aging boomers tax breaks and assorted perks in return for agreeing to a painless lethal injection at age 65? As in the author's Thank You For Smoking, Boomsday aims its barbs at lobbyists and policy wonks, capturing Washington's peculiar flair for packaging naked self-interest as the national agenda. Buckley's movers and shakers range from Cassandra Devine, a 29-year-old public-relations executive who organizes anti-retirement-benefits protests, to Randolph K. Jepperson IV, a senator who sees the euthanasia proposal as having potential to jump-start his Presidential bid.
If you haven't yet wearied of Freakonomics wannabes, there are two books to consider. George Mason University economist and blogger Tyler Cowen's Discover Your Inner Economist: Use Incentives to Fall in Love, Survive Your Next Meeting, and Motivate Your Dentist (Plume, $15) investigates how to get what you want from life. Need a date? Cowen advises that your pickup lines display "some valuable quality" like athleticism or cultural knowledge. Other tips involve dining, exercise, and "the necessary art of self-deception." Cornell University economist Robert H. Frank's The Economic Naturalist: In Search of Explanations for Everyday Enigmas(Basic Books, $15.95) may cause some readers to wonder if the late comedian George Carlin ghost-wrote it. Why do drive-up ATMs have Braille keypads? If we have a Blockbuster Video (BBI), why don't we have Blockbuster Book? How can someone be armed with a handgun—shouldn't they have an armgun? (Oops—that last was Carlin's.) Frank draws on his economist's savvy to answer such head-scratchers. Both books are amusing but may leave you feeling like you've eaten too much junk food.
Don't worry: Nourishment awaits in the form of How Doctors Think (Mariner Books, $15.95) by Jerome Groopman, a practicing physician and a professor at Harvard Medical School. The book's backbone is a collection of health-care horror stories in which patients suffer and cannot get cured. But rather than merely faulting his profession, the author offers a fascinating discussion of how doctors' minds work that reveals why misdiagnosis is so common. The most practical part of How Doctors Think is its epilogue wherein Groopman urges patients to challenge their doctors, suggesting the exact language to use.
In any book superstore, shelves groan with multiple volumes on economic phenom India. One of the best is In Spite of the Gods: The Rise of Modern India (Anchor, $14.95) by Edward Luce, a onetime New Delhi correspondent for The Financial Times. Luce's tour includes bustling Mumbai call centers, the plush offices of InfoSys Technologies (INFY), and a hardscrabble farm in the state of Uttar Pradesh. At the heart of India's story lies a paradox, Luce notes: Democracy and meritocracy are huge assets, allowing for economic change and promoting harmony in a land with deep religious and caste divisions. Yet an open society can also be a curse if it comes with a giant bureaucracy that tends to block needed reforms.
Finally, history buffs will be delighted by In Europe: Travels Through the Twentieth Century (Vintage, $20) by Dutch writer Geert Mak. The author spent 1999 touring Europe by train, bus, car, and camper van, taking the pulse of the Continent as it entered the new millennium. As he journeys, Mak focuses on flash-points of the last century, from the halcyon days leading up to World War I, through the interwar years and World War II, and on to the collapse of communism in the 1980s and '90s. At each stop, the author introduces the key players and takes readers on a tour of the important sites. By intertwining the narrative with his observations of both historical events and life at the turn of a new century, Mak offers an engrossing primer on issues Europe continues to face.
Before it's here, it's on the Bloomberg Terminal.
LEARN MORE