For Now, Deutsche Börse Wears the Crown
Last year the German stock exchange broke its losing streak with a couple of smart mergers, but it's being challenged by cheaper, faster electronic competitors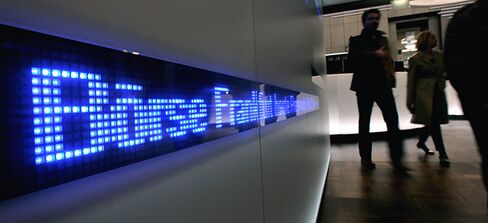 Until last year, Frankfurt stock exchange operator Deutsche Börse (DB1GN.DE) suffered from one of the sorriest losing streaks in European deal-making. Since 2000, Europe's largest exchange by revenue and market value had failed twice to buy the London Stock Exchange (LSE.L) and three times in its attempts to secure Euronext, the recently formed operator of the Amsterdam, Paris, Brussels, and Lisbon exchanges.
Finally, in April, 2007, after the New York Stock Exchange (NYX) completed a $14.6 billion merger with Euronext, Deutsche Börse announced it was snapping up International Securities Exchange Holding, the second largest equity options exchange in the U.S., for $2.8 billion, creating the world's first transatlantic derivatives trading operator.
Thanks partly to that deal, which closed in December, 2007, Deutsche Börse is looking pretty smart these days. It dominates trading in German equities through its operation of the Frankfurt stock exchange, and it owns Eurex, Europe's largest derivatives exchange. It also runs Clearstream, one of two major global providers of clearing and settlement services for securities, which handle the back-office processing of trades.
Challenged by Electronic Upstarts
Arcane stuff, but profitable when trading volumes are strong. Last year Deutsche Börse revenues rose by 18%, to $3.4 billion, and profits climbed 37% from 2006, to $1.4 billion. Such strong results—and juicy 44.7% profit margins—led Chief Executive Reto Francioni to boast that the group is "the stock exchange with the highest earnings power in the world," and helped propel it to the No.1 spot on the 2008 European BusinessWeek 50.
The challenge ahead for Deutsche Börse is how to keep producing those stellar numbers in the face of intensifying competition. Europe's national exchanges have traditionally enjoyed quasi-monopoly status, but new regulations, known by the unwieldy moniker Markets in Financial Instruments Directive, or MiFID, are opening up the markets to electronic upstarts that offer cheaper and faster trading.
So far only Chi-X, owned by the Instinet unit of Nomura Holdings, has managed to lure meaningful trading volume away from traditional European exchanges. But other heavyweights are planning pan-European competitors. An electronic trading platform called Turquoise, backed by nine investment banks that together control about half of all European equity trading, is set to go live in September, 2008.
Doomsday Scenario
Meanwhile, Nasdaq (NDAQ) and its newly acquired Swedish partner OMX have laid out plans focused primarily on the U.S. and the Nordics. Analysts reckon other major European exchanges could follow suit with their own electronic platforms. "All the major European exchanges have guns pointed at one another, and as soon as one pulls the trigger the rest will fire," says Larry Tabb, founder and CEO of the Tabb Group, a financial markets research and advisory firm in New York.
More vigorous competition could take a bite out of Deutsche Börse's revenue growth. Brokerage Sanford C. Bernstein figures revenue gains from equities trading will slip in upcoming years from double digits to single digits. But the faster-growing derivatives and settlement businesses should more than make up the difference. They already account for 60% of Deutsche Börse's top line and will represent an even greater share in the future, analysts say.
Still, worries about an economic slowdown today and competition in the future have triggered a sell-off in the German group's stock, which is down 30% year-to-date. The shares may be oversold, though. Derivatives and settlements account for a solid 65% of Deutsche Börse's pre-tax profits—and they're not affected by the new MiFID regulations. This is one top performer that may be able to hold onto its crown a while longer.
Before it's here, it's on the Bloomberg Terminal.
LEARN MORE