Not Much Life in China's Virtual Worlds
Chinese entrepreneurs' answers to Second Life are early stage, but they see potential for brand-building, worker training, and e-commerce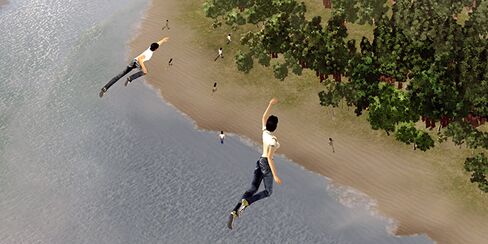 Last November, Procter & Gamble's (PG) Vidal Sassoon launched with much fanfare its first hair salon in China's virtual world. There was even a virtual ribbon-cutting ceremony. But today the VS salon in HiPiHi, China's oldest and largest virtual world (a simulated online environment where users adopt identities known as avatars), sits mostly empty save for the occasional visitor. "It's a bit like the real world but not as many people," says an avatar named Yi Feichen, who recently logged on to HiPiHi for the first time and then visited the VS salon. "This world feels like it has been destroyed before."
There's not yet a lot of life in HiPiHi or other Chinese virtual worlds. Three Chinese software companies have set up local answers to Second Life, the popular virtual world in the U.S., but they're only just getting started trying to attract users. The earliest and largest, HiPiHi, just finished beta testing of its virtual world and opened it to the public on Apr. 18. Two other rivals, NovoKing and UOneNet, are still testing their virtual worlds to a closed group.
Relatively few Chinese enter these virtual worlds. With 48,000 registered users, HiPiHi is the largest of the three. NovoKing has 10,000 registered users while UOneNet has fewer than 1,000. By comparison, Second Life has 13.5 million "residents." All three companies say they have not done any marketing to attract more users. NovoKing and UOneNet are still only letting a select group of people test their virtual worlds while they build them. Not surprisingly, none of the three Chinese companies has become profitable yet.
An Opportunity to Build Brands
Nevertheless, they all have already attracted some corporate partners, both Chinese and foreign. The big multinationals tend to take a page from their Second Life playbook and use the Chinese versions of virtual world to build their brands. However, Chinese companies are coming up with more innovative applications, such as training factory workers, conducting online auctions, or opening virtual classrooms. "Over there, the Americans created their virtual world. Here, the Chinese created our virtual world," explains Xu Hui, founder and CEO of HiPiHi. "There will be some differences in our thought process."
While Xu and his rivals are just getting started, multinationals are paying attention because of the demographics of their target audience and their appeal to Western companies. Companies see virtual worlds as a way to boost their image with demanding young consumers. For instance, in addition to P&G, Intel (INTC), and Hewlett-Packard (HPQ) have also set up shop in the Chinese sites. The companies have created floating billboards and virtual salons to reach a predominantly male audience in its mid-20s. "We see HiPiHi as more of a platform to reach young and trendy generation, to provide them with a brand new online experiences, and as a signal to the general public that VS is leading the trend," says Heidi Wang, senior external relations manager at P&G.
Given the virtual worlds' early stage of development in China, foreign advertisers have been stymied by the lack of users. "There isn't much meaning to virtual worlds as solely an advertising platform," concedes Patrick Zha, founder and CEO of NovoKing. "Now, from NovoKing's perspective, we are searching for a new way to bring more value."
Training Workers Using a Virtual World
The Chinese companies say some companies have approached them to work together on ideas they had not considered themselves. For instance, Xiong Ying, a human resources manager at China's largest copper company, Jiangxi Copper, got the idea of using a virtual world to train factory workers after watching a news segment about the U.S. Marines using virtual reality to train troops. Xiong put the first batch of Jiangxi Copper's workers through a training session in NovoKing's virtual world in late April. "The effectiveness of the traditional way of training new workers is extremely low. It's not keeping pace with the speed [with which] our company is developing," says Xiong. "The traditional training model needs to be reformed. The only way is to do so with virtual reality training."
Other companies see the potential for e-commerce in China's virtual worlds. Eric Ye, president of UOneNet, says he is in talks with an online auction house interested in building a 3D mall in the virtual world and providing a platform to allow buyers and sellers to interact. Ye says he's also working with a Chinese TV station to build an e-learning community in UOneNet's virtual world. "The core is really this multiperson interaction in real time at such a low cost. You never had this before this 3D virtual world," he says. Like other Chinese entrepreneurs involved in the country's early-stage virtual worlds, Ye stresses the need for patience. "Virtual worlds will eventually be an advertising platform," he says."[But] when you start off, you have to start with things that are innovative and just show the potential to boost the value."
Before it's here, it's on the Bloomberg Terminal.
LEARN MORE