Apple Continues to Ripen
In its fiscal second quarter, the iPhone maker escaped the slowdown that's hurting other consumer-oriented companies. But can it remain unscathed?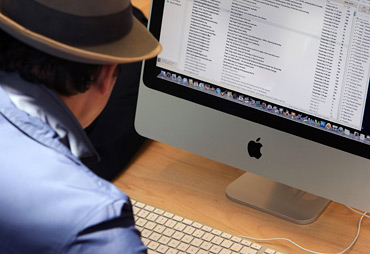 In its most recent quarter, Apple appeared to shrug off the U.S. slowdown that's crimping earnings in some industries. But the consumer electronics maker didn't quell concerns that it will remain immune.
Numbers released Apr. 23 showed Apple (AAPL) started the year on a strong note. Its earnings rose 36% on a 42.5% increase in sales in the fiscal second quarter. The results were boosted by near-record sales of Macintosh computers. Apple sold 2.29 million Macs, just shy of the 2.32 million it sold during the previous period, putting the company on track to surpass an annual record of 7 million units.
TBR analyst Ezra Gottheil was effusive in a note circulated soon after the earnings report was released, saying Apple "announced superb revenue growth and strong profits." He added that "the downturn in the U.S. economy, which might be expected to affect high-end consumer products like Macs, had no discernible effect on Apple."
Hints of Margin Weakness
Yet some investors were unclear whether that will continue to be the case. Apple stock slipped 58¢, or about 0.4%, to 162.31 in extended trading. Earlier, the shares had risen $2.69, or more than 1.6%, to 162.89.
Some analysts pointed to hints of weakness in gross margins, a key measure of profitability. Apple exceeded its own forecast for gross margins, but not by as much as some analysts, including Shaw Wu of American Technology Research, would have liked. Apple Chief Financial Officer Peter Oppenheimer attributed some margin pressure to price cuts on products like the iPod shuffle and the iPhone, as well as increased sales of songs and other media, which carry slimmer margins, through iTunes. "That's going to dampen margins a bit," says Shannon Cross, an analyst at Soleil-Cross Research.
Apple also forecast per-share earnings of $1, short of analysts' average forecast for earnings of $1.10. Concerns that a recession would damp demand for Apple products emerged last quarter, after the company issued an earnings forecast that didn't meet analysts' estimates (BusinessWeek.com, 1/22/08).
iPhone Sales Higher Than Expected
Apple has established a track record of issuing conservative forecasts it later exceeds. And there were other signals in the Apr. 23 report that Apple can withstand economic pressures. The company forecast sales of $7.2 billion in the third quarter, compared with a consensus analyst estimate of $7.16 billion. If Apple reaches its target, the company will have reported $24.3 billion in sales in three quarters, an improvement of $300 million over revenue for the entire 2007 fiscal year.
Apple also said it sold 1.7 million iPhones, a larger number than it expected in light of widespread reports of shortages (BusinessWeek.com, 4/4/08). "We expected a sharper seasonal decline than what occurred," Chief Operating Officer Tim Cook said on the conference call. He also said U.S. stores are selling a significant number of iPhones that are later resold in a so-called unlocked state, so that they can run on networks other than those operated by Apple's carrier partners. "Our view continues to be that this is a proxy for the worldwide demand of the iPhone," Cook said.
Since the iPhone was released in June, 2007, Apple has sold 5.4 million units. Of those, 4 million were sold in fiscal 2008. Apple's stated goal for the year is to sell 10 million units, indicating it will have to sell 6 million over the next two quarters. Cook said the company is confident it can meet that goal, especially given that Apple plans to introduce the iPhone in more European countries this year.
Apple watchers speculate that the device will be released in Italy, Belgium, and Australia before long. Talk of an iPhone debut in China has also resurfaced in recent weeks.
No Comment on PA Semi Deal
Apple executives declined to address reports that it bought PA Semi, a small chip company in Santa Clara, Calif., for $278 million. The acquisition was initially reported by Forbes. "We occasionally buy smaller technology companies," Cook said. "It is our established practice to not comment on purpose or plans."
The deal represents about 1.4% of Apple's cash hoard, which had swelled to $19.4 billion by the end of the second quarter, and Apple considers it of insufficient size to merit a press release. Still, the deal left many analysts scratching their heads.
PA Semi, founded in 2003 by Dan Dobberpuhl, a onetime chip designer at Digital Equipment Corp., now a unit of Hewlett-Packard (HPQ), has specialized in chips that consume power efficiently. Backed by investments from Bessemer Venture Partners, Focus Ventures, Highland Capital Partners, and Venrock Associates, the company had landed business with Mercury Computer Systems (MRCY) and NEC (NIPNY).
Chip Could Power New Products
Tony Fadell, head of Apple's iPod Div., is said to have led the deal. But Nathan Brookwood, an analyst at Insight64, a Silicon Valley consulting firm, doesn't think that means PA Semi's chips will be headed for iPhones or iPods any time soon. "I don't know of any handheld devices today that can take PA Semi's parts," Brookwood says. PA Semi's chips, he says, tend to consume about 5 watts, whereas a handheld device like the iPhone needs a chip that consumes less than 2 watts.
The chip could be used in a line of future consumer electronics products. Alternatively, Apple may simply have wanted to get its hands on PA Semi's design team or on some technology it had been developing. PA Semi has about 150 employees, suggesting Apple paid about $1.8 million per employee. "It's a puzzle," Brookwood says. "You don't spend nearly $300 million because you feel like it. I'm sure Apple has something very specific in mind, but it sure is hard to figure it out."
At least for now, some analysts will also continue to grapple with how well Apple will withstand the economy's ills.
Before it's here, it's on the Bloomberg Terminal.
LEARN MORE