What Could Dull Toyota's Edge
In the aftermath of the Big Three's cost-saving deal with unions, its U.S. plants must play catch-up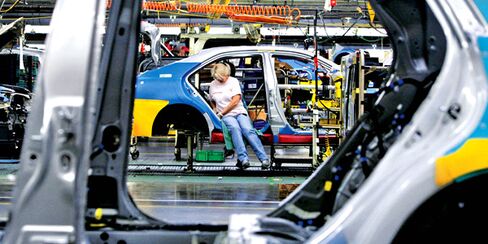 Even Toyota (TM) gets the blues. The Japanese automaker has long prided itself on a U.S. workforce more efficient than those at Detroit's giants, and that has meant a cost advantage of hundreds or even thousands of dollars per car. But as sales of its big trucks and SUVs falter, Toyota has slowed assembly lines, leaving once-busy workers to sweep floors or do team-building exercises rather than make cars. And with the Detroit Three slashing payrolls and moving retiree benefits off their books, Toyota's edge is disappearing.
Some of Toyota's U.S. plants are now more than 20 years old, and a growing number of its workers are paid the top wage of about $25 an hour. That's less than Detroit's veteran union hands make now, but a contract inked last fall will enable U.S. automakers to replace many highly paid employees with cheaper workers. By 2011, Toyota's cost advantage over Detroit could disappear. "The Japanese automakers have been here for almost 30 years," says Michael Robinet, an analyst at CSM Worldwide, a Northville (Mich.) research firm. "They'll start to have Big Three-like costs creeping in."
Toyota is worried. Two sources close to the company say that by late 2009, Toyota's 23-year-old assembly plant in Georgetown, Ky., where most workers are at the top of the pay scale, could have the highest labor costs of any auto factory in the U.S. Toyota says that with bonuses, some of its employees already make more than Detroit's unionized workers. "I think [the Detroit automakers] could easily equal us or even exceed us in terms of having lower labor costs," says Pete Gritton, human resources chief for Toyota in North America. What to do? "There's no single answer," he says.
Detroit's recent four-year union deal lets automakers pay lower wages to people whose work doesn't actually involve making cars—maintenance staffers, those who sort materials, cleaning crews, and the like. These new workers will cost $26 an hour including benefits, compared with $62 an hour for employees who put the cars together, says Sean McAlinden, chief economist at the Center for Automotive Research in Ann Arbor, Mich.
COST-CUTTING
The savings add up. General Motors (GM), for instance, has 74,500 workers. By 2011 GM will have about 68,000, and up to one-third of them will be earning the lower wage, predicts McAlinden. If GM can get all the buyouts it needs and hire cheaper labor to replace them, the company could cut its wage bill by $2.7 billion annually by 2011, he says. That adds up to $841 a car, or about half of the current cost differential with Toyota. A retiree health-care deal, which will give the United Auto Workers union $36 billion in exchange for taking over medical insurance, should save GM an additional $699 a car. That would turn Toyota's labor cost advantage over GM of $1,394 per car to a $108 disadvantage by 2011, McAlinden says.
Toyota's management is already on the case. To offset rising wages, Toyota is pushing plants to get even leaner. The company has set up an on-site medical center at its San Antonio factory as an experiment in cutting health-care costs. Gritton says new hires will reach the top wage after five years instead of three. And starting pay at a plant being built in Mississippi will be lower than Toyota's traditional $16 an hour. "Toyota will react," McAlinden says. "They won't let GM get a $100-a-car advantage."
Before it's here, it's on the Bloomberg Terminal.
LEARN MORE