Chicago Merc: A Deal Its Rival Should Love
It's selling its metals operations to placate regulators, but that will help competitor NYSE Euronext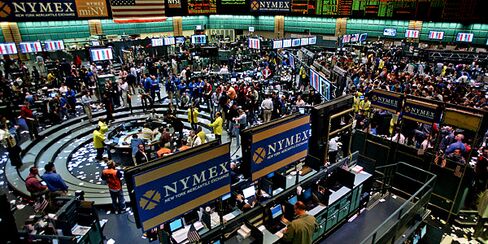 CME Group (CME), created last year when the Chicago Mercantile Exchange bought the Chicago Board of Trade, handles nearly half of all derivatives trades on U.S. exchanges. CME wants to expand its reach with a $9.7 billion bid for Nymex Holdings (NMX), parent of the New York Mercantile Exchange. To help get that deal past the Justice Dept., which has fretted loudly about concentration among futures exchanges, CME will sell its precious-metals trading operations. The buyer: NYSE Euronext (NYX), the world's equities titan.
Is CME Group unwittingly enabling a key competitor? At first glance, no. The metals operations are a mere sliver of the trading volume in Chicago. Of the 2.2 billion contracts CME handled in 2007, only about 11 million were gold and silver. By adding Nymex, CME Group will be the largest metals trading exchange in the U.S. even after the metals operations sale to NYSE.
But NYSE Euronext has made plain its desire to expand its own derivatives trading. "It could be huge," says Phil Flynn, who runs the commodity trading desk at Chicago-based Alaron Trading. "This is the right move for the NYSE to expand its horizons."
ALL ABOUT ENERGY
Derivatives—which encompass all manner of financial instruments, from stock indexes to pork bellies and wheat futures—have exploded in the past five years, as have CME Group's fortunes. Trading volume in Chicago has jumped threefold since 2003. Last year, CME, which takes small fees on each trade it handles and clears, rang up $1.8 billion in revenue, up from $531 million in 2003. Such rapid growth landed CME Group the No. 15 spot on the 2008 BusinessWeek 50 list of best-performing large companies.
For CME, the Nymex acquisition is all about energy-based contracts, which have been trading at a frenetic pace as oil and gas prices continue their jagged ascent. Traders at the New York Merc swapped 261.2 million energy-related contracts in 2007, up from 138.9 million in 2005. Should CME's bid go through, some 98% of the futures contracts in the U.S. would be traded under its roof.
That's why CME is eager to make the Nymex deal happen, even at the risk of handing NYSE Euronext a modest start in the U.S. commodities trade. NYSE Euronext already has a hefty derivatives operation in Europe, and its pending purchase of the American Stock Exchange brings with it an options trading business. Buying CME's metals trading operations helps NYSE Euronext "get their toes in the water," says Sandler O'Neill & Partners analyst Richard H. Repetto.
The job of assuaging regulators has been made more difficult for CME Group by the recent turmoil in the financial sector. On Mar. 31, Treasury Secretary Henry M. Paulson Jr. proposed regulatory changes that could bring stricter oversight to the derivatives trade.
CME executives have chafed at the proposal and insist their deal should get a green light from Washington. Competition is a global affair, they say, adding that CME and Nymex jointly would control just 30% to 40% of the world market for futures. "There is no horizontal overlap, so we don't see why there would be any issues at all," says CME Chairman Terrence A. Duffy. But should NYSE Euronext's fledgling commodities business flourish, CME's leaders may get more than they bargained for.
Before it's here, it's on the Bloomberg Terminal.
LEARN MORE