Stocks: Trawling for Turnaround Targets
There are legions of beaten-down stocks out there. We went hunting for some with solid chances of rebounding this year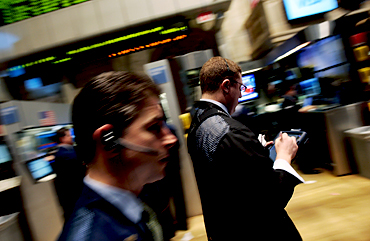 John Travolta in Pulp Fiction. Harry Truman toppling Thomas Dewey. The 2004 Red Sox overcoming a 3-0 deficit vs. the Yankees. There's nothing more compelling than a good comeback story—especially in the stock market.
Wall Street history is full of examples of companies that somehow found a way to revive their fortunes even after their shares hit multiyear lows. But for every stock that pulls out of a nosedive to reach new heights, there are many others that never really recover.
But who doesn't love an underdog? BusinessWeek went looking for stocks that might be due for a comeback. We started by checking out some of the least popular companies on Wall Street—outfits with stocks that have tumbled 20%, 30%, or more in the past year.
These depressed share prices are a sign of how far these companies have fallen in investors' eyes. But the dirt cheap stock prices can also attract bargain-hunters. If these firms can restore even a fraction of their former glory, the returns for shareholders will be huge. Amid the glimmers of hope, of course, challenges remain: Turnaround plans can be tricky to pull off, and a deeper-than-expected U.S. economic slump could prove insurmountable.
Combing for Comebacks
But how do you find comeback candidates among the many stocks that have performed poorly over the past year?
One strategy is to look for strong brands that are just starting a makeover. Starbucks (SBUX) founder Howard Schultz recently returned to the job of chief executive to renew the chain's focus on coffee. New espresso and brewing machines, new coffee blends, and a loyalty program are all planned. With a tough economic environment, Starbucks "has its work cut out for itself," McAdams Wright Ragen analyst Dan Geiman warned. "But these initiatives represent, in our opinion, a solid effort and should provide the basis for a stronger future."
Investors can also look for innovative, well-respected companies that nonetheless have been hurt by broader economic forces. Whenever the economy revives, they're likely to benefit, and they will probably fare better than rivals that aren't run as well.
Department store operator Nordstrom (JWN) has been punished by the stock market as consumer spending has slowed. But the chain is still a favorite of upper-income and younger shoppers, and it still has room to grow into new markets across the U.S.
Commercial real estate firm CG Richard Ellis Group (CBG) has also been hurt by worries about the economy. But the firm earned record profits last year, and it has international businesses, making up about 40% of revenue, that may help insulate it from a U.S. recession.
Sometimes a crisis can keep investors away from a company's stock for years. When the storm clouds finally lift, the firm can get back to what it does best: make money. That might be the case for the Interpublic Group of Companies (IPG), a marketing and advertising firm that suffered through years of accounting problems, the legacy of hundreds of acquisitions the firm made in the 1990s. In late 2007, Interpublic became compliant with Sarbanes-Oxley regulations. Now, investors hope management can fully focus on boosting profits. That won't be easy, of course, with the industry facing economic headwinds.
Knowing When to Pluck
It can take years for a company turnaround to really bear fruit. The trick is to catch a company just as its efforts—to introduce good products, lower expenses, and restructure decision-making—ripen into higher profits.
Sony (SNE), for example, may be at this point. "Its smartphones, PlayStation game consoles, and Bravia line of flat-panel TVs are all market darlings," notes Morningstar (MORN) analyst Rod Bare. Sony's Blu-ray technology has won out as the format for high-definition DVDs; the 163,000-employee firm has restructured and cut $2 billion in expenses; and Sony is a global brand, insulating the firm somewhat from a U.S. slowdown.
Some companies face problems so large and varied that investors might forget their inherent strengths. Qwest Communications (Q), for instance, is arguably the weakest large phone company in the U.S., but it still dominates the market in 14 states and it has a new CEO intent on turning the company around.
UnitedHealth Group (UNH) has posted weak results recently and may face political pressure from health-care reformers at the federal level. But the company is huge, making it well-diversified with competitive advantages. Also, according to Reuters Estimates (RTRSY), analysts still expect strong growth from UnitedHealth—of 12% in 2008 and 13% in 2009.
OfficeMax (OMX) must also deal with serious challenges, especially tough competitors, narrow profit margins, and a slowdown at retail stores. But despite these realities, OfficeMax might attract investors simply because of its rock-bottom stock price, which puts shares at a low price-earnings ratio of 7.2. OfficeMax is often mentioned as a possible acquisition candidate.
If all else fails, a low stock price—a feature of all of our picks here—can make any company an attractive comeback candidate. If expectations are low enough, even small signs of success can provide investors a big payoff.
See the BusinessWeek.com slide show for more on our eight comeback stocks.
Before it's here, it's on the Bloomberg Terminal.
LEARN MORE