At Kia, Demoted for His Own Good
Ahead of probable union troubles, co-CEO Chung Eui Sun, a son of the founding family, has been rotated out. Most think it's to save his reputation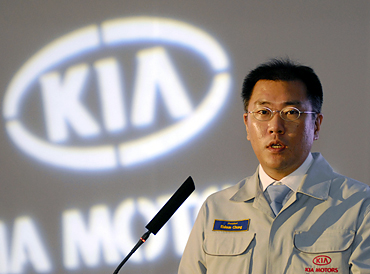 At most companies, a decision by shareholders to strip a chief executive officer of his title would be a humiliating blow to the outgoing executive. That's not necessarily the case in South Korea, even when it appears to be a demotion for the scion of a founding family of the chaebol, the sprawling industrial conglomerate.
On Mar. 21, Kia shareholders replaced Chung Eui Sun, the son of charismatic Kia Chairman Chung Mong Koo and one of three co-CEOs along with his father and the president in charge of domestic operations, Cho Nam Hong. Taking the younger Chung's place is Kim Ik Hwan, who in November became vice-chairman. Still, few in Korea think the son no longer is being groomed as the successor to Chung, who is also the chairman of Hyundai Motor, Kia's owner and the country's largest carmaker.
In fact, the swap might be a sign that the younger Chung's long-term position at Kia is even stronger. "The move appears aimed at protecting the son from difficulties ahead," says Ahn Young Hoe, chief investment officer at fund manager KTB Asset Management in Seoul. "Kia may be bracing itself for unpleasant news and wants to make sure the heir is not hurt by [it]. The stage could always be set in the future for the comeback of the heir-designate."
No Big Change in Duties
Chung Eui Sun will remain a Kia board member and president in charge of overseas operations, according to Kia spokesman Michael Choo, who confirmed the 37-year-old son would no longer be a CEO. "I don't see any major change in President Chung's duties," Choo says, declining to comment on why he quit.
To understand why the change in the son's status may signify little, consider the different corporate culture at Hyundai, which has a controlling 39% stake in Kia. As underscored in the frequent management shakeups (BusinessWeek.com, 3/6/08) at Hyundai and Kia's American subsidiaries, chairman Chung doesn't believe management changes must be a rarity.
Also, at Korean chaebol it is not rare for a company to have more than one CEO. At both Hyundai and Kia, there are three CEOs: the all-powerful chairman, the vice-chairman in charge of day-do-day running of the company, and the president in charge of domestic operations. The chairman (who comes from the founding family at the chaebol) calls all crucial shots. The other CEOs represent the company in order to make the chairman's life easier—by eliminating the need for him to carry out cumbersome ceremonial duties. At Samsung Electronics (companyid=), for example, there are four co-CEOs who help Chairman Lee Kun Hee.
Tough Labor Talks Ahead
Analysts in Korea point out the founding families make sure the heirs will build track records before the chairmen pass the mantle to the next generation. "In the case of Hyundai, Chung Eui Sun was given a chance to prove himself through Kia," says Kim Sun Woong, executive director at the Center for Good Corporate Governance, an independent think tank monitoring governance systems at Korean companies. "He is being pulled out from the front line because things are not panning out as planned."
Kia insiders note last week's shareholder meeting was held ahead of a tough round of negotiations expected this spring with the company's labor union. Kia's management hopes the union will agree to swallow a cut in overtime work hours. "In the past, we guaranteed a minimum two hours' extra work for the union after an eight-hour daily regular schedule. The practice should stop to avoid building up our inventory," says one senior manager at Kia who asked not to be identified.
Execs Take Pay Cuts
Kia executives have already agreed to take an average 20% pay cut this year. "To make the company turn around this year, everybody must share the burden," says the senior manager. Kia last year reported an operating loss of $55.4 million on sales of $15.9 billion, but the company's target is to achieve a 9% sales increase and a 3% profit margin this year.
That's a tall order. Stephen Ahn, auto analyst at Seoul brokerage Woori Investment & Securities, says Kia won't be able to report a profit without the union's cooperation. "Kia's profitability this year and its longer-term competitiveness depend largely on labor flexibility," he says.
During the three years when Chung was a co-CEO, Kia shares suffered a 21% fall while the benchmark Kospi index gained 59% on the Seoul bourse. To corporate watchers in Korea, it is little wonder Chung Eui Sun may not want to head the company for now, particularly when management must make an unpopular proposal to the union.
Before it's here, it's on the Bloomberg Terminal.
LEARN MORE