Upwardly Mobile Stationery
It's a brutal market, so why does Staples think it's a good time to go upscale with office supplies?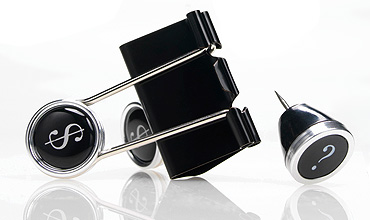 On one side of the Staples in Needham, Mass., is the office-supply chain's past. Plain manila folders, stacked in generic blue boxes, are $6.29 for 100. Six aisles away, on the other side of the store, lies what Staples (SPLS) hopes is its future: A dozen file folders, made of thicker stock and decorated with black-and-yellow stripes, are displayed on a faux mahogany table, like sweaters at J. Crew (JCG). They don't have price tags. Instead, a discreet sign on the table reads $6.99 for a dozen.
Staples is trying to take mundane office supplies upscale. Inspired by high-end stationery chains such as Crane & Co. and Papyrus, a new private-label brand, dubbed "M by Staples," features spiffy leather journals, several lines of stationery, business card holders, and the fashion-forward file folders. Coming soon: haute couture paper clips. Resembling barrettes, they will sell in packages of 30 for $5.99. The regular ones cost $1.99—for 1,000.
The M line—the name refers to the Staples slogan "My Style, My Way"—rolled out in late 2007, with more items, such as designer thumbtacks, planned for later this spring. The goal: higher-margin sales in the crushingly competitive office-supply business. "Instead of 100 folders for $6.29, which we lose money on, [customers] may buy $6.99-for-12 folders that we make money on," says Jevin S. Eagle, Staples' executive vice-president for merchandising. The M brand will be sold in addition to the existing Staples in-house brand. Staples Chief Executive Ronald L. Sargent wants sales of private-label goods, which made up one-fifth of the company's $19 billion in 2007 revenue, to comprise nearly one-third of sales "over the next few years."
DECLINING SALES
The effort to go fancy comes at a challenging time for retailers. Consumer spending is down, and foot traffic at malls is dropping. In the past three quarters, sales at existing Staples stores have declined after five years of growth. On Mar. 4, Staples lowered its profit outlook for 2008, and Sargent told analysts "we're bumping along the bottom of this recession." The company's share price has outpaced struggling competitors OfficeMax (OMX) and Office Depot (ODP), but it nonetheless has slid 13% over the past year. Now, "people will want very high quality at very low prices," argues Michael J. Silverstein, a senior partner at Boston Consulting Group and author of Trading Up: Why Consumers Want New Luxury Goods... And How Companies Create Them. "They're going to trade up in just a few categories while they trade down in 20 categories."
Staples executives say the M brand will resonate, even in a recession. As evidence of the line's value, they point to its highest-priced product, a $149 nylon travel suitcase, which they say compares with a similar-looking $500 Tumi bag. But they are clearly feeling the pinch: In the past two months, Staples has slowed hiring at its Framingham (Mass.) headquarters; reduced its 2008 capital budget by $50 million, or 10%; and lowered ad and promotional spending.
M by Staples is the culmination of a major shift in the company's private-label strategy. At a Mar. 4, 2003, board meeting, Eagle presented Sargent's growth plan for in-house brands, which at the time was to stick with cheaper, lower-quality alternatives. Some directors were dismayed. As Eagle recalls, Richard Currie, the former president of Canadian supermarket Loblaw Cos., told him he should be taking the opposite tack. Loblaw's President's Choice brand was a pioneer in transforming private-label from generic to respectable.
"CUTE LITTLE BINDER CLIPS"
At the board's prompting, Staples revamped in-house labels. Sargent insisted that Eagle first overhaul the basic Staples-brand products before adding a premium line. Eagle studied retailers such as Marks & Spencer, Target (TGT), and Tesco (TESO). The company even banned the term "private label," with its connotations of black-and-white cans of Brand X veggies. Soon, cheap wares and cut-rate prices were out. In their place came a new line of higher-quality offerings, marketed with a Staples logo. The new Staples-branded supplies caught on, amounting to 22% of the company's sales last year, from just 8% in 2003. Since then, gross margins have risen from 24% to 28%.
Now, with Sargent's backing, Eagle, a former McKinsey & Co. consultant to fashion retailers, has taken the next step upmarket with the M line. At first, managers of Staples' 1,700 North American stores resisted the plan. They worried that shoppers would balk at expensive versions of high-volume, everyday items such as paper clips. But Eagle stuck by his research, which suggested customers wanted office supplies that were more professional and more personal.
In focus groups, potential shoppers commented on how notebook paper and bookmark ribbons felt to the touch. "Look at the cute little binder clips," one tester gushed, according to a Staples executive. "This is the kind of stuff I give in to very easily."
Analysts say it's too early to make judgments about the new M brand. But in product tests last year, Staples says, arranging the premium goods on a table drew more attention, particularly from high-income women, than when they were shelved next to regular merchandise. "Customers didn't notice when it's just those little soldiers in a row," says Michelle Ormes, director of merchandising for the brand. Despite the tough economy, Eagle has lofty aspirations: "This brand should be so good you could envision a stand-alone store."
Before it's here, it's on the Bloomberg Terminal.
LEARN MORE