Microsoft's Takeover Tactics
A plan to reshape Yahoo's board from the inside may be a shrewder strategy than an all-out assault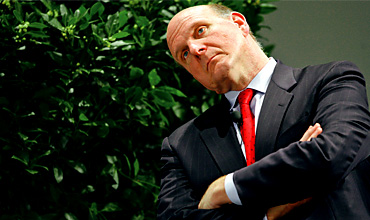 Microsoft certainly knows how to play rough when its interests are at stake. So why has the hypercompetitive software maker been so cautious since it asked Yahoo!'s board on Feb. 1 to consider a $44 billion cash-and-stock bid—an entreaty that was quickly spurned by the portal's CEO, Jerry Yang? So far this takeover struggle has had all the acrimony of a croquet match.
Soon, that may change. On Mar. 5, Yahoo (YHOO) extended a Mar. 14 deadline for its investors to nominate directors to its board. Microsoft will have up to 10 days after Yahoo sets a date for its annual shareholders' meeting to make a move. The decision by Yahoo is expected in the coming weeks. Nominating Yahoo directors is likely to be Microsoft's next step in its takeover dance. Yahoo says the extension will allow its board "to explore all of its strategic alternatives" before dealing with any proxy challenges. Microsoft declined to comment.
Costly Options
Microsoft (MSFT) is in no hurry to make any dramatic moves, so Yahoo's extended deadline won't change the giant's likely plans to nominate a slate of directors. No other bids have emerged, either to buy or partner with Yahoo, that come close to Microsoft's offer. If Yahoo doesn't negotiate with the software maker, Microsoft may bypass management and take its offer for control of the company to shareholders.
A proxy run would cost Microsoft—which is believed to own a stake in Yahoo—$20 million to $30 million, say merger-and-acquisition experts. In contrast, each dollar-per-share increase in Microsoft's bid would add $1.4 billion to the takeover tab.
If Microsoft could secure a majority of board seats, its directors would no doubt eliminate Yahoo's poison-pill provision that allows its board to issue more stock, diluting the value of existing shares and making a takeover more expensive. Should Microsoft come on too strong, though, Yahoo's top brass could also complicate future merger talks by raising antitrust concerns with regulators. And a messy takeover could prompt key Yahoo employees to depart.
The Upper Hand
Microsoft is hoping it won't come to that. Working to reshape the Yahoo board from the inside is a far shrewder strategy. So CEO Steven Ballmer is trying to keep steady but not excessive pressure on Yahoo. Thus far, Yahoo's search for such potential partners as Google (GOOG) or News Corp. (NWS), as well as stepped-up talks with Time Warner (TWX) about melding operations with its AOL unit, haven't come to much. "Keeping the pressure on doesn't take away the ability to do a negotiated deal," says Bruce H. Goldfarb, who represented Hewlett-Packard (HPQ) in a proxy fight and now runs New York proxy-solicitation firm Okapi Partners.
Any proxy maneuver by Microsoft ahead of Yahoo's annual meeting, which must be held by mid-July, won't preclude moves by the software maker to bypass the board entirely and make a cash-and-stock offer directly to Yahoo shareholders. They could be enticed given the economic slowdown's impact on Yahoo's earnings. Another factor is that 18 of Yahoo's 25 biggest shareholders own more Microsoft stock than Yahoo stock and have little incentive to see the software maker overpay, notes Friedman, Billings, Ramsey Group (FBR) analyst David M. Hilal.
One way or another, Microsoft still holds the upper hand. "Ultimately, if Microsoft wants Yahoo, it will prevail," says Charles M. Elson, director of the John L. Weinberg Center for Corporate Governance at the University of Delaware. Yet in terms of cost and timing, a bit of calculated diplomacy could make a world of difference.
Before it's here, it's on the Bloomberg Terminal.
LEARN MORE