Zero Hour for India's Tech Companies
It's time for the likes of Wipro, Infosys, and Tata to regroup and reinvent their business models to compete with global rivals like IBM and Accenture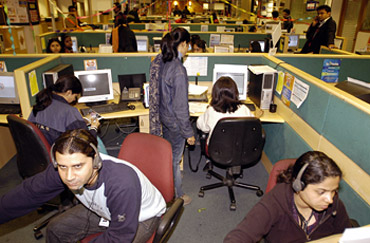 The writing is on the wall: India's vaunted technology companies must upgrade their business model or face dwindling profits and market share. At the annual conference of Nasscom, the powerful Indian software association, currently under way in Mumbai, the buzz has centered on one topic: When will Indian tech companies grow discontented with being no more than happy back-office campers and start behaving more like their global counterparts IBM (IBM) and Accenture (ACN)?
That was the challenge posed by keynote speaker Anand Mahindra on Feb. 13. Chief executive of Mahindra & Mahindra (MAHM.BO), India's top tractor maker, he also runs a successful tech affiliate called BT-Mahindra. While delivering the main address, Mahindra congratulated the industry on its creation of a new wave of globalization, then gently but firmly chided the Indians for their inability to innovate and reinvent themselves. "You have fallen off your perch, and created your own demons," he said. "You need to reinvent, regroup, and rethink your way of crises."
For years, India's top six software companies (sometimes referred to as SWITCH: Satyam, Wipro (WIT), Infosys (INFY), Tata Consultancy (TCS.BO), Cognizant (CTSH), HCL) have roiled global IT markets with their high-quality, low-cost software and tech-related services. They gave India a new hope, and their success became the accelerator for the country's growth. Companies such as IBM, Accenture, and Electronic Data Systems (EDS), which ruled the roost with their high-end offerings, saw business slip away to the Indians. SWITCH seemed unbeatable, especially as the group grew in sophistication.
Combining Local and Traditional Strengths
But Indian companies haven't advanced as fast as they should have (BusinessWeek.com, 8/6/07), many people at the Nasscom convention say.
Indian companies have made some overseas acquisitions, but most deals have been tiny, and the business has remained largely Indian—based on armies of talented local engineers. Meanwhile, rivals such as IBM have moved into India (BusinessWeek.com, 8/23/07), copied their game, and combined it with their traditional consulting strengths. That has been winning new customers both abroad—and in India.
Now there are new and unexpected challenges facing the Indian IT industry: a rising rupee, the escalating costs of real estate and employees, and a severe talent crunch. India's top market, the U.S. (accounting for nearly 60% of revenues), is teetering on the brink of recession, and tech spending is likely to fall. Finally, the sector is no longer the only engine of India's growth nor its only star sector. Other sectors such as financial services, manufacturing, and recently, infrastructure, have begun to power India. Stocks of IT companies in India fell sharply in 2007, and price-earnings ratios that were an expensive 23 just last year are now down to 17. "Indian companies are at an inflexion point," says Peter Bendor-Samuel, chief executive of Everest Group, a tech consultancy based in Dallas. "They've had a very nice run, and lots of wealth has been created. But now they've got to change."
Left Behind in India
The most immediate crisis is the U.S. economic downturn. Over the years, the Indians have grown less dependent on America as their main market and have expanded business to Europe, Japan, and other parts of the world. But they've neglected their home turf. According to a study by Everest, the Indian domestic tech market is currently worth just $1 billion but will be valued at $15 billion within five years. That's a massive opportunity, not just in terms of money but for innovation.
For years the Indian tech firms scoffed at doing business at home, assuming local companies would nickel-and-dime them over contracts. But while SWITCH focused on the world, Indian companies in other industries began to expand, both domestically and globally. From telecom to infrastructure to manufacturing, they have grown by servicing a booming domestic market. To keep up with demand for their services, they've used technology to both cut costs and speed growth.
For that, they have turned to foreign tech players like IBM, Accenture, and EDS, which offer a range of services from call centers to business consulting and are able to provide expertise to these companies as they begin to globalize and expand beyond India. The experience with local players has attracted multinationals coming into India as well. For instance, Vodafone (VOD), which entered the Indian market in 2006 with a $19 billion telecom acquisition, hired IBM to help it service the domestic market.
National Innovation Revolution
Consequently, IBM is the top tech services provider in India, with a 10% market share. The expertise gained in India, says Ginny Rometty, IBM's chief of global business services, has been extremely valuable because IBM has been able to take it to other high-growth emerging markets such as Turkey. In contrast, the Indian companies have a negligible market share in India. And most (Tata Consultancy is an exception) have barely begun to concentrate on their home turf.
Clearly, many people in India's tech industry understand the need for change. "We're hoping for a national innovation revolution," says Ganesh Natarajan, chief executive of Zensar Technologies, an IT company based in Pune, near Mumbai, and vice-chairman of Nasscom. "We're not looking only to get 30% more revenue, but looking for innovation so the country can grow."
Looking for a Game-Changer
Indians are fiercely competitive and should be able to make up for lost opportunities, says Everest's Bendor-Samuel. The companies are sitting on piles of cash they will have to begin to use to grow through bold acquisitions in large markets such as the U.S. and Europe. He points out the Indians have been "investing in factories and people instead of upgrading and owning technology. Now they'll have to start writing checks for new tech platforms." Finally, the Indian companies will have to turn their attention homeward and put their top talent on the job, or risk having multinationals like IBM be the dominant players.
But for India's tech industry to truly become a power in the future, it will have to invest in innovation. Anand Mahindra suggests they take "inspiration from India's old smokestack industries." He points to the Nano, the $2,500 car unveiled by domestic Indian auto maker Tata Motors (TTM), in January. "That was a game-changer, a new business model. The Indian IT industry has not changed the game as yet."
Before it's here, it's on the Bloomberg Terminal.
LEARN MORE