Can Air France-KLM Rescue Alitalia?
The Italian airline may not seem like a bargain to many, but the Franco-Dutch carrier sees the benefits of adding a third hub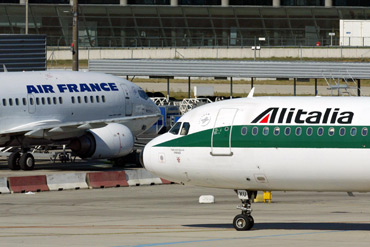 It's already Europe's biggest airline, with a formidable route system, healthy finances, and robust growth. So why does Air France-KLM want to buy Alitalia, one of the industry's worst basket cases?
In the past few days, the Franco-Dutch giant has emerged as the clear favorite to take over its sickly Italian neighbor. On Dec. 6, Air France-KLM (AKH) announced a nonbinding offer to buy the Italian government's 49.9% stake in Alitalia (AZPIA), while rival Lufthansa (LHAG.DE) took itself out of the running. That leaves only Air One, a small low-cost Italian carrier, competing against Air France-KLM. Alitalia has said it plans to enter exclusive talks with a merger partner by the end of this month.
Cementing Its Dominance
Alitalia's top management is making no secret of its preference: In a weekend interview with the newspaper Corriere della Sera, Chairman Maurizio Prato dismissed Air One's bid as little more than a "statement of principles." Details of the rival bids were not disclosed, but it's likely both are promising investments to shore up the Italian carrier, which is losing almost $1.5 million a day.
Despite Alitalia's perilous finances, Air France-KLM has some good reasons to covet the Italian carrier. If the deal goes through, Rome would become the merged carrier's third European hub along with Paris and Amsterdam. That would cement Air France-KLM's dominance in Continental Europe, while allowing it to retool its route network for greater efficiency.
In announcing the bid, Air France-KLM Chairman Jean-Cyril Spinetta said a merger with Alitalia would enhance the company's "economic and financial stability," boosting the rate of return on capital, currently 6.5%, to 8.5% by early 2010.
A Comfort to Worried Employees
Certainly, the blending of two powerful route systems was central to the success of the 2003 merger between Air France and KLM. That deal created the world's largest airline by revenue, with $33.8 billion in sales last year. (Several U.S. airlines carry more passengers, though.) On Nov. 22, Air France-KLM reported quarterly earnings were up 97%, to $1.1 billion, on revenues of $9.65 billion. The merged company has been able to build market share on profitable long-haul routes because it can offer a wider selection of connecting flights through its European hubs than can rivals such as British Airways (BAY.L) and Lufthansa.
Indeed, Air France-KLM's heft could help ease the pain of restructuring Alitalia. The Italian carrier's 11,000 employees are worried about job losses, especially because Air France-KLM wants to end the Milan Malpensa airport's role as a hub for connecting flights. But, says Nick van den Brul, a London analyst with Exane BNP Paribas, Air France-KLM is big enough to absorb many Alitalia employees if their jobs were eliminated. "Air France actually has a deficit of employees in some areas," he says. "I don't see a lot of job cuts; more likely you will see transfers."
Air France-KLM shareholders seem optimistic, too. The stock is up nearly 8% since the airline unveiled its bid on Dec. 6 (BusinessWeek.com, 12/6/07). Alitalia shares are up 2.4%.
Foreign Owners Face Opposition?
Still, fixing Alitalia will be a lot more difficult than the task Air France faced when it merged with KLM. Although the Dutch carrier was losing money, it had already embarked on a major restructuring plan before the merger. Not so Alitalia, where three chairmen over the past year have tried unsuccessfully to turn things around. The Italian carrier is riddled with inefficiency—from an aging fleet of planes to inflexible labor contracts. The cost of remedying those problems is likely to wipe out any benefits Air France-KLM could gain from tinkering with the route system, says Chris Avery, an analyst with JPMorgan in London (JPM).
Moreover, labor unrest is a much greater risk with Alitalia than it was with KLM, whose Dutch management had already carried out painful cost cuts before Air France entered the picture. "It's going to be very difficult to be a foreign owner, to deal with Italian working conditions, without meeting nationalistic opposition," Avery says.
In fact, political and labor-union pressure could prevent any deal for Alitalia from going forward. That's what happened in June, when Air France-KLM and several other bidders dropped out of a previous auction (BusinessWeek.com, 2/14/07) amid complaints the government was demanding unreasonable concessions from buyers. But with Alitalia's condition worsening by the day, it's looking more and more likely Air France-KLM will have the chance to try its hand as a miracle worker.
Before it's here, it's on the Bloomberg Terminal.
LEARN MORE