Case Study: Yahoo!'s Hot Innovation Incubator
Take a tour of Brickhouse, the online media company's offsite ideas agency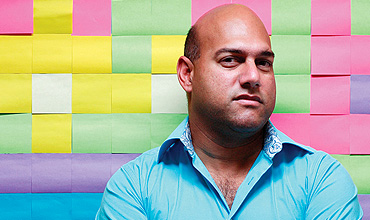 Within Silicon Valley, Yahoo! (YHOO) has a reputation for being bureaucratic and slow to innovate, especially in contrast to rival Google (GOOG). To infuse itself with startup energy, Yahoo began an offsite incubator late last year called Brickhouse (BusinessWeek, Feb. 26). Its job is to shorten the time it takes to bring new ideas to market. "The goal is to take the idea, develop it, and make sure it's seen by senior management quickly," says Salim Ismail, whose business card reads, simply, "Head of Brickhouse." "We need to iterate, see customer reactions, and launch fast," he says.
In the rapidly moving world of search, that's the way to go. Various Yahoo researchers voiced similar ideas for a fast-paced product-development incubator over the years, but it took an outsider's initiative to make it real. Caterina Fake, co-founder of Flickr, the photo-sharing site acquired by Yahoo in 2005, is credited with doing so. She wanted to keep Flickr's startup culture alive inside the bigger, slower parent company. Now it's up to Yahoo to make that culture its own.
Brickhouse is located in the South of Market district, where the hip digerati live and work in San Francisco, more than 40 miles from Yahoo's Sunnyvale (Calif.) campus. There are the clichéd trappings of geeky culture: beanbag chairs, a foosball table, and Nerf darts. One wall has a huge sheet of paper covered with countless iterations of a lightbulb, the symbol of a great idea. Cheap shoji screens separate different areas of the large, loft-like office. "It's deliberately low-budget," says Ismail.
Brickhouse employees share space with other divisions of Yahoo, such as Yahoo! Video, which develops software applications for Web-based video, and Yhaus, which focuses on user-interface design. But the shop also opens its conference room to Bay Area entrepreneurs for large meetings. And Brickhouse holds "Wii Wednesdays" when friends of Yahoo workers gather to play video games. The idea is to build informal social contacts with other startups.
How does the Brickhouse model work? Any of Yahoo's 13,000 employees can submit proposals for possible new products. Up to 200 ideas are submitted each month. A council of five top company executives, including CEO Jerry Yang and his co-founder, David Filo, vets only the best five to 10. Before Brickhouse began, there were far fewer suggestions and they tended to be brief one-liners. Now, says Ismail, "employees post screenshots, create mock-ups, present cases, and describe potential hurdles."
In February, Brickhouse unveiled its first product, Pipes, a free software tool that lets users gather and mix RSS feeds from many Web sites. Pipes received critical raves by bloggers for its ease of use. The site was so busy its first day that it crashed. But how Yahoo will monetize the venture is unclear.
Next up is Fire Eagle, set for this fall. It's a Web-based software platform that, for example, lets people meet up with co-workers and friends more easily by broadcasting their whereabouts, often tracked by GPS, in online posts or cell-phone text messages. Fire Eagle took only three months to develop—about 65% less time than the fastest development of typical Yahoo products. With boosts from Brickhouse, the pace of innovation at Yahoo may be accelerating—but will it be fast enough to catch Valley rival Google?
Before it's here, it's on the Bloomberg Terminal.
LEARN MORE