Dim Prospects for Sharper Image
Despite poor quarterly numbers, the gadget retailer dismisses bankruptcy chatter, but it desperately needs a healthy holiday season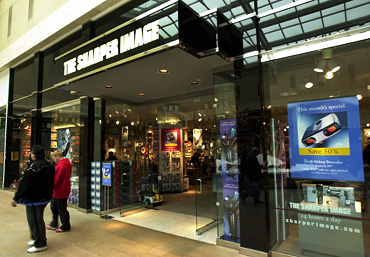 The outlook for Sharper Image (SHRP) is getting fuzzy.
The high-profile retailer known for cutting-edge gadgets has seen its stock hammered in recent days, dropping more than 50% over five trading days from $3.75 to $1.87 on Oct. 17. Prompting the swoon was the refusal by a federal court judge to approve the proposed settlement in a class action over Sharper Image's air purifiers.
Then on Oct. 18, the stock rebounded to $2.72 after six of the company's executives, including Chief Executive Steven Lightman and Chairman Jerry Levin, bought shares in the company. Investors took the purchases, which totaled more than $400,000, as a vote of confidence in the company's ability to overcome declining sales and ongoing losses.
But Sharper Image's top brass may need more than confidence to ward off a cash crunch. The San Francisco company appears to be precariously short of money. In the most recent quarterly report, filed with the Securities & Exchange Commission, Sharper Image's cash and cash equivalents as of July 31 totaled just $801,000, down from $18 million at the end of the previous quarter. For a company that lost $20.6 million and used $13.7 million in cash to fund operations in the most recent quarter, that could leave Levin and Lightman in a tight spot.
Cash Flow and Bright Prospects
Levin says the company will manage just fine. He points out that Sharper Image received a loan of $20 million from Wells Fargo (WFC), with $10 million of that made available to the company on Aug. 21 and the other $10 million expected by November. Levin says that should be enough cash to get the company through the third quarter and into the fourth quarter, when he vows Sharper Image will once again be cash-flow positive.
He dismisses speculation that the company could file for bankruptcy. He points out that even if the Sharper Image needs more cash, it is backed by deep-pocketed investors. "I can't think of one advantage of filing for bankruptcy," says Levin. "The only way we would go bankrupt is if we run out of money, and we have adequate cushion right now."
Levin says the company's fourth-quarter prospects are bright, given the traditional strength of the holiday period for Sharper Image and a change in strategy designed to improve the product lineup. Historically, Sharper Image has relied on one blockbuster product to drive sales, from Razor scooters in the 1990s to the Ionic Breeze air purifiers earlier this decade. Now, Levin is shifting to a broader product assortment that should deliver strong, steadier sales. Among the new products this year: a phantom chess player, where chess pieces move automatically, for $199.95; digital photo frames, from $49.95 to $299.95; and the ISIS puzzle, a handcrafted metal orb with hieroglyphics that need to be correctly aligned to open the orb, for $199.95.
Levin is also working on agreements with a range of manufacturers to have them make products exclusively for Sharper Image, rather than Sharper Image trying to develop products on its own as it has in the past. After a period of exclusivity, the products will go into wider distribution under the manufacturers' brand name, and Sharper Image will get licensing fees from those sales. None of these products have been announced yet, but Levin says they will include cell phones, memory cards, and portable power packs.
Class-Action Challenges
What has spooked investors recently is not future products, but current challenges. In particular, the class action over the company's Ionic Breeze air purifier now threatens to eat into the company's cash reserves. The tentative deal that had been cut between the company and the plaintiffs' attorneys called for customers to receive coupons worth $19 at Sharper Image, instead of actual cash.
But Cecilia Altonaga, a U.S. district judge in Miami, ruled that the settlement was unfair to consumers. She objected not only to the coupons, but to the prospect that the lawyers on the case, led by Miami attorney Robert Parks, would receive $2 million in fees. Thirty-six state attorneys general had filed briefs objecting to the proposed settlement, a highly unusual move that Altonaga said influenced her decision. "We would have preferred a cash settlement, but we know that the company is not in a position to pay," says Parks.
Now, Sharper Image may have to come up with millions in cash to settle the litigation. Parks could pursue a new settlement agreement in which consumers would receive more substantial benefits. At the same time, another attorney, Michael Tein, has filed a similar class action in California state court. He is asking for plaintiffs to receive full refunds for their Sharper Image air purifiers, which sold for between $300 and $499 each. Since more than 3 million of the devices were sold, such a penalty would total more than $900 million. Parks, in his case, argued that a ruling calling for a large cash payout from Sharper Image could drive the company into bankruptcy.
Past and Current Woes
Levin is an outsider at the 30-year-old company he's trying to save. A shareholder revolt led by Knightspoint Partners in the spring of 2006 led to a board reshuffling at Sharper Image. Levin came on board in July, 2006, having made a name for himself as a turnaround artist, most famously for replacing "Chainsaw Al" Dunlap as chief executive of Sunbeam. He also previously served as chief executive at Revlon (REV). By September, Founder and Chief Executive Richard Thalheimer had been ousted, and Steven Lightman was installed as the new chief executive (BusinessWeek.com, 8/13/07) in April, 2007. Lightman was formerly president at Crosstown Traders, a direct marketer of clothes, food, and gifts.
The company's current troubles date back to its heavy support for the Ionic Breeze. The product was a true blockbuster for Sharper Image, accounting for 40% of sales in 2004. But even then, problems were brewing. A class action was filed in 2004 against Sharper Image by consumers who had bought the $350 air purifiers. They used as evidence a 2002 Consumer Reports article, which gave the Ionic Breeze the lowest rating among 16 air cleaners it tested, declared it "unimpressive," and said it provided "no measurable reduction in airborne particles." Sharper Image sued Consumer Reports in 2003, and the lawsuit was dismissed in 2004.
Precipitous Sales Drop
In 2005, Consumer Reports further reported that the Ionic Breeze not only did a poor job removing dust and smoke from the air, but also exposed people to significant amounts of ozone, which is shown to aggravate asthma and decrease lung function. "We tested the Ionic Breeze for one hour and then for 17 hours and found that it does a poor job of cleaning the air and, besides, it also generated ozone," says Kenneth Weine, senior director of communications at Consumer Union, which publishes Consumer Reports. The magazine went so far as to say "save your money." These reports effectively led to a sharp reduction in sales, and today air purifiers make up just about 13% in Sharper Image's total sales. The company's revenues dropped 21% in the last fiscal year, to $525.3 million. They've slid 31% for the first six months of this year.
Many outsiders blame founder Thalheimer for Sharper Image's uneven sales. But Thalheimer is unapologetic. "Once in a while a product emerges as a tremendous seller, and you have to push your marketing around that breakthrough product, build your market share, and enhance the brand name—not taking that opportunity runs against my nature," he says. Thalheimer sold the last 20% of his shares in the company in May for $9.25 a share. He is now looking for the next big seller at a new online store that he's started called RichardSolo.com (BusinessWeek.com, 8/13/07).
Today, Chairman Levin says the company has diversified the products in the company's 187 stores. He's excited about the new products that are going to land on shelves just as holiday season shopping kicks off next month. Now he needs the time and the cash to see whether the new approach will work.
Before it's here, it's on the Bloomberg Terminal.
LEARN MORE