The Power Players
Introducing BusinessWeek's Power 100, our ranking of the most influential people in the world of sports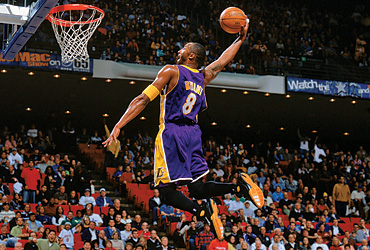 It may be easier to sink a hole in one at the Masters than it is to define clearly what constitutes power in sports. Is it Alex Rodriguez swatting homer after homer? Or NFL Commissioner Roger Goodell disciplining players and coaches? Maybe it's Coke's (KO) sports marketing chief, Katie Bayne, doling out hundreds of millions of dollars. Or NBA Commissioner David Stern scheming to make basketball the dominant global sport instead of soccer. It's all of these, of course, but we accept that you could spend hour after hour on one of those sports radio shows jabbering about who has real clout and who doesn't. With star quarterback and dogfighting impresario Michael Vick serving as a recent example, we also accept that power in sports is ephemeral.
The stories you're about to read examine how power manifests itself in the sports world. To ensure that we brought a full range of expertise to bear, we combined this publication's business insights with the encyclopedic sports knowledge of the writers and editors at ESPN The Magazine. Some of the stories, including this essay, were collaborations between ESPN and BusinessWeek writers.
BusinessWeek also undertook a major project to rank the 100 most powerful people in sports. (ESPN The Magazine, a strong sports brand in its own right, did not participate in the ranking.) To figure out who should be on the list and in which position, BusinessWeek assembled a panel of 20 seers from sports and media. We gave our panelists several criteria. Among them: how individuals rate vs. their peers; how much money they control, generate, or influence; how long they have exercised power; and how lasting their impact on a sport or the larger world of sports will be. For additional help, we turned to you. In four weeks, 160,000 fans stormed BusinessWeek.com to nominate their favorite power brokers.
No ranking is perfect, of course. And we expect—and encourage—readers to debate the final BusinessWeek Power 100. We also wrote about a dozen contenders (BusinessWeek, 9/26/07) who perhaps should have made the list or who are relative unknowns but influential all the same.
If we learned one thing from this project, it is that today's sports potentates are nothing like the luminaries of the past. For most of the past half-century, the clout was concentrated mostly in the hands of gentleman owners whose very names were iconic in other fields: Busch, Hess, Wrigley. With their owners' fortunes made elsewhere, the teams were rich-man trophies. But in the past decade or so, sports has become not only a big business but a highly professional one, too. Walk through a team or league office today, and you might as well be taking a tour of a cubicle farm at any corporation. Sit in on a meeting of sports executives, and you hear talk about enterprise value (what a team would be worth if it were taken over), merchandise rights, debt capital, personal brand values, and securitization of stadium naming rights.
Inside this new sports world order—as much MBA as MVP—the teams, the leagues, and their respective commissioners play ever more vital roles. They control hefty sponsorships and valuable broadcast and digital rights as they go global in pursuit of an international audience. The obsessive use of statistics to quantify a ballplayer's performance and then value, perfected by Oakland A's General Manager Billy Beane in the late 1990s—and chronicled by Michael Lewis in his best-selling Moneyball—is applied to all aspects of sports today. The value of the average National Football League franchise is expected to exceed $1 billion in a few years, up from about $250 million a decade ago. With more people able to buy their way into sports but with a limited number of teams—122 in pro hockey, baseball, football, and basketball combined—the stakes grow higher.
"Because these are much bigger businesses today, they have to be run in more sophisticated ways," says Randall Campbell, managing director of Société Générale (SCGLY), which is among a handful of big banks that finance sports. "Whole new industries of financial and professional services cater to sports now."
Driving much of the growth in value are the rights sold, at escalating prices, to deliver the games to the masses, be it on TV, radio, the Web, or your cell phone. That's why media executives, whose companies help fill team and league coffers, rank so prominently on the Power 100. Sports is one of the last forms of televised entertainment that remain mostly TiVo (TIVO)-proof and can draw a mass audience. It's not surprising that someone like Dick Ebersol (No. 7 on our list), chairman of NBC Universal Sports & Olympics, has emerged as one of the most lauded executives at parent General Electric Co. (GE).
Another group wielding enormous power as companies become more deeply embedded in sports: corporate marketers. Nearly half a century ago a Cleveland lawyer named Mark McCormack helped create the sports marketing industry when he began representing his good friend, golfer Arnold Palmer (No. 76), in business deals. That in turn gave rise to the talent, marketing, and promotions giant IMG, now owned by Ted Forstmann (No. 26). And Dallas Cowboys owner Jerry Jones (No. 53) may have changed the game himself in 1995 when he boldly defied the NFL and sold sponsorship rights at Texas Stadium to the likes of Nike (NKE) and PepsiCo (PEP). Today companies are shelling out billions of dollars to put their brands on everything from stadiums to bowling balls. Tony Ponturo (No. 20), for one, chief sports marketer for Anheuser-Busch Cos. (BUD), gets to decide where to spend more than $300 million a year earmarked for sports advertising.
Of course, nobody would be spending big bucks for tickets to the game or for the extra sports tiers on cable if it weren't for the athletes, especially those marquee jocks not requiring a full name: Tiger (No. 22), A-Rod (No. 28), L.T. (No. 45), Peyton (No. 13), LeBron (No. 19). They are the draw. That's why individual brand in sports has never mattered more. Salaries have made players rich (the average salary for a Major League Baseball player, for example, is nearly $3 million), and huge endorsement deals make them even richer. Those TV commercials, print ads, and personal appearances also boost their celebrity to another level. "Nothing is as powerful as an iconic player," says Howard Nuchow, head of rep agency CAA Sports. "They have more sway than ever before. They can lift a league." Just 35 years ago, Pittsburgh Pirates third baseman Richie Hebner went home to New England in the winter to earn a few bucks as a gravedigger. Today an athlete's first priority in the off-season might be having his agent get him on MTV Cribs to showcase his house and fleet of cars.
Managing all that wealth and all the other new riches bubbling up from modern sports has made the most physical of all industries the ultimate white-collar enterprise, where success is measured by two types of ROE: return on equity and return on ego.
Before it's here, it's on the Bloomberg Terminal.
LEARN MORE