Yahoo's Next Search: A New CEO?
An 11% decline in profits raises questions about Terry Semel's longevity and overshadows the expansion of the search engine's eBay partnership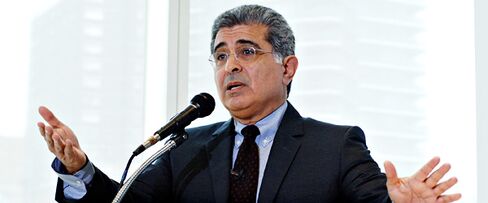 Panama's patina has officially worn off. A disappointing first-quarter earnings report on Apr. 17 largely erased investor enthusiasm about Yahoo!'s new search advertising software and had some analysts openly speculating whether CEO Terry Semel will soon be out the door.
Yahoo said profits fell 11%, to $958 million, on $1.67 billion in sales. Chief Financial Officer Sue Decker attributed the decline to the phaseout of Microsoft's search ad business and rising costs of driving traffic to Yahoo sites.
Investors sent the stock tumbling more than 8%, to $29.48, in after-hours trading. It has been 18 months since Microsoft (MSFT) informed Yahoo (YHOO) that it would lose the MSN portal as a source of search advertising revenue. Wall Street clearly expected that MSN should have had far less impact by now and that Yahoo's revenue from other sources would offset the MSN-related shortfall. Indeed, Yahoo's stock was up 1.5% before the earnings announcement. "Results were well below heightened expectations, and the growth does not justify the value," wrote Goldman Sachs (GS) analyst Anthony Noto in a note to investors.
Results Below Expectations
The news erased much of the goodwill that investors have felt toward Yahoo, thanks to what appears to be a successful launch of the Panama search advertising software, and had some analysts openly speculating whether this would be the end of Semel's tenure. "The writing is on the wall," wrote Jackson Securities analyst Brian Bolan, speculating that CFO Decker could soon take the helm. "Another quarter with a bottom-line miss will be the last one for Semel."
Microsoft launched its own adCenter in late 2005 and gradually began phasing out Yahoo's search marketing ads. Decker said that the software giant was now finished with the phaseout. To compensate for the Microsoft loss and expand its search marketing business, Yahoo has been striking partnerships to deliver search ads on other properties outside of Yahoo sites and encourage more marketers to work with Yahoo. The company cited the expansion of its newspaper consortium, which enables Yahoo to provide search and serve ads on online newspaper sites, including those owned by McClatchy (MNI). Decker also highlighted the company's recent search ad deal with Viacom (VIA) (see BusinessWeek.com, 4/11/07, "Viacom Spurns Google for Yahoo"). "We are committed to being the industry partner of choice," said Decker during a conference call with analysts.
Incentive for Small-Biz Customers
The disappointing earnings overshadowed news on another front: Yahoo will expand a key partnership with online auction service eBay (EBAY). During the call, Yahoo said its alliance, initially outlined in May, 2006, will include PayPal, eBay's online payment processor, and Yahoo's revamped search-ad ranking system. "We have found a fantastic partner in PayPal," said Rich Riley, a Yahoo senior vice-president who hammered out the deal.
The broadened Yahoo and eBay pact, reached after more than 10 months of talks, gives PayPal's millions of business customers incentives to use the newly revamped Yahoo marketing tool Panama, which places ads alongside search results. It also encourages Yahoo's small-business customers to use PayPal to process payments. Incentives include waivers of payment processing fees and Web hosting fees. The companies didn't disclose financial terms.
For its part, Yahoo will give prominence to eBay services within certain ads. Specifically, Yahoo will place a shopping cart icon within paid search ads placed on behalf of PayPal clients. The icon, which will start appearing this week, could make it easier for Yahoo searchers—especially those among the 133 million registered PayPal users—to buy from PayPal businesses. "We are removing some of that friction from the buying experience," Riley says.
Ganging Up on Google
The companies also bolster their united front against Google, which is trying to create a PayPal rival in Google Checkout (see BusinessWeek.com, 1/25/07, "eBay Holds Its Turf Against Google").
Partnering with PayPal is especially helpful for Yahoo in its struggle against Google because it gives Yahoo greater access to PayPal's millions of business customers and more pages on which to serve ads. Under the eBay agreement, Yahoo is the exclusive provider of brand advertising on eBay's sites and it will serve search-related text ads on eBay to complement products that users are shopping for. So, a user searching for cameras on eBay would see camera case advertisements from Yahoo, for example.
The development of Panama was another key to narrowing the search advertising gap with Google (GOOG). The new tool, fully launched this year, has increased the number of people who click on ads. CIBC analyst Paul Keung estimates click-through rates have increased 10% already (see BusinessWeek.com, 3/8/07, "Panama's Promising Early Results"). During the call, Yahoo co-founder Jerry Yang said Panama was operating better than expected and that the company was seeing higher click-through rates, though he would not specify what the rates were.
Street Still Bullish on Panama
Initially, Panama was expected to decrease the amount Yahoo received per search ad as cheaper but more popular ads were prioritized over pricey ones. Decker said the revenue per share declined but eventually returned to its pre-Panama rates. "There was a modest erosion, but this gradually reversed itself," says Decker.
Yahoo has said the real results from Panama would be seen by the second quarter of 2007. During the call, Yahoo CEO Semel reiterated this, saying that Yahoo expected double-digit improvements in the amount of money it generates per search by the second half of the year. Analysts have been bullish about Panama's prospects. "Given Panama's solid start and positive comments made by management intra-quarter, investors have high expectations," wrote UBS (UBS) analyst Benjamin Schachter in an Apr. 13 note.
Of course, a successful Panama and more partnerships still can't compare to what Google has—a significantly larger number of people searching, enabling Google to make money without sharing revenue (see BusinessWeek.com, 12/26/06, "Why Yahoo's Panama Won't Be Enough"). According to an Apr. 11 Hitwise report, Google garnered more than 64% of searches in March. It had slightly more than 58% of searches for the same month last year. Meanwhile, Yahoo's search share dipped slightly from 22.3% in March, 2006, to 21.3% this year.
Defections from DoubleClick?
In theory, Yahoo can increase share by returning better results than Google, generating more incidental searches from users already on its platform to, say, check their e-mail. However, Google's brand name and constant innovations in search have proven difficult for competitors to overcome. "Google remains our best large-cap growth idea," says CIBC's Keung. He is expecting Google to post 15% revenue growth for the quarter when it reports on Apr. 19.
Yahoo can also hope to catch Google by making more from serving display ads—graphic ads on a fixed place on a page. Of course, Google's purchase of advertising network DoubleClick threatens to make Google a competitor in that arena as well. During the call, Yang boasted that Yahoo was the Internet's largest display advertising network and hinted that some advertisers, fearful of Google serving their ads, may leave DoubleClick. Yahoo would want them to spend their money on its sites or through DoubleClick competitor Right Media, in which Yahoo owns a 20% stake.
The impact on Yahoo of a Google-owned DoubleClick remains to be seen. Yahoo investors are undoubtedly praying that things will get better instead of worse.
Before it's here, it's on the Bloomberg Terminal.
LEARN MORE