A Cash-Grab U.S. Exporters May Regret
American exporters are beginning to raise prices for their goods. A weaker dollar and strong global growth are allowing them to exert a little more pricing power and to juice up their foreign earnings. However, the strategy could be shortsighted.
In the fourth quarter, export prices of capital goods, durable consumer goods, and light vehicles grew at the fastest yearly pace in more than a decade. This acceleration is being facilitated by a renewed easing of the dollar, which makes U.S. exports cheaper in terms of foreign currencies. In 2006, the greenback fell a little over 4% against a basket of 26 other currencies, bringing the total decline to about 17% since the early 2002 peak. What's more, export demand is strong, with global growth expected to top 4% this year.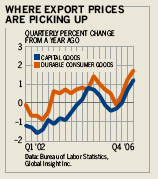 Meanwhile, even though a lower dollar makes U.S. imports more expensive, import prices are rising more slowly than those for exports. Prices of foreign-made consumer goods last quarter were up 1.1% from the year earlier, vs. 1.9% for U.S. exports of consumer goods.
The trends imply a difference in strategy. Many U.S. exporters are taking advantage of current conditions to boost earnings, while foreign companies are holding the line on prices and sacrificing their profits in order to maintain market share.
Such a strategy for U.S. companies could be a loser in the long run. "If we are raising our prices rapidly, we are limiting the opportunities to build markets," says Joel Naroff, chief economist at Commerce Bancorp. That's a mistake in a global economy. "The dollar won't go down forever, and you need to grow market share in other countries in order to survive during the tough times," Naroff says.
U.S. businesses may get another chance to capture market share, both abroad and at home if the dollar weakens further this year, as many economists expect. Further declines could finally force importers to ratchet up price increases in the U.S., says Naroff. And that could be a golden opportunity for Corporate America.
By James Mehring in New York
Before it's here, it's on the Bloomberg Terminal.
LEARN MORE