Strong Job Markets Dash Hopes For Rate Cuts
Payrolls show the economy is poised to pick up, and not weaken further
The Labor Dept.'s monthly roundup of job market activity has always been the economic report Wall Street listens to more than any other. It's a market-mover because of its timeliness, breadth of coverage, and its influence over policymakers at the Federal Reserve. What investors heard from the surprisingly strong
December data on Jan. 5 was a death knell for hopes that the Federal Reserve would be cutting interest rates in 2007. The markets, which have been building in expectations of rate cuts for months, promptly tanked.
The report, which showed December payrolls rose by 167,000, along with upward revisions to gains in October and November, was a watershed, at least for perceptions about the economy's current strength and near-term prospects. The broad gains in the labor markets at yearend ran counter to some recent downbeat reports portraying the economy as on the verge of succumbing to the housing recession and softness in manufacturing. The labor strength was powerful evidence that the weakness in those two sectors remains isolated—and is likely to stay that way.
Outside of construction and manufacturing, job growth in the second half of 2006 was even faster than it was in the first half. Job markets were tight enough to keep the unemployment rate at 4.5% last month, only a tick above October's 5 1/2—year low of 4.4%. The labor gains imply businesses are not retrenching but remain optimistic enough about future demand to continue adding to their payrolls. They also show, despite retailers' disappointments over holiday sales, a labor market strong enough to generate the income gains necessary to keep consumers spending at a healthy clip.
Combined with gathering signs that the slowdowns in both housing and manufacturing will be easing in the first half of 2007, the latest job report hardly portrays an economy soon in need of lower interest rates. Just the opposite. Once those drags ease, overall growth is poised to rebound as the economy's underlying strength reasserts itself. In fact, the job report supports the Fed's tough talk of late: The bigger risk to the economy down the road is not weak growth but accelerating inflation.
EXPECTATIONS OF LOWER RATES have always been predicated on weaker consumer spending, which in turn can lead to slowdowns in corporate hiring and capital spending. December's strong labor markets throw cold water on that scenario. Solid gains in jobs and incomes through December, along with lower energy prices, explain why real consumer spending appears to have grown last quarter by about 4%, at an annual rate—a strong showing by any benchmark.
In December, traditional retailers sounded down-in-the-mouth about their holiday sales, with receipts up only 3.1% from a year ago. However, that modest showing partly reflects a couple of new trends that don't fully show up in the regular holiday numbers. First of all, through Dec. 26, Internet sales at U.S. sites for nontravel items during the holiday season were up 26% from a year ago, to $23.2 billion, according to an estimate by comScore Networks. The company says retail e-commerce outside of gas, autos, and food now accounts for about 7% of all retail outlays.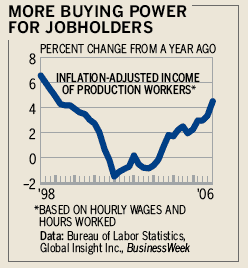 Second, gift-card sales are booming, a trend that boosts January receipts, often at the expense of retailers' December numbers. Prior to the holidays, the National Retail Federation Gift Card Survey projected a 34% jump in card buying from the previous year, to $24.8 billion. Those sales won't show up in a big way until January, when the cards are redeemed. The International Council of Shopping Centers says this pattern is lifting the annual importance of retailers' January sales, noting that gift-card redemptions could drive about 20% of this month's industrywide receipts.
AMID RESILIENT CONSUMER DEMAND, it's not surprising businesses are shedding some of last summer's concern over the outlook. CEO confidence improved moderately in the fourth quarter after having fallen to a five-year low in the third quarter, according to a Conference Board survey. Those results jibe not only with recent hiring gains but also with other reports last quarter showing strength in capital spending. Through November, production of business equipment was making solid advances, and outlays for new business construction were still in an uptrend. Even if businesses are a little more uncertain about the outlook, they have not materially altered their spending and hiring behavior.
With businesses expanding payrolls, consumer spending is getting lots of support from income growth. Average hourly pay of production workers in December grew 4.2% from a year ago, up from the 3.2% growth rate this time last year. At the same time, inflation has fallen, boosting buying power. With more people at work, overall income growth is also impressive. Based on the employment report's data on hourly wages and hours worked, income of production workers last quarter was up 6.4% from a year ago. Adjusted for inflation, the pace was the strongest since the boom of the late 1990s.
WHILE THE ACCELERATION in wage growth is great for consumers, it is not so comforting to the Fed. With labor markets tight enough to keep upward pressure on wages, the Fed is not about to cut interest rates for fear that easier credit conditions would only increase demand, further tightening job markets, and add new cost pressures that could eventually push up inflation.
Somewhat surprisingly, the labor markets have shown no hint of loosening despite the economic slowdown. After growing at a heady 5.6% annual rate in the first quarter of 2006, the economy posted modest gains of 2% in the third quarter and 2.6% in the second. Yet the jobless rate still managed to fall from 4.8% in July to 4.5% in December.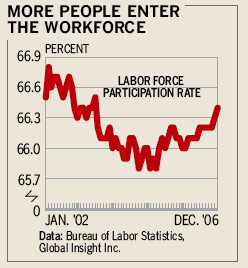 However, the current degree of tightness in the labor market is no reason to believe the Fed will have to hike interest rates—at least not yet. Overall labor costs are being held down by a reduction in benefit payouts, which largely reflects a sharp deceleration in health-care costs. Also, the increase in average hourly pay is partly because a lot of the recent payroll additions have been in higher-paying service jobs. For example, business and professional services accounted for more than 30% of the gains in overall payrolls during the fourth quarter.
Improving employ-ment prospects also are preventing job markets from tightening too rapidly by drawing more potential workers into the workforce. The labor force participation rate, which is the percentage of the adult population either employed or looking for work, jumped sharply during 2006, to a 3 1/2—year high of 66.4%. The more people there are in the job hunt, the less downward pressure on the jobless rate.
So the latest job data actually have two messages for investors. First, don't expect rate cuts, but don't be too morose: The numbers don't suggest any immediate need for the Fed to begin hiking rates. For now, at least, the economy appears to be in a sweet spot: decent growth with ebbing inflation and the Fed watching from the sidelines.
By James C. Cooper
Before it's here, it's on the Bloomberg Terminal.
LEARN MORE