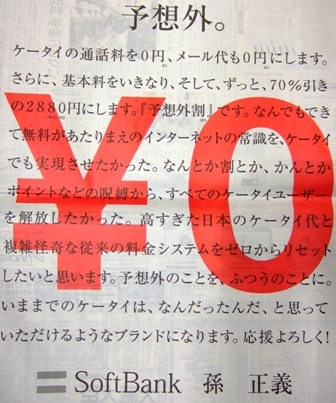 It's been one helluva bad week for Softbank, the smallest of Japan's wireless carriers. Ever since the company launched a pricing war with a massive ad campaign on Oct. 24, it's been hounded by allegations of false advertising from rivals and the press. Japan's Fair Trade Commission recently began looking into the matter. The "0yen" ads, which appeared on TV, the Internet, billboards and in the dailies, played up Softbank's flat monthly rates and free calls and email to other Softbank users. "We wanted to take the standard thinking of the Internet--that you can do anything for free--and make it a reality for cell phones," went the ads. But the fine print made it clear that not everything was as it seemed.
On Nov. 1, Softbank announced plans to redo the ads "as soon as possible" to make them less "misleading." The new ads will clarify that calls made and email sent at night won't be free. "We decided on the change after consulting with the Fair Trade Commission," says spokesman Fumihiro Ito.
It's hardly the start Softbank's Son might have envisioned for his wireless unit. The PR mess has caused outrage among consumers, many of whom have ranted about the apparent deception on the Net and in blogs. Right about now, Softbank's rivals, NTT DoCoMo and KDDI, must be giving each other high fives.
In fact, it was DoCoMo and KDDI that complained to the FTC about the ads in the first place. At DoCoMo's quarterly earnings announcement on Oct. 27, an irate Masao Nakamura, DoCoMo's president and CEO, held up one of Softbank's newspaper ads and said: "The service will not be free. There is a basic fee and subscribers will have to pay higher rates when they call DoCoMo and KDDI users."
The debacle is a setback for Softbank, which is trying to raise its market share of 16% and close the gap with DoCoMo (56%) and KDDI (28%). The flamboyant Son seems to have been betting that he could lure more customers with a theatrical announcement to mark the Oct. 24 start of new rules in Japan ("number portability") that let consumers switch carriers without changing their phone numbers. He may also have been counting on his rivals withering under his spin offensive. Boy, was he wrong.
Now, he's stuck with a ballooning ad budget and a deteriorating brand image. The financial daily, Nihon Keizai Shimbun, estimated the cost of revising Softbank's ads at several million dollars, on top of the tens of millions the company has spent in the run-up to number portability and countless more it's funneled toward expanding its once embarrassingly paltry lineup of handset models.
Still, I wouldn't rule out Son. He's proven himself to be a scrappy fighter in the fixed-line broadband business. Softbank's ownership of Yahoo! Japan, the country's No. 1 portal site, gives it an advantage in offering online content. And he could already be plotting to merge his wireless and fixed-line telco units to give consumers a one-stop solution for their communication needs. But he'll first need to ride out the maelstrom of criticism that's turned his wireless debut into such a disaster.
Before it's here, it's on the Bloomberg Terminal.
LEARN MORE