Willkommen, Bienvenue, Welcome
Berlin is turning into a haven for international designers taking advantage of the cheap rents and creative ferment. But is working life in this city really a cabaret?
Night falls in Berlin and once again, a dreary city suddenly glows. In Prenzlauer Berg, a quietly hip district in formerly Communist East Berlin, designers spill out of storefront offices and into the streets, past a club where deserted combat boots out front sprout weeds like planters, and on to the Weinerei, where wine bottles are set out in rows next to a fishbowl of coins and the rules are implicit: Rent a glass, drink your fill, pay as much or as little as you'd like. Down the hill at the Volksbühne (People's Theater), naked Brazilian actors sing odes to laziness, sharing honeyed wheat from a bowl and making out with any audience member who dares. On certain nights, designers trundle their wares to Café Moskau, a rowdy late-night Christmas market where, under the crushingly ornate Soviet chandeliers of this former Stasi hangout, they hawk embroidered wallets, build-it-yourself models of Berlin architecture, and handmade card games. All over the city, shopkeepers set out bowls of loose, 30-cent cigarettes on an honor system; as the night wears on, the bowls empty and refill.
This is Berlin: It's bankrupt and chaotic, but that's part of its charm. Over the past five years, that bohemian vibe — along with an energetic arts scene and an incomparably low cost of living — has brought an explosion of artists and designers to the city. By 2005, culture industries accounted for €8.1 billion ($9.72 billion) and 11 percent of Berlin's GDP, and those numbers are growing. Designers currently represent about a quarter of the workers in that sector, but it's hard to pin down exact figures when Berlin's creative types are so unusually interdisciplinary. (Think graphic designers who publish chapbooks, sew shirts, and deejay on the side.) The city's status as a cultural hub is being cemented by a growing roster of industry events: DesignMai and Typo Berlin for design, Bread & Butter for fashion, Transmediale for electronic art and music, the Berlinale festival for film, Popkomm for the music industry, and Love Parade, a massive open-air music festival, for everyone.
Berlin operates under an unfortunate paradox: It's the dirt-poor capital of one of the world's most prosperous nations. Its bankruptcy is a vestige of the city's postwar status as an island of capitalism in the middle of a Communist bloc. After World War II, explains Christoph Lang of Berlin's Senate Department of Economics, Labor, and Women's Issues, "big firms like Siemens left Berlin for Frankfurt or Munich. They felt it wasn't safe to stay — and they're not coming back." Today Berlin is almost industryless, but its financial crisis — which involves €1.5 trillion ($1.8 trillion) in national debt, 16 percent unemployment, and a 30 percent real-estate vacancy rate — makes for near-perfect conditions for creatives. As Lang notes, "You can find cheap rents and set up a business without running a high financial risk."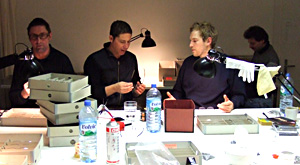 Even with two subtenants, Mykita has ample production space in its 2,600-square-foot loft in a former Communist kindergarten. Total monthly cost: $2,450.
Berlin thus presents a tantalizing riddle for the entrepreneurial designer: How does one work successfully in a city that's full of inspiration but devoid of cash and clients? Cheap rents have proved enough to lure designers to the German capital, but economic success there demands much more. Making it requires zealously networking for clients in wealthier cities. It means working virtually across time zones. It calls for a mind for business as much as a talent for craft.
Product designer Jerszy Seymour has gladly taken the challenge. Bred in London but born in Berlin, Seymour professes his love for his native city bluntly: "Berlin is one of the few cosmopolitan cities where you can do whatever the fuck you want. It's impossible to be strange here." Seymour relocated last year from Milan, tempted equally by the city's energy and affordability. A spacious loft in the Mitte district, where spaces of this sort normally rent for €1,500 to €2,000 ($1,850 to $2,475) a month, offers Seymour both a prime location and plenty of in-house production space at a fraction of the cost compared with Milan, London, or New York. On his roof, he has jury-rigged a line of vacuum cleaners whose suction is used to power the presses seaming tape to garments from his clothing line, appropriately titled Tape. The loft also houses Seymour's famous Scum-machine, an adaptation of insulation foam equipment with which he's created everything from lamps to emergency housing modules. The designer maintains his client list, which includes Diesel, Armani, and Magis, through constant email and travel.
Berlin has proved creatively freeing for Seymour. Because it's easier to cover the bills, he says, "I'm closer to doing more socially motivated projects. Berlin gives me space to think." It's a sentiment echoed by Nicolas Bourquin, a graphic designer and Swiss native who has lived in Berlin for five years and heads up the design team at publishing house Die Gestalten Verlag. "You can afford to immerse yourself in a project's smallest details. It's a big luxury," Bourquin says.
But Seymour and Bourquin are experienced designers with established client networks; for designers on the cusp, the need to hustle can be exhausting. Andrea Tinnes, a self-employed graphic designer who moved to Berlin in 2000 after graduating from CalArts in Los Angeles, says, "I'm sometimes shocked by how bad the pay is for freelancers here." Tinnes has managed to form a robust client list from former contacts in Los Angeles and more affluent cities in Germany, but to supplement her income, she's also a part-time resident professor at the Kunsthøgskolen in Bergen, Norway. She believes it's tough for young designers with few connections to start out in Berlin: "It's highly competitive. There are so many self-taught designers here that it keeps the rates low."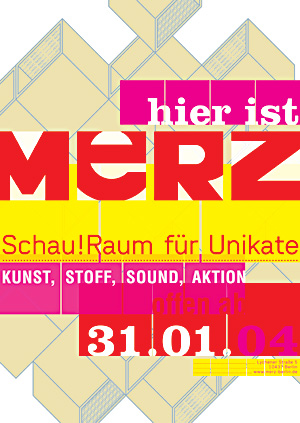 In 2004, Tinnes was hired to design promotional items for the Berlin art and design store Merz.
A glut of young designers boasting a will-design-for-food ethic is only one of the obstacles to starting a business from scratch in Berlin. Tinnes alludes to the lack of practical education, and as Seymour points out, "there's not that connection to industry that tempers a designer's skills. Criticism hardens a project. A lot of the work here can be naive." Indeed, the founders of Berlin-based eyewear firm Mykita — designers Philipp Haffmans and Harald Gottschling and business manager Moritz Krueger — cite business-oriented education and mentoring as the biggest holes in the Berlin design scene. "Our education wasn't very efficient," Haffmans remarks. "All these business issues — marketing, making industry contacts — just weren't taught here." The trio, who came to Berlin a decade ago from the German city of Oldenberg as students and founded Mykita as an independent offshoot of eyewear company IC Berlin in 2004, learned to navigate the industry by their wits, sidestepping the routine pitfalls of doing business in Germany: slow, cash-strapped bureaucracies, bankers who eye creatives suspiciously, and byzantine tax codes. But by combing their contacts from IC Berlin, hitting every international fair, and attending assiduously to their product, they have helped Mykita grow into a profitable business employing 25 people.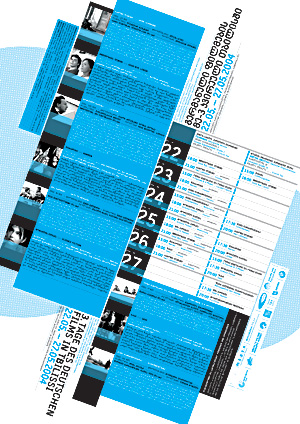 Andrea Tinnes's poster work for the German film festival in Tbilisi, Georgia.
And despite the country's notorious profusion of red tape, Berlin has started to respond civilly to its nascent industry. It's still a rough road for expats like American-born graphic designer David Lindemann. He founded his company Fork Media in 2000 by taking advantage of small-business programs to expedite credit lines, recoup start-up costs, and snag free local advertising but was then forced by tax reporting and personnel laws to hire a general accountant as well as a tax accountant, a hefty investment for a small studio. "It's hard to say whether the incentives you get are worth what you invest," he admits. But for larger studios mulling a Berlin office, the city offers a juicy perk: For a €2,300 ($2,760) fee, businesses can take advantage of the Berlin Business Welcome Package, which offers three months of fully furnished work and office space, including locally tailored advice on taxes, staff recruitment, and start-up marketing.
There are other signs that design in Berlin may be primed to swell into a movement. UNESCO recently named Berlin a City of Design in its Global Alliance for Cultural Diversity, an attempt to help artists harness globalization to expand their businesses internationally. And an outgrowth of the UNESCO nomination is Create Berlin, a local industry and lobby group of designers and agencies. Create Berlin has so far pooled €200,000 ($250,000) from 16 Berlin design entities to establish an international brand for Berlin design, foster mentoring, share distribution, and shuffle the city's creative community in the same direction — all without stifling individuality. Sebastian Peichl, a member of Create Berlin's board, believes that his organization's mission is crucial to Berlin's success. "When I travel around, people say, 'Wow, you live in Berlin, hip city of the moment,'" he remarks. "But there's nothing in Berlin that manifests what this means to design." Seymour wonders: "What's the endgame of the punk philosophy?" Berlin has clearly hit a major crossroads: It can grow into an international design center where experimentation is at home with professionalism, or it can stagnate and in a few years, Peichl predicts, the tide will turn elsewhere. "Other up-and-coming cities like Belgrade or Vienna, where I'm from, are very tough and professional at explaining what they're about, design-wise," he says.
Berlin's best trait has always been a merry nihilism: When the economy stalls, the band strikes up and the beer flows. But Create Berlin believes the city can mature into a unified international design center with high standards while still retaining its signature anarchy, fearlessness, and charm. "The scattered scene in Berlin is actually what gives it enormous potential," notes Peichl. "It's good that we're chaotic and weird! I hope it remains like this."'
Before it's here, it's on the Bloomberg Terminal.
LEARN MORE