Buy It, Strip It, Then Flip It
The quick IPO at Hertz makes buyout firms look more like fast-buck artists than turnaround pros. Investor beware
This might go down as the year of the swashbuckling buyout. On July 24 three big private-equity players offered $33 billion to snap up hospital operator HCA Inc. in what would be the biggest leveraged deal in history.
But a much quieter event a few days earlier might be a better example of the excesses this era has wrought. On July 14, less than seven months after the private-equity trio of Clayton, Dubilier & Rice, Carlyle Group, and Merrill Lynch Global Private Equity bought Hertz Corp. from the ailing Ford Motor Co. (F ) for $14 billion, the group filed a preliminary prospectus with the Securities & Exchange Commission to sell shares in an initial public offering.
Buyout firms are celebrated for their ability to take on huge debts, buy neglected companies, turn them around over the course of several years, and sell them to public investors for huge profits. Since 2001 they have delivered to their investors annualized returns in excess of 20%, and have attracted record amounts of capital to buy even bigger companies. But the quick "strip and flip" the Hertz buyout firms are pulling off makes them look more like fast-buck artists than thoughtful turnaround specialists.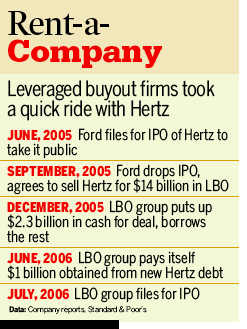 The Hertz crew hasn't said how much of the company it intends to sell. But it sure hasn't been shy about backing up the Brinks truck. Three weeks before the initial IPO filing, the owners had Hertz take out a loan to pay themselves a $1 billion special dividend -- nearly half of the $2.3 billion in cash it had invested in December. So hungry were they for the cash that they collected it even before recruiting a new CEO to run the company. Needless to say, special dividends like this substantially improve the buyout firms' risk-reward prospects. Principals at the three buyout firms would not comment while the deal is in registration.
In their filing, the owners say they intend to use the new money from public stock investors to repay the $1 billion loan that paid for their dividend. They could also recoup some of the rest of the cash they put up. Regardless, they will retain majority ownership of the company after the IPO.
The Hertz group is hardly alone in its zeal to go public. Buyout firms have pocketed $9 billion this year in 32 IPOs. On average they've raised $287 million with each listing, compared with the $169 million raised by companies with no buyout firms involved. In total, their companies account for 29% of all IPOs, up from slightly less than 5% in 2000, according to Thomson Financial (TOC ).
The question is: Will the Hertz deal be good for public investors? If other recent IPOs are any indication, the answer is a resounding no. On average, the stocks of companies taken public by buyout firms this year have fallen 6%. In contrast, shares of companies that have gone public without any assistance from buyout firms have risen 0.7%. And shares of companies that make up the Standard & Poor's (MHP ) 500-stock index have gained 1%.
These are the very companies that were supposed to benefit from comprehensive turnaround plans. The secret to buyout firms' success in recent years has ostensibly been their ability to fix up struggling companies once they've been privatized, then collect windfalls after taking them public again. Private ownership allows managers to take drastic measures that aren't easily carried out under public scrutiny, such as slashing costs and shedding unnecessary assets and operations.
But are buyout firms really doing that? You certainly can't tell from the stock market performances of the ones taken public this year. Almost two-thirds are now underwater -- some deeply so. In a July 20 report following the Hertz announcement, Thomson Financial had two words for its clients considering buying shares of companies taken public by buyout firms: caveat emptor.
IPOs like the Hertz deal have fared poorly this year. The other ubiquitous consumer company to go public, Burger King Holdings Inc. (BKC ), was down 12.6% from its offering on May 17 through July 24. And another company taken public less than a year after its purchase has slumped, too: Managed care provider HealthSpring Inc. (HS ) was down 7.9% through July 24.
The buyout firms have their own investors, and it's hard to fault them for taking advantage of the accommodating stock and credit markets to grab cash when they can. But what keeps enticing investors to buy into these IPOs? The hope of good long-term performance, it seems. Soon-to-be-released research by professor Josh Lerner at the Harvard Business School will show that in the last two decades, companies taken public by buyout firms have outperformed other IPOs and the major market indexes. That's because buyout firms usually take three to 10 years to carry out the sort of operational improvements that could justify their huge payouts in IPOs.
But the Hertz trio has owned the company only since Dec. 20. The new chief executive, Mark P. Frissora, formerly chairman and CEO of auto parts supplier Tenneco Inc. (TEN ), reported to work on July 19 -- five days after the IPO registration was filed. He's the first Hertz CEO who hasn't come from within the company or the industry, notes Neil Abrams, a rental car industry consultant and former Hertz executive. Since the buyout firms took over in December, the only substantial operational change Hertz has made is to hold customers more accountable for dings and dents, says Joe Brancatelli of Joesentme.com, a frequent-traveler Web site.
What the buyout firms can do quickly is use their financial might. The Hertz trio easily delivered money Ford craved. And before the purchase closed, the buyers arranged to take advantage of the strong demand for fixed-income investments by securitizing Hertz rental cars. In other words, they hocked the cars and raised $6.1 billion toward funding the buyout -- on better terms than if they had borrowed in the junk-bond market, as was common in earlier buyout waves.
The trouble is, putting up assets as collateral reduces a company's financial flexibility. That's one reason Standard & Poor's (MHP ), the credit-rating agency, downgraded Hertz from investment-grade to speculative, or junk, status after the buyout. S&P says Hertz has pledged two-thirds of its assets now, vs. just 10% before the buyout.
SQUEEZED
Hertz will need flexibility as it faces a backwash from the troubles at Ford and General Motors Corp. (GM ) As the automakers cut production capacity, they're not unloading cars to the rental companies as cheaply as they once did. Hertz says its costs won't be nearly as predictable in the future. Already, higher car costs from Detroit have pushed Hertz' depreciation costs up 17% for 2006 models. The business is also at risk of higher oil prices pushing up airline fares and reducing air traffic. About 72% of Hertz' car rental revenues come from airports. And the new LBO debt will hurt. Hertz' first-quarter interest expense jumped 112%, prompting a net loss of $49 million, compared with net income of $21 million a year earlier.
Hertz' new owners do have plans to strengthen the business. One strategy: to boost rentals away from airports. Such operational improvements should lift profit margins, which are down from 2000 levels, according to the preliminary prospectus. And Hertz, the world's second-largest rental car chain after Enterprise Rent-A-Car Co. with 7,600 rental locations in 145 countries, notes that it's one of the world's best-known brands. With that kind of base, the buyout boys should have room to turn around the company they've been so quick to load up with debt. Eventually.
But in the meantime, be careful how much you pay them for their shares. If Burger King and the other IPOs are any indication, Hertz' stock might stall out just after hitting the public freeway. "Buyout firms sell when they can," says veteran money manager Michael Holland at Holland & Co., who was a partner at the Blackstone Group before setting up his own shop in 1995. "You have to overcome the initial skepticism about the fact that a smart person is selling something." Caveat emptor indeed.
By David Henry and Emily Thornton, with David Kiley in Detroit
Before it's here, it's on the Bloomberg Terminal.
LEARN MORE