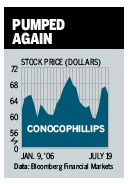 The worsening Middle East crisis has driven oil prices up to recent highs of more than $76 a barrel. And the surge "is far from over, making energy stocks even more compelling," says Stephen Leeb of Leeb Capital Management, a long-term oil bull.
The Oil Factor
, a book he wrote in 2004 when oil was at $33, predicted that soaring energy prices were just around the corner. Today, Leeb's No. 1 pick is ConocoPhillips (COP ), the third-largest U.S. integrated energy company and biggest refiner, in which Warren Buffett is a top investor. This spring, Berkshire Hathaway (BRK ) bought $1.1 billion in Conoco stock, for a 2% stake. Yet Conoco remains undervalued, argues Leeb, who owns shares. That's partly because some analysts think it paid too much when it bought Burlington Northern for $35 billion in March. Leeb disagrees. The purchase is a bet on natural gas and will be a plus, he says. Don Schreiber, president of WBI Investments, which also owns shares, says the stock is cheap at 65.77, roughly six times estimated 2006 earnings. On July 14, Conoco reported it had found oil in Alaska's North Slope. Based on revenue and earnings prospects, the stock is worth 85, figures Schreiber. Tina Vital of Standard & Poor's (MHP ), who rates the stock a "buy," says Conoco's recent purchase of a 17% stake in Russia's Lukoil (LUKOY ) could boost its reserves by 10%. And its reentry into Libya "should raise its output at an attractive cost," she adds. Vital rates Conoco a "buy." She expects it to earn $10.06 a share this year and $10.68 in 2007.
Note: Unless otherwise noted, neither the sources cited in Inside Wall Street nor their firms hold positions in the stocks under discussion. Similarly, they have no investment banking or other financial relationships with them.
Corrections and Clarifications "ConocoPhillips: Surging" (Inside Wall Street, July 31) should have said that Burlington Resources, not Burlington Northern, was acquired by ConocoPhillips (COP ).
By Gene G. Marcial
Before it's here, it's on the Bloomberg Terminal.
LEARN MORE