Pozen's Trexima: Going To Market With Glaxo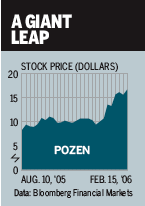 Attention, migraine sufferers: Help is on the way from Pozen (POZN ) in the form of Trexima, a new drug for severe headaches that analysts claim is more effective and faster-acting than GlaxoSmithKline's (GSK ) $1 billion-a-year blockbuster Imitrex. It's expected to get U.S. approval in the second quarter. Imitrex' patent expires in 2009, and Pozen has teamed up with Glaxo to market Trexima in the U.S. It will focus on Trexima once it gets O.K.'d, says Pozen CEO John Plachetka. Joshua Schimmer of investment firm S.G. Cowen expects the stock to outscore the market once the new drug is launched. It has already been on a tear, leaping from 8 in August to 17 on Feb. 15. Schimmer figures Pozen will earn 50 cents a share in 2009 and $1.55 in 2010. Nadav Hazan of SunTrust Robinson Humphrey says Pozen should get $20 million from Glaxo once Trexima is approved, on top of the $60 million it has already received. Through 2009, Hazan figures Pozen will get a 6% royalty on U.S. sales of up to $600 million, and 17% above that. In addition, Pozen has an arthritis drug in clinical trials, which the company claims is a lot safer than its rival painkillers.
Note: Unless otherwise noted, neither the sources cited in Inside Wall Street nor their firms hold positions in the stocks under discussion. Similarly, they have no investment banking or other financial relationships with them.
By Gene G. Marcial
Before it's here, it's on the Bloomberg Terminal.
LEARN MORE