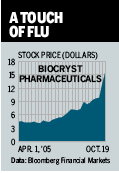 Shares of Biocryst Pharmaceuticals (BCRX ) are on fire, soaring from 4.39 a share in early April to 15 on Oct. 19. The reason: bird flu. With the increasing global concern over avian influenza, "Biocryst is attracting investor attention because of its antiviral drug, Peramivir, which some scientists see as a promising treatment for avian flu," says John McCamant, editor of the
Medical Technology Stock Letter
. Roche's (RHHVF ) Tamiflu is the leading anti-flu drug on the market, and because of a World Health Organization warning on the possibility of a flu pandemic caused by the H5N1 virus, some countries have started stockpiling Tamiflu. GlaxoSmithKline's (GSK ) Relenza is the other approved flu drug. Despite Biocryst's fast runup, it has more room to climb, partly because its market cap of $480 million doesn't fully reflect its other products. Among these are Fodosine, its chief drug aimed at T-cell leukemia, and BCX-4678 for hepatitis C, says McCamant. Vinny Jindal of Wedbush Morgan Securities believes Peramivir could well compete with Tamiflu as it has several advantages, including lower cost per dose and Biocryst's ability to ramp up production. He says under the Project BioShield Act on biodefense, the U.S. can stockpile Peramivir after filing efficacy studies on animals and a safety study on humans -- which, he adds, Biocryst could complete by early 2006. It is also starting a Phase 3 trial on Peramivir in Southeast Asia, sponsored by the U.S. National Institutes of Health. Jindal, who rates Biocryst a buy, says the results will help hasten Peramivir's approval as a new drug. If all goes well, he expects the company will see Peramivir sales of $450 million in 2006. With its other products, Biocryst's worth could be 35 a share, says Jindar.
Note: Unless otherwise noted, neither the sources cited in Inside Wall Street nor their firms hold positions in the stocks under discussion. Similarly, they have no investment banking or other financial relationships with them.
By Gene G. Marcial
Before it's here, it's on the Bloomberg Terminal.
LEARN MORE