New on Flickr: Camera-Tossing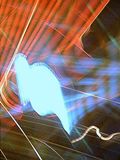 Check out the newest craze on Flickr:
camera-tossing
. Amazing photos, all taken by opening the shutter in low light and tossing the camera in the air. Of course, if you value your camera more than these folks, or just don't catch very well, you can get a similar effect without letting go of the camera, just by waving it around. I've done that for years with fireworks shows and street scenes at night. But I kinda like the serendipity here. (Hat tip to
Make: blog
's Phillip Torrone.)
(Flickr photo by clickykbd)
Before it's here, it's on the Bloomberg Terminal.
LEARN MORE