For One Hospital Owner, Familiarity in Design Breeds Success
Hospitals strive to personalize patient care, but complex regulations and codes make unique health-care architecture a serious challenge. Recently, one large hospital chain began addressing this problem by taking a cookie-cutter approach to the manner in which its facilities are designed.
Kaiser Permanente (KP), the largest health-care provider in California, is using design templates created with the help of two San Francisco architecture firms to build three new hospitals now under construction. With only slight variations due to local demographics and regulations, the trio will be essentially the same inside and out. Eventually, these templates will guide construction or renovations of 20 KP health-care facilities by 2013, says Christine Malcolm, KP's senior vice president for hospital strategy. The Oakland-based company hopes template designs will mean faster approvals, fewer change orders, and improved patient care.KP isn't the only health-care organization thinking along these lines. "Templates can potentially create an environment that's safer, because the designs standardize the way care is being delivered," says Brett A. Esrock, executive vice president and chief operating officer at SSM St. Joseph Hospital in Kirkwood, Missouri, which recently brought together KP officials and dozens of other design and health-care experts for a brainstorming session for a new St. Louis hospital in its early planning stages.
Chong Partners Architecture and SmithGroup formed Chong/SmithGroup to guide the KP project. The architects participated in the template development process with contractors, KP staff, and more than 600 clinicians and other health-care professionals.
Voluminous state building regulations, many tied to earthquake safety, spurred this strategy. "In California, it usually takes over six years to open a hospital," says John Kouletsis, AIA, KP's national director of planning and design services. "Up to two years of that time is spent in the regulatory process."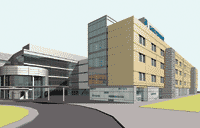 Image: Courtesy Chong/Smithgroup
The template designs have already saved time. In May, builders completed the steel frames for two of KP's new hospitals, only 30 months into the building effort. "We're at least a year, maybe 18 months, further along than usual," says Carl Christiansen, AIA, vice president with SmithGroup. KP believes templates will also codify best practices it has documented relating to room design and the placement of clinical equipment for efficient access by doctors and nurses.
The templates detail hospitals ranging in size from four to six floors. Each facility sports a circular, two-story lobby and two primary nursing units featuring punched windows. A diagnostic and treatment wing sits in the rear of the building. Glass walls allow natural light to brighten the cafeteria, waiting space, and circulation spine. "We pushed to make the building feel as light as possible by using as much glazing as we could," says Carl Hampson, AIA, an associate with SmithGroup.
As the remaining hospitals go up, KP envisions only minor changes to the templates, based on improvements or corrections revealed during construction of the first facilities. Still, each hospital will be unique in its siting and specific medical program, says SmithGroup's Hampson.
For more information:
http://archrecord.construction.com/features
/digital/archives/0506dignews-3.asp
Before it's here, it's on the Bloomberg Terminal.
LEARN MORE